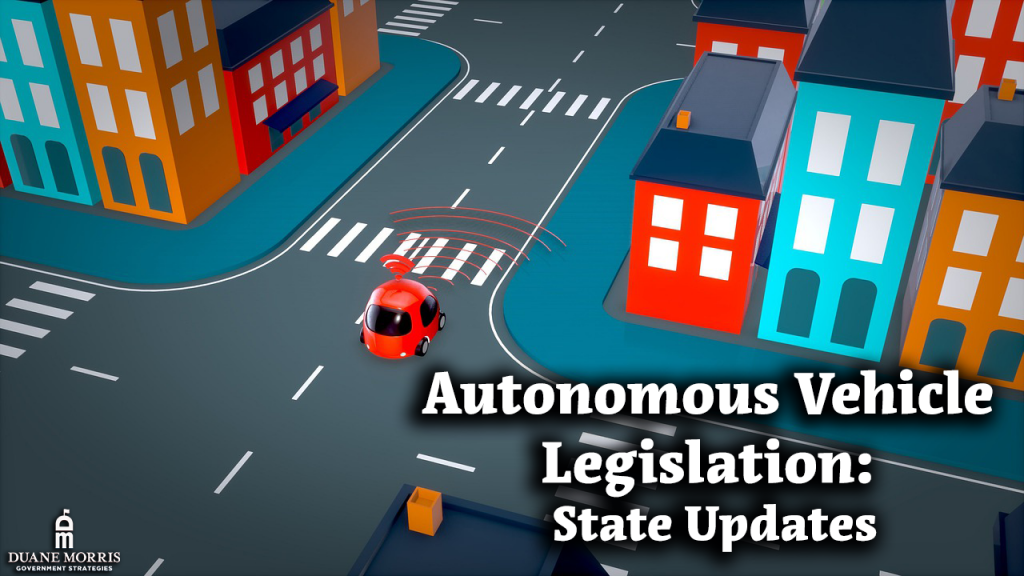 Autonomous vehicles have automated driving systems that allow for self-driving, with little or no human input. While fully automated vehicles are not readily available at this point, lawmakers are already taking action with a myriad of autonomous vehicle legislation. As we have seen with E-Bikes, drones, and personal delivery devices, government regulation is not far behind the new technology.
At least 29 states have already enacted various autonomous vehicle legislation.
---
Connecticut
One piece of autonomous vehicle legislation introduced by Connecticut lawmakers is H.B. 6486. The bill would require the Connecticut Department of Transportation to develop a program to test and operate vehicles equipped with automated driving systems. It would also eliminate the autonomous vehicle testing pilot program (which never started).
Generally, the bill would require the Department of Transportation to adopt regulations that include both state and federal laws and national best practices on testing. Also, it would set application requirements for owners of ADS-equipped vehicles to seek approval to either test or operate their autonomous vehicles on state roads. Further, the bill would require ADS-equipped vehicles to comply with federal safety standards, be registered, and be adequately insured.
The bill would define a fully autonomous vehicle as an "ADS-equipped vehicle" with an automated driving system designed to function without an operator and classified as level four or level five by SAE. The bill would further define "ADS" (automated driving system) as the hardware and software that are collectively capable of performing the entire dynamic driving task on a sustained basis.
---
Florida
Florida lawmakers recently passed HB 1289 related to autonomous vehicles. Under the bill, a low-speed autonomous delivery vehicle would be allowed to operate on streets or roads with speed limits under 35 miles-per-hour or less. However, the vehicle may operate between 35 and 45 miles per hour under certain exceptions.
The autonomous vehicle legislation further requires low-speed autonomous delivery vehicles to be equipped with headlamps, stop lamps, turn signal lamps, taillamps, reflex reflectors, and vehicle identification numbers. The bill also requires such vehicles to be covered by an automobile insurance policy. It allows counties and municipalities to prohibit low-speed vehicles on any road under its jurisdiction if necessary in the interest of public safety.
The bill defines a "low-speed autonomous delivery vehicle" as a fully autonomous vehicle not designed for or capable of human occupancy.
---
Massachusetts
H. 3475, introduced by lawmakers this year, would require autonomous vehicles registered in Massachusetts to register in the state to continue to meet federal standards and regulations for a motor vehicle. The autonomous vehicle legislation stipulates that such vehicles shall not engage in interstate commerce or transport eight or more people or goods for hire unless a human operator is present in the autonomous vehicle. They can monitor the performance of the vehicle and intervene if required.
---
Nevada
Nevada became the first state to authorize the operation of automated vehicles in 2011 via Assembly Bill 511. In the 2021 legislative session, the Nevada Assembly passed AB 412, which relates to neighborhood occupantless vehicles, defined as low-speed vehicles not designed, intended, or marketed for human occupancy.
Under the bill, neighborhood occupantless vehicles would be allowed to operate on a roadway with a speed limit of greater than 35 miles per hour but no more than 45 miles per hour.
---
New Jersey
New Jersey lawmakers passed Assembly Joint Resolution 164 in 2019, creating the New Jersey Advanced Autonomous Vehicle Task Force. The Task Force was created to conduct a study of advanced autonomous vehicles and make recommendations for laws and rules.
The resolution called for the Task Force to issue a report to the Governor and the legislature within 180 days of the Task Force's initial meeting. The report was to include:
an evaluation of existing state laws that may impede the testing and operation of autonomous vehicles on public roads in New Jersey,
an evaluation of existing state and federal laws related to autonomous vehicles as it relates to licensing, registration, insurance, liability, law enforcement, and
accident reporting, land use, road and infrastructure design, public transit, and workforce changes.
The Task Force was also required to make recommendations for implementing pilot programs for autonomous vehicles on public roads and to evaluate existing legislation and regulations in other states concerning the issue.
The Task Force created by AJR 164 issued its report in 2020, which included the recommendation to establish a two-step permitting process to allow companies to test and then employ HAVs (highly autonomous vehicles) on public roadways in the Garden State. The Task Force also recommended the New Jersey Motor Vehicle Commission as the lead agency responsible for approving and overseeing both testing and deploying HAVs in the state and recommended requiring all testing on public roadways be conducted with a safety driver present in all vehicles.
On the legislative side, A1189 would establish a fully autonomous vehicle pilot program. The bill would require the New Jersey Motor Vehicle Commission, in consultation with the state Department of Transportation, to establish the New Jersey Fully Autonomous Vehicle Pilot Program, allowing for autonomous vehicle testers to operate fully autonomous vehicles on New Jersey highways. The pilot program would last one year under the legislation.
---
Texas
Texas previously enacted autonomous vehicle legislation in 2017, allowing for the testing and deployment of automated vehicles on public roads.
Lawmakers in Texas introduced HB 3026 in the current legislative session. Under the bill, an autonomous vehicle designed to operate exclusively by the automated driving system for all trips is not subject to motor vehicle equipment laws or regulations in Texas that relate to or support motor vehicle operation by a human driver and are not pertinent for an automated driving system.
Further, if a vehicle safety inspection is required to operate an autonomous vehicle, the vehicle must automatically pass inspection with respect to any equipment covered by the bill's exemption or any equipment not subject to inspection under Texas law.
---