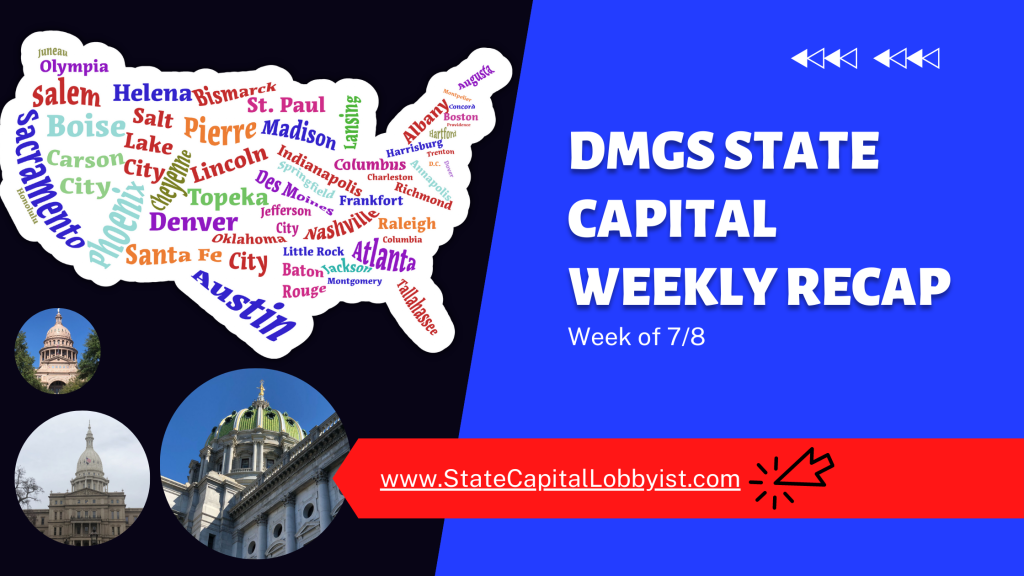 State lawmakers in capitals around the country remained focused this week on the issues of abortion and firearms. Both topics were covered by DMGS this week in-depth and be viewed at the links below. Additionally, with the Fourth of July taking place at the beginning of the week, DMGS looked at recent state action around the issue of fireworks regulations.
---
Arizona
Fulfilling a promise from his State of the State address earlier this year, Governor Doug Ducey (R) this week signed legislation that makes an unprecedented $1 billion investment to secure Arizona's water future.
Learn more here.
---
California
At the end of June, Gov. Gavin Newsom (D) signed a package of gun-related legislation, including a bill targeting "ghost guns."
Learn more here.
---
Colorado
Gov. Jared Polis (D) signed an executive order stating that Colorado will not cooperate with abortion investigations in other states.
Learn more here.
---
Connecticut
Legislative action is being considered by Connecticut lawmakers to address prisoner transport changes, but unless a special session is called, it'll have to wait until January. 
Learn more here.
---
Delaware
Lawmakers in Delaware approved $10 million in additional funding to the Delaware Department of Natural Resources and Environmental Control for open space protection in FY23, bringing the total funding to $20 million.
Learn more here.
---
Florida
Some lawmakers in Florida think that a "heartbeat bill" could pass in the next regular session which will begin in March of 2023.
Learn more here.
---
Hawaii
Gov. David Ige (D) signed four pieces of legislation earlier this week related to climate change and clean energy, including a bill which sets an interim target for 2030 for Hawaii to be at least 50 percent below 2005 emissions.
Learn more here.
---
Kansas
Governor Laura Kelly (D) signed the state onto a multi-state agreement to expand computer science education for K-12 schools.
Learn more here.
---
Louisiana
With some states taking various actions related to firearms this year, Louisiana saw limited action from state lawmakers during this year's legislative session.
Learn more here.
---
Michigan
This week, Gov. Gretchen Whitmer (D) signed legislation aimed at lowering marked-up costs of Michigan grain for Michigan distillers as a way to encourage to use of Michigan ingredients. The bill also allows for an increase in the number of bottles distillers can produce.
Learn more here.
---
Missouri
Governor Mike Parson (R) signed a record-high budget along with 37 bills, while also issuing four vetoes.
Learn more here.
---
New Jersey
On July 5, Governor Phil Murphy (D) signed a package of seven bills aimed at addressing gun safety reforms.
Learn more here.
---
New York
Gov. Kathy Hochul (D) signed legislation this week to address climate change, from bringing more energy efficiency to homes to promising certain trades don't get left behind in the transition.
Learn more here.
---
North Carolina
On Wednesday, Gov. Roy Cooper (D) signed an executive order designed to strengthen access to reproductive health care in North Carolina.
Learn more here.
---
Oregon
Oregon voters will get to vote this November whether or not to amend the state Constitution to penalize any state lawmakers who boycott the state Capitol in an effort to kill legislation they oppose.
Learn more here.
---
Rhode Island
Gov. Dan McKee (D) signed legislation this week to increase the capacity of market-competitive offshore wind procurement by expanding the parameters to between 600 to 1,000 megawatts.
Learn more here.
---
Tennessee
A Senate committee in Tennessee is set to schedule hearings this summer for lawmakers to learn more about the bidding process for Community Corrections.
Learn more here.
---
This Week's DMGS Posts
---
Capital and Capitol Happenings: New Positions, Promotions, and More
Karla Segundo: new Senior Manager of Government Relations, National Association of Landscape Professionals
Brian Watts: new Principal Associate (Flood-Prepared Communities), the Pew Charitable Trusts
Matt Adams: new Director, AT&T
Mike Mattoon: new Vice President, Government Affairs and Policy, Acadia Pharmaceuticals Inc.
Darrin Youker: new Government Affairs, Horizon Farm Credit
Robert Wilson: new Senior Vice President, State Government Affairs, California and Nevada Credit Union Leagues
---
Happy Birthdays This Week
Jason High: Senior Associate, Ridge Policy Group
Chris Borgerding: Director of Government Relations, Association of Dental Support Organizations
Jack Groarke: Deputy Chief of Staff and Infrastructure Implementation Coordinator, Office of Governor Tom Wolf
Email future suggestions to rjstevens@dmgs.com.
---