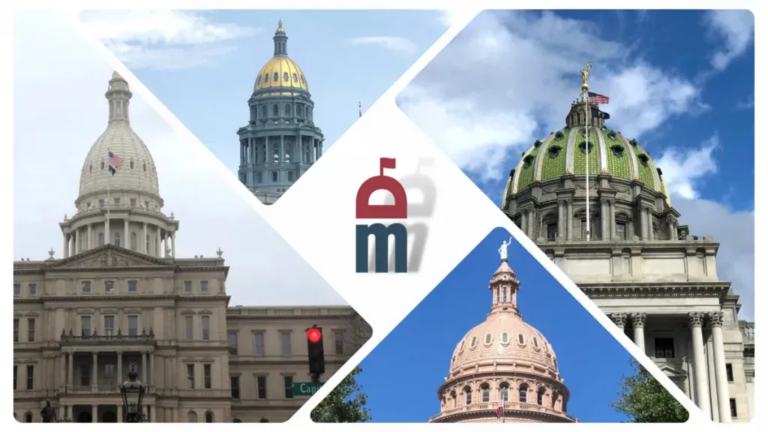 With fall quickly approaching, state legislators and governors across the country remained busy, with a number of states finalizing or looking to finalize their respective budgets. Other issues tackled this week include combatting the fentanyl crisis, redistricting, and housing.
---
Arizona
The Legislature concluded its longest legislative session in the state's history by passing Proposition 400, which will ask Maricopa County voters to hold a referendum on the continuation of Prop 400, which is a half-cent transportation tax.
Learn more here
---
Arkansas
Around 900 laws were set to go into effect in Arkansas on August 1st. Significant laws include Act 445, which amends a law related to distracted driving, and Act 195, which revises an existing child labor law.
Learn more here
---
California
A proposed ballot initiative to reform the state's open record law is expected to appear before voters next year. The proposal would make many private papers of lawmakers accessible to the public for the first time.
Learn more here
---
Connecticut
The state's affordable housing group convened to discuss how the state can effectively address Connecticut's housing crisis.
Learn more here
---
Illinois
Governor J.B. Pritzker (D) signed HB2369 into law, which requires school districts to implement full day attendance for their kindergarten programs. The plan will be fully established by the 2027-2028 school year.
Learn more here
---
Louisiana
Over a dozen laws went into effect on August 1, including Act 399, which sets stricter penalties for those convicted of selling fentanyl.
Learn more here
---
Massachusetts
The Massachusetts Legislature finally passed the state budget for the 2024 fiscal year. The House and Senate finally reached an agreement on the $56 billion budget, four weeks after the original due date.
Learn more here
---
Michigan
On Monday, Governor Gretchen Whitmer (D) signed the state's $57.4 billion budget, which mainly centers around funding for education, public health, and infrastructure.
Learn more here
---
New York
Governor Kathy Hochul (D) announced that $406 million will be invested to build 800 affordable housing units across the state including Westchester, Brooklyn, and the Bronx.
Learn more here
---
North Carolina
State lawmakers announced that they are closing in on a deal to pass the state's budget, which is currently a month overdue.
Learn more here
---
Oklahoma
Governor Kevin Stitt (R) filed a lawsuit against the state's Senate President Pro Tempore and Speaker of the House, after the Legislature overturned the Governor's vetoes on tribal compact extensions.
Learn more here
---
Pennsylvania
Governor Josh Shapiro (D) signed an executive order that will create a workforce training program that allocates $400 million in federal funding towards reimbursing organizations to train workers.
Learn more here
---
South Carolina
Governor Henry McMaster (R) signed H.3503, a new fentanyl trafficking bill, into law. The new law now adds fentanyl-related substances to Schedule I controlled substances, and also makes fentanyl trafficking a felony offense.
Learn more here
---
Texas
Governor Greg Abbott (R) signed House Bill 1442 and House Bill 2899 into law, bills that provide law enforcement with resources to address illegal street racing.
Learn more here
---
Vermont
The state's Rural and Climate Solutions Caucuses are working together to create a state proposal for the state's next legislative session, following the catastrophic flooding Vermont faced earlier in July.
Learn more here
---
Wisconsin
A lawsuit was filed this week to Wisconsin's Supreme Court over rewriting the state's legislative maps.
Learn more here
---
Capital and Capitol Happenings: New Positions, Promotions, and More
George Hindson: new Chief of Staff, Team Pennsylvania
Courtenay Dunn: new Senior Director of Government Affairs, ICE
Michael Blank: new Director State Legislative Affairs, CTIA
Kiley Smith: new Manager, State Government Affairs, TikTok
Mallory Richardson: new Government Affairs Manager, the Chemours Company
Angel Donahue-Rodriguez: new Assistant General Manager for External Affairs, MBTA
---
Happy Birthdays This Week
Shane Downey: Vice President, Government and Community Relations, Global Business Travel Association
Justin Gensimore: Executive Director, Pennsylvania State Senate
Justin Wood: General Counsel and Vice President of External Relations, Children's Advocacy Centers of Texas
Becca Martin: Government Relations Director, Cargill
Emily Yeiser Stepp: Executive Director, the National Dairy FARM Program, National Milk Producers Federation
Michael Suleiman: Manager of Government Relations, South Jersey Transportation Authority
Want to wish someone a happy birthday or recognize their new job or promotion? Email future suggestions to rjstevens@dmgs.com.
---