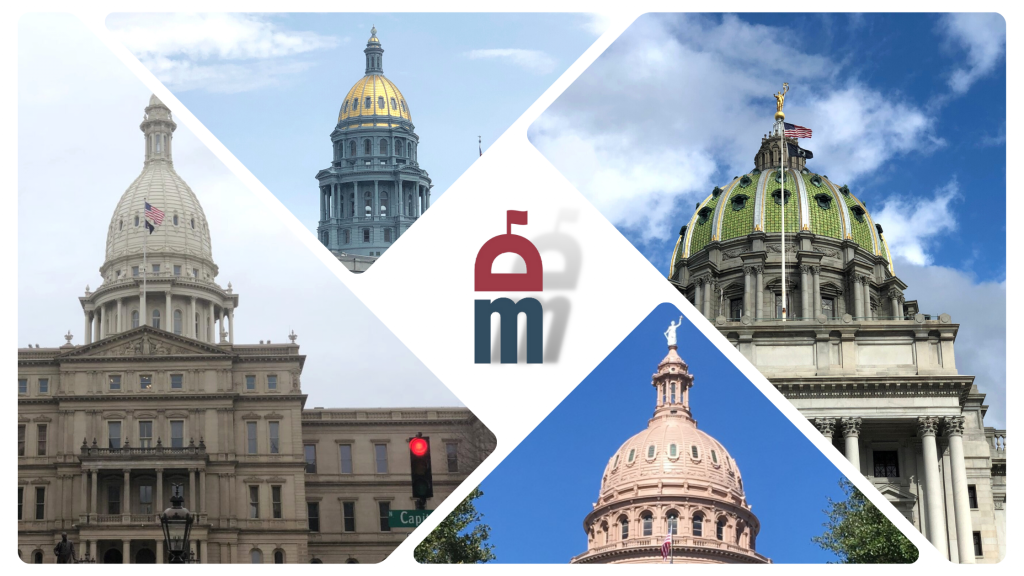 ---
As we approach the Holiday season, action has not slowed down in state capitols around the country. Notably, more GOP governors issued orders this week banning TikTok from state devices and networks, (something DMGS has covered extensively), legislators are working to address specific items in special sessions, and incoming governors are making key appointments to their upcoming administrations.
---
Arizona
Some lawmakers in Arizona are urging outgoing Governor Doug Ducey to call a special legislative session to address education funding.
Learn more here.
---
Arkansas
Governor-elect Sarah Huckabee Sanders announced her intention to reappoint incumbent Secretary of Agriculture Wes Ward, who has served in the role for the last seven years.
Learn more here.
---
Connecticut
Approaching the 10th anniversary of the Sandy Hook School shooting, Governor Ned Lamont is announcing plans to introduce new gun control legislation in the upcoming legislative session.
Learn more here.
---
Florida
In a special session, the Florida legislature passed new legislation with the hopes of stabilizing the property insurance market. The legislature created a $1 billion taxpayer-funded aid program for insurers.
Learn more here.
---
Georgia
Governor Brian Kemp announced that he was extending the state's temporary fuel tax suspension through January 10th, 2023. He also expressed support for several other relief programs as Georgians battle inflationary costs.
Learn more here.
---
Indiana
Senator Mike Braun, who has served in the U.S. Senate since 2018, announced a run for Governor to succeed the term-limited Governor Eric Holcomb.
Learn more here.
---
Iowa
Governor Kim Reynolds issued a directive banning TikTok on all state devices, and prohibiting any state agencies from owning a TikTok account.
Learn more here.
---
Kansas
Governor Laura Kelly announced a new program to provide $56 million in new funding for school-aged children that received free or reduced-price meals at school. The program will provide $391 to help combat food insecurity for kids while home for winter break.
Learn more here.
---
Kentucky
Governor Andy Beshear announced his intention to push for medical marijuana legalization in the upcoming legislative session. In November, the governor signed an executive order to legalize medical marijuana in extreme cases.
Learn more here.
---
Louisiana
Governor John Bel Edwards and state lawmakers are waiting until April to fund a program to incentivize and attract more property insurance companies back to Louisiana.
Learn more here.
---
Michigan
Governor Gretchen Whitmer and the state legislature agreed on a deal to allocate $175 million towards a Grow Your Own Teacher Program, which aims to combat teacher workforce shortages in the state.
Learn more here.
---
Montana
Governor Greg Gianforte announced over $300 million in investments to expand broadband access for over 62,000 families in Montana.
Learn more here.
---
Nevada
Nevada Attorney General Aaron D. Ford announced that the state will receive $33.7 million in settlements from opioid litigation. The funds are expected to go towards addiction treatment programs.
Learn more here.
---
New Hampshire
A new bipartisan bill to legalize recreational use of marijuana is expected to be introduced in the next legislative session.
Learn more here.
---
New Mexico
The state is anticipating $3.5 billion in new funding next legislative session. The funding, which comes partially from increased oil and gas production, is expected to go towards projects like road and infrastructure projects, cybersecurity, broadband, water, and rural health.
Learn more here.
---
New York
The New York state legislature is currently considering a special session to increase their salaries. The proposal, which would raise legislator salaries from $110,000 to $130,000, may also ban any outside income.
Learn more here.
---
North Dakota
Governor Doug Burgum announced a ban of TikTok on state government devices, including the prohibition of downloading the app on the state's network, or visiting the website.
Learn more here.
---
Ohio
Governor Mike DeWine announced the new ASSET program. The program, which stands for "Armed School Staff Essential Training," will train staff members who opt in to allow them to carry firearms on school grounds.
Learn more here.
---
Oklahoma
State lawmakers might consider legislation to ban some school grade levels from discussing sexual orientation and gender identity in the state. The potential legislation would require school personnel to recommend such subjects be discussed at home, and prohibit the topic from kindergarten through third grade.
Learn more here.
---
Oregon
Governor Kate Brown commuted all 17 of the state's pending death row sentences. Governor Brown continued previous Governor John Kitzhaber's practice of not enforcing the death penalty, which began in 2011. Governor Brown also ordered the dismantling of the state's execution chamber.
Learn more here.
---
South Dakota
Governor Kristi Noem and two state legislators announced legislation to restrict foreign purchases of agricultural land in the state. The legislation is viewed as a way to prevent China from buying land in the state.
Learn more here.
---
Texas
Governor Greg Abbott announced he will seek a five-year minimum mandatory prison sentence for those convicted of human smuggling.
Learn more here.
---
Utah
Governor Spencer Cox joined other Republican Governors by issuing a ban on TikTok on any state owned devices. State employees are now prohibited from downloading or using the app or website on any state-owned devices.
Learn more here.
---
Vermont
Governor Phil Scott signed the Reproductive Liberty Amendment into the Vermont Constitution. The amendment, which had passed in November by more than 50 percentage points, enshrines the right to reproductive freedom into the state's constitution.
Learn more here.
---
Washington
Washington state has received a waiver allowing the state to offer health insurance to those not lawfully residing in the United States. This waiver allows health insurance through the ACA to be extended to approximately 105,000 residing in the state.
Learn more here.
---
West Virginia
Governor Jim Justice announced that the state would become the first in the country to digitize vehicle titles and the process for vehicle registrations. The move is estimated to save about 4,000,000 pieces of paper per year, as well as drastically reduce the amount of time residents spend in DMV offices.
Learn more here.
---
Capital and Capitol Happenings: New Positions, Promotions, and More
Jim Clark: new Director, State Government Affairs, Roche Diagnostics
Devon Mathis: new Chief Operations Officer, California Assembly Republican Caucus
Erica Woods: new Head of U.S. State & Local Policy, Stripe
Austin Holder: new Deputy Budget Director, Texas Office of the Governor
Ashley Juergens: new Director, Government Affairs, Vistra Corp.
Ted Townsend.: new President & CEO, Greater Memphis Chamber
Ben Slate: new Legislative Director, Pennsylvania State Senate (Sen. Greg Rothman's office)
---
Happy Birthdays This Week
Sam Olsen: Associate, Karoub Associates
Jacob Caplan: Senior Advocacy Manager, National MS Society
Prashanthi Raman: Vice President of Global Government Affairs, Cruise
Annie Dutton: Director of Government Relations, Associated Builders and Contractors of Indiana/Kentucky
Email future suggestions to rjstevens@dmgs.com.