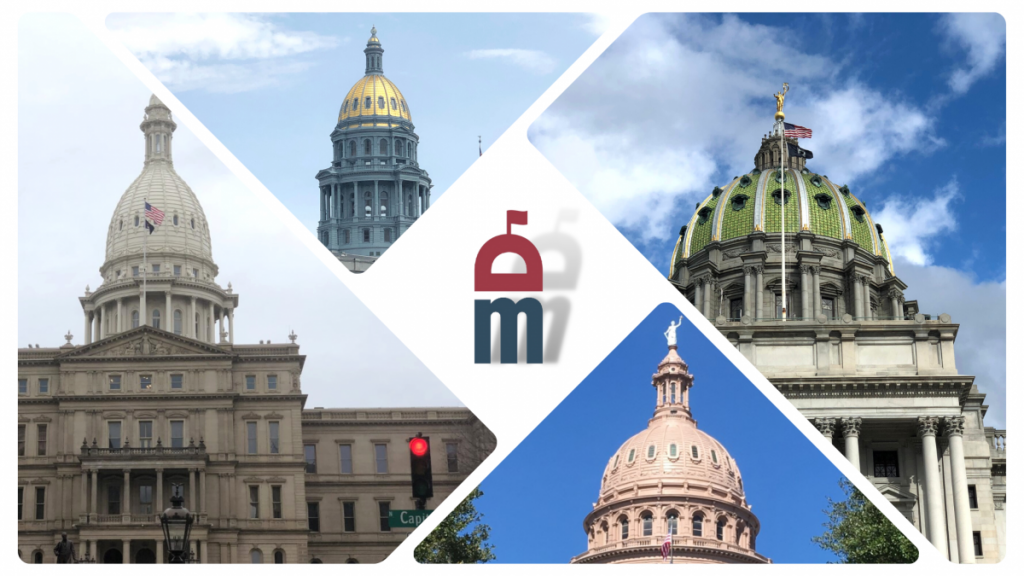 States across the country are bracing for winter weather this week, while more GOP governors are taking action to ban TikTok on state devices. Additionally, incoming governors continue to add to their staffs as they prepare to take office, and state legislators are planning for the upcoming 2023 legislative sessions.
---
Alabama
The Alabama legislature is considering the potential of building a new state house, following up on the recommendation of a panel in September that directed staff and the Secretary of State to look into the idea.
Learn more here.
---
Alaska
Governor Mike Dunleavy (R) announced that Heidi Hedberg will serve as the Commissioner of the Alaska Department of Health. Hedberg has served as acting Commissioner since last month, replacing Adam Crum.
Learn more here.
---
Arizona
A judge in Maricopa County dismissed most of the lawsuit brought by Republican Kari Lake, who was defeated by Democrat Katie Hobbs in the race to succeed outgoing Governor Doug Ducey (R). Judge Peter Thompson dismissed eight of the ten claims in Lake's lawsuit.
Learn more here.
---
Arkansas
State Representative Johnny Rye filed HB 1039, legislation that would make daylight savings time permanent in the state.
Learn more here.
---
Connecticut
The Vision Zero Council, an interagency panel dedicated to reducing the amount of traffic-related deaths and injuries, approved various policy recommendations to the state legislature. Recommendations include new requirements for motorcycle riders, open container rules, and new studies of automated traffic enforcement methods.
Learn more here.
---
Delaware
Governor John Carney (D) was elected National President of the Council of State Governments, with a term set to begin on January 1st.
Learn more here.
---
Florida
Governor Ron DeSantis (R) signed Senate Bill 2-A, which reforms the state's property insurance market, following the bill's passage last week.
Learn more here.
---
Illinois
Governor JB Pritzker (D) extended a prior Executive Order to support cybersecurity efforts across all levels of government. The Illinois Cybersecurity Commission will incorporate additional groups, including the Illinois Emergency Management Agency, Department of Innovation and Technology, Attorney General, and the State Police, among others.
Learn more here.
---
Indiana
In anticipation of the new legislative session, Indiana lawmakers are considering different proposals to improve the services of county health departments.
Learn more here.
---
Iowa
Governor Kim Reynolds (R) joined 24 other GOP governors in urging President Joe Biden to end the federal Public Health Emergency for Covid-19.
Learn more here.
---
Kansas
Governor Laura Kelly (R) announced her new three-part plan to reduce taxes, including exemptions for certain items, an annual sales tax holiday, and salary considerations.
Learn more here.
---
Kentucky
In anticipation of a severe winter storm hitting the state this week, Governor Andy Beshear (D) declared a state of emergency. The order will allow for additional resources to be activated, including from the Kentucky National Guard and Emergency Operations Center.
Learn more here.
---
Louisiana
Governor John Bel Edwards (D) plans to ask the state legislature to include exceptions for rape and incest in Louisiana's abortion ban.
Learn more here.
---
Maryland
Governor-elect Wes Moore (D) announced that he has selected State Senator Paul Pinsky (D) to direct the Maryland Energy Commission. Senator Pinsky had been serving as the Chair of the Senate Education, Health, and Environmental Committee.
Learn more here.
---
Massachusetts
Governor-elect Maura Healey (D) announced that Melissa Hoffer would be the state's first climate chief. Hoffer is currently the EPA's Principal Deputy General, and will be overseeing climate policy across state agencies.
Learn more here.
---
Minnesota
Governor Tim Walz (D) indicated he is confident that Minnesota will legalize marijuana in the state by May, while the Speaker of the House Melissa Hortman (D) sees a more long-term approach to the issue.
Learn more here.
---
Missouri
Governor Mike Parson (R) announced that Vivek Malek will serve as the new State Treasurer, filling the vacancy left by Scott Fitzpatrick, who was elected State Auditor. Malek will become the first Indian American to hold statewide office in Missouri.
Learn more here.
---
Montana
Governor Greg Gianforte's (R) housing task force announced a new set of recommendations to combat the state's housing shortage. Suggestions include gathering new information and resources to support construction, streamlining the permit process, and trying to make regulators more efficient.
Learn more here.
---
New Jersey
Senate Democrats passed new gun restrictions this week, with just one Democrat voting against the legislation. The legislation would implement new fees associated with gun ownership, and ban guns in some public spaces, among other things. Governor Phil Murphy (D) is expected to sign the legislation.
Learn more here.
---
New York
Governor Kathy Hochul (D) signed a new piece of legislation that requires employers to list salary ranges while advertising employment positions.
Learn more here.
---
North Carolina
Governor Roy Cooper (D) issued a State of Emergency ahead of the anticipated freezing weather this week. The order will allow for a quicker flow of fuel and other resources to assist with heating needs.
Learn more here.
---
North Dakota
Lt. Governor Brent Sanford (R) announced that he would be stepping down after six years. Tammy Miller, Governor Doug Burgum's (R) Chief Operating Officer, will be taking over the role.
Learn more here.
---
Oklahoma
A new piece of legislation would require that drunk drivers who kill a parent be required to pay child support for their victims' children. The bill is modeled after a similar law in Missouri.
Learn more here.
---
Oregon
The Environmental Quality Commission approved a ban of any new gas-powered vehicles by the year 2035. The 4-1 vote from the Commission follows a similar ruling from California earlier this year.
Learn more here.
---
Pennsylvania
As he prepares to leave office, Governor Tom Wolf (D) announced over $5 million in new grants through the state's Department of Labor and Industry to help develop Pennsylvania's workforce.
Learn more here.
---
South Dakota
The state's Reemployment Assistance Advisory Council recommended a package of tax cuts for the state legislature to consider when the new session starts on January 10. The proposed cuts would reduce taxes by an estimated $18 million.
Learn more here.
---
Washington
Governor Jay Inslee (D) introduced new legislative proposals that would implement new firearm restrictions, including prohibiting military-style weapons, a permit requirement to purchase a gun and making sellers potentially liable for negligent sales.
Learn more here.
---
West Virginia
Governor Jim Justice (R) announced he intends to introduce legislation banning TikTok on state-owned devices during the upcoming legislative session.
Learn more here.
---
Capital and Capitol Happenings: New Positions, Promotions, and More
Sydney Fincher: new Manager, Federal Relations, Aflac
Cody Bright: new Northeast Regional Director, REFORM Alliance
Kelly McGrath: new Director of Government Affairs, Citadel
Jacob Cimperman: new Communications Specialist, Ohio Secretary of State
Adam Maxey: new Senior State Government Affairs Liaison, Americans for Prosperity
Ryan Shirk: new Executive Director, Pennsylvania House of Representatives
Alejandra Durán: new Deputy Director of Legislation and Policy, California Department of Pesticide Regulation
---
Happy Birthdays This Week
Stephanie Smith: Vice President, State & Regional Affairs, TECO Energy
Jessica Stram: Director of Public Affairs, Target Corporation
Brian Glenn: Government Relations Manager, CropLife America
Mark Brieve: Director of Community and Government Relations, Michigan State University College of Human Medicine
Lawrence Collins: Senior Government Relations Director, Elevance Health
Andrew Blevins: Principal Associate, the Pew Charitable Trusts
Brooke Wheeler: Chief Clerk, Pennsylvania House of Representatives
Email future suggestions to rjstevens@dmgs.com.
---