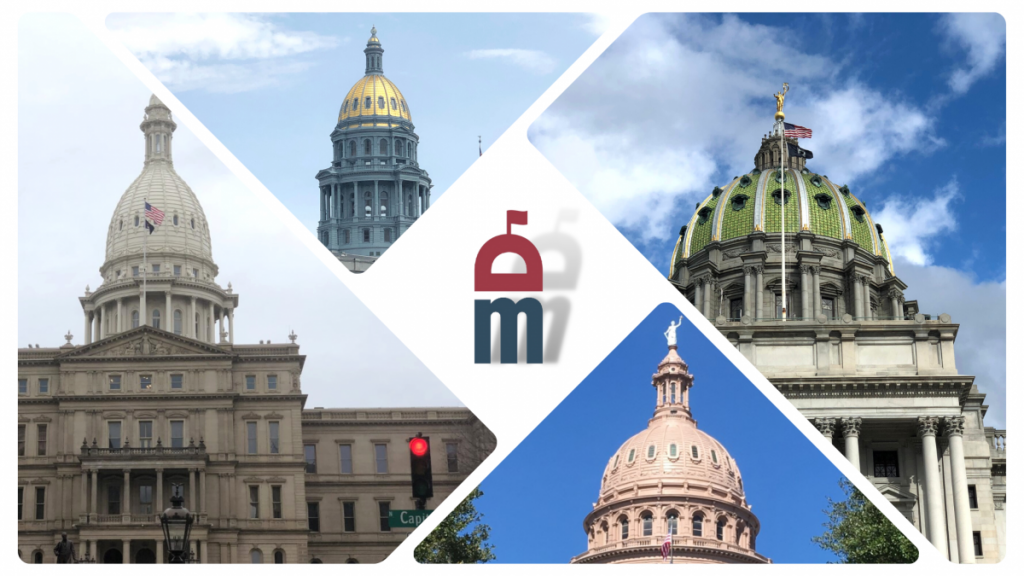 With the holiday season now in the rearview mirror, state lawmakers and governors across the country are busy preparing for the upcoming legislative sessions. We are beginning to see and hear which topics may dominate the upcoming sessions, including TikTok bans, abortion, housing, tax reform, and more.
---
Alabama
Alabama's new conceal carry law goes into effect on January 1, 2023, after lawmakers passed legislation allowing the practice earlier this year.
Learn more here.
---
Arizona
Outgoing Governor Doug Ducey (R) will remove his makeshift border barrier of shipping containers along the border in Yuma and Cochise counties.
Learn more here.
---
California
Proposed legislation in California would lower the threshold amount for petty theft and shoplifting from $950 to $400, in an attempt to combat retail crime.
Learn more here.
---
Colorado
Colorado Attorney General Phil Weiser (D) announced the formation of a new statewide task force to crack down on products that are stolen and resold through online marketplaces.
Learn more here.
---
Florida
State Sen. Danny Burgess (R) thinks students need to be taught social media safety in school and is again proposing legislation that would require Florida public schools to teach the subject. 
Learn more here.
---
Kansas
Governor Laura Kelly (D) issued an Executive Order this week banning TikTok on state-issued devices. Kelly is the first Democratic governor to implement restrictions on TikTok, joining a large group of GOP governors who have taken various actions on the Chinese-owned app. 
Learn more here.
---
Kentucky
Some advocates and state lawmakers are hoping that 2023 is the year Kentucky finally legalizes medical cannabis. Legislation legalizing medical cannabis has easily passed the state House in two of the last three legislative sessions, but have died in the Senate.
Learn more here.
---
Maine
State lawmakers in Maine are expected to propose legislation to ban flavored tobacco products across the state.
Learn more here.
---
Massachusetts
Legislation headed to Governor Charlie Baker's (R) would establish various new requirements aimed at protecting pedestrians, bicyclists and other vulnerable road users.
Learn more here.
---
Minnesota
DFL legislators are expected to try to advance various election-related reforms in this coming session, including proposals to restore the right to vote to people convicted of felonies who've served their jail sentences, expand options for mail-in voting, and more.
Learn more here.
---
Nevada
Governor-elect Joe Lombardo (R) is set to be sworn in as governor next week in two separate ceremonies. 
Learn more here.
---
New Jersey
Various proposed bills remain in limbo at the end of 2022, including legislation to ban smoking in casinos.
Learn more here.
---
New Mexico
One democratic lawmaker in New Mexico is planning to introduce legislation that would create a commission with the authority to set salaries for state lawmakers. New Mexico is currently the country's only unsalaried legislature.
Learn more here.
---
New York
Governor Kathy Hochul (D) signed the first-in-the-nation right-to-repair law for tech products, after some last minute changes.
Learn more here.
---
Ohio
Legislation that could allow cities to expunge marijuana possession offenses is awaiting the signature of Governor Mike DeWine (R).
Learn more here.
---
Oregon
According to the House Majority Leader in Oregon, housing will be a top issue for the legislature when it convenes for the 2023 legislative session.
Learn more here.
---
Pennsylvania
Due to a state law, Pennsylvania's taxes on gas and diesel are increasing in 2023, but some state lawmakers hope to avoid the automatic increase and prevent it from happening again.
Learn more here.
---
South Dakota
State lawmakers are set to convene for the 2023 regular session on January 10, with the legislative calendars already posted for the first three days of the session.
Learn more here.
---
Utah
A GOP lawmaker has introduced legislation for the 2023 session to ban transgender individuals under the age of 18 from undergoing gender-affirming surgeries.
Learn more here.
---
Virginia
Governor Glenn Youngkin (R) earlier this month announced a proposal for a 10% deduction for business income.
Learn more here.
---
Washington
Legislation has been pre-filed for the 2023 legislative session that would create an amendment to the state constitution to enshrine the right to abortion.
Learn more here.
---
Wisconsin
GOP lawmakers may be almost in agreement on a new state budget, but questions still remain about the details for any potential tax reform.
Learn more here.
---
Capital and Capitol Happenings: New Positions, Promotions, and More
Angelina Carione: new Associate Director of Government Relations, External Partnerships, New Jersey Education Association
Jessica Holley: new Legislative Coordinator, State of Florida Department of Health
Brandon Forbes: new District Director, Pennsylvania's 12th Congressional District, U.S. House of Representatives
Jacob Pride: new District Office Director (Chief of Staff), Pennsylvania House of Representatives
---
Happy Birthdays This Week
George Ivanov: Head of International Policy and Government Affairs, Waymo
Samar Jha: Government Affairs Director, AARP
Richard Romer: Manager, Association Governance & Public Policy, AAA National
Meredith Beeson: Senior Director, State Affairs, Global Business Alliance
C. Mitch Taylor: Director, State Government Affairs, Society for Human Resource Management
Philip Falvo: Director of Public Policy, United Way of Pennsylvania
Jordan Layson: Director, U.S. Government Affairs, Amgen
Email future suggestions to rjstevens@dmgs.com.
---