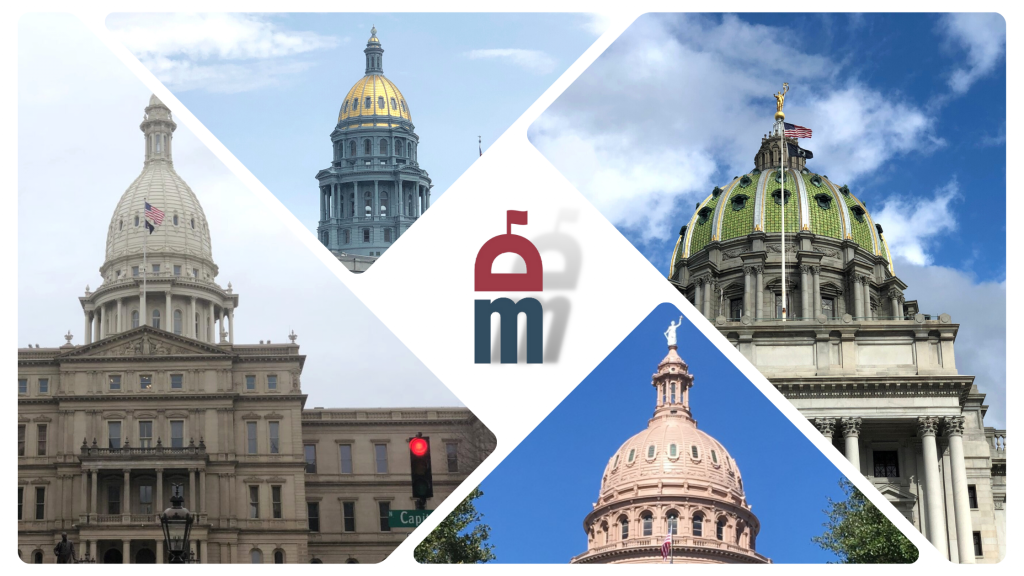 As we move closer to the end of the year, new governors and lawmakers are preparing to take office, incumbents are setting out policy proposals, while outgoing officials are executing their final acts in office. Notably, Governor Chris Sununu of New Hampshire responded to Democrat attempts to move their first in the nation primary election as 2024 speculation heats up, and several governors have taken action to ban TikTok on state government devices.
---
Alabama
During the Association of County Commissions of Alabama Conference this week, lawmakers previewed the 2023 legislative session, saying that allocating more funding from the American Rescue Plan Act as well as billions of dollars in state budget surpluses will be priorities.
Learn more here.
---
Alaska
Governor Mike Dunleavy and Lt. Governor Nancy Dahlstrom took the oath of office on December 5, 2022.
Learn more here.
---
Arizona
Governor Doug Ducey celebrated the commencement of a high-tech chip manufacturing operation at a new TSMC factory in North Phoenix.
Learn more here.
---
Arkansas
Governor Asa Hutchinson announced his intent to grant 42 pardons, three restorations of firearm rights, and two commutations. He denied 52 clemency requests. Most of the pardons granted were for theft or for controlled substance possession.
Learn more here.
---
California
Some lawmakers are hoping, for the second year in a row, to suspend the state's gas tax.
Learn more here.
---
Colorado
Governor Jared Polis has submitted a proposal to the FDA to import prescription drugs from Canada, which would save consumers and employers an average of 65% on imported medication.
Learn more here.
---
Connecticut
Governor Ned Lamont announced that approximately 44,000 cases of low-level cannabis possession convictions would be cleared.
Learn more here.
---
Delaware
Governor John Carney announced that Delaware will receive $11,021,366 from the CDC to strengthen the state's public health workforce and infrastructure.
Learn more here.
---
Florida
Florida's GOP-controlled legislature is set to take major steps in a special legislative session this upcoming week to address the state's property-insurance system.
Learn more here.
---
Georgia
Governor Brian Kemp has appointed William Ray Oliver to the Mountain Judicial Circuit Superior Court.
Learn more here.
---
Hawaii
Governor Josh Green, M.D. was sworn in as the ninth Governor of the State of Hawai'i.
Learn more here.
---
Illinois
The State of Illinois will receive up to $364.6 million in federal funding in order to support small businesses as part of the State Small Business Credit Initiative.
Learn more here.
---
Indiana
Governor Eric Holcomb will present the Sachem Award, the state's highest honor, to Patricia Koch.
Learn more here.
---
Iowa
Governor Kim Reynolds has announced almost $20 million in investments to advance homeownership opportunities for Iowans.
Learn more here.
---
Kansas
Governor Laura Kelly announced that Kansas is on track to implement the "Axe the Food Tax" legislation that was passed during the 2022 session.
Learn more here.
---
Kentucky
Kentucky will receive a federal "Internet for All" grant award of $5.8 million which will support the expansion of high-speed internet throughout the commonwealth.
Learn more here.
---
Louisiana
Governor John Bel Edwards and French President Emmanuel Macron agreed on a memorandum of understanding to expand their partnership into clean energy and address the impacts of climate change.
Learn more here.
---
Maine
A legislative package that would have delivered $450 relief checks to most Maine residents for heating aid failed this week after Governor Janet Mills had previously negotiated a $474 million deal with lawmakers.
Learn more here.
---
Maryland
Governor Larry Hogan announced an emergency directive to prohibit the use of TikTok and other Chinese and Russian-based products or platforms in the state government.
Learn more here.
---
Massachusetts
Governor Charlie Baker announced 78 new FY2023 grant awards, adding up to approximately $7 million, through two Community Compact programs.
Learn more here.
---
Michigan
Governor Gretchen Whitmer and legislative Republicans failed to come to terms at the end of the year's legislative session on a deal that would have provided $200 million to a state fund established to encourage businesses to stay in or relocate to the state.
Learn more here.
---
Mississippi
The Office of Broadband Expansion and Accessibility of Mississippi has launched a new website that will use data to create a state-wide broadband map.
Learn more here.
---
Missouri
Missouri's law legalizing recreational, adult use of marijuana is now in effect, though its purchase is not yet permitted.
Learn more here.
---
Nebraska
Governor Pete Ricketts said earlier this week he will apply for the U.S. Senate seat being vacated by Sen. Ben Sasse.
Learn more here.
---
New Hampshire
Governor Chris Sununu issued a statement regarding reports of President Biden's preferred 2024 election calendar.
Learn more here.
---
New Jersey
Governor Phil Murphy has announced his appointments to the Task Force on Public School Staff Shortages, which was established by Executive Order #309.
Learn more here.
---
New Mexico
Governor Michelle Lujan Grisham has declared that she will be working to provide school lunches free of charge to all K-12 students across the state.
Learn more here.
---
New York
Governor Kathy Hochul has signed legislation to help New Yorkers heat their homes during emergencies by leasing liquified petroleum gas containers to New Yorkers.
Learn more here.
---
North Carolina
Governor Roy Cooper is offering monetary rewards of up to $75,000 total for information leading to the arrest and conviction of those responsible for the destruction of electric utility infrastructure in Moore County.
Learn more here.
---
North Dakota
Governor Doug Burgum has presented his 2023-2025 executive budget proposal with that includes almost $170 million to address the state's workforce shortage, $3 billion for critical infrastructure, and additional supports for education investments.
Learn more here.
---
Ohio
Governor Mike DeWine announced state support for 12 development projects that will generate $2.3 billion in community investments and $1.29 billion in payroll investments across the state.
Learn more here.
---
Oklahoma
Governor Kevin Stitt issued Executive Order 2022-33, which bans TikTok from state agency, employee, and contractor devices in response to national and cybersecurity threats.
Learn more here.
---
Oregon
Governor Kate Brown issued Executive Order 22-24 to grant Oregon hospitals additional flexibility by allowing them to draw on medical volunteer nurses and doctors. Further action by the Oregon Health Authority allows hospitals to pursue supplemental nurse staffing contracts of up to $25 million.
Learn more here.
---
Pennsylvania
Rep. Joanna McClinton (D) was sworn in this week as House Majority Leader for the upcoming legislative session, which did not sit well with House Republicans. Based on election results, democrats hold a one seat majority in the state House, but one democratic lawmaker recently passed away and two other democratic lawmakers resigned upon winning elections for higher office.
Learn more here.
---
Rhode Island
Rhode Island is receiving two grants from the National Coastal Resilience Fund totaling $1.25 million to strengthen resiliency and improve water and habitat quality in the Woonasquatucket River watershed.
Learn more here.
---
South Carolina
Governor Henry McMaster signed a Memorandum of Understanding with the United Kingdom to strengthen cooperation and trade relations.
Learn more here.
---
South Dakota
Governor Kristi Noem announced to a joint assembly of the legislature this week that the state looks to have $310 million in revenue growth for this upcoming budget year and can afford repealing the state's sales tax on groceries, which is 4.5%.
Learn more here.
---
Tennessee
Governor Bill Lee has announced the appointment of Brigadier General Warner A. Ross to lead Tennessee's National Guard.
Learn more here.
---
Texas
Governor Greg Abbott announced the construction of Air Products and the AES Corporation's new green hydrogen facility, which will be the largest in the nation.
Learn more here.
---
Vermont
Governor Phil Scott launched a voluntary paid family leave and medical leave program which will give all working Vermonters access to affordable paid family and medical leave insurance by 2025.
Learn more here.
---
Virginia
Governor Glenn Youngkin issued an Executive Order that ended COVID-19 related fines and penalties.
Learn more here.
---
Washington
Governor Jay Inslee appointed TaTeasha Davis to the Pierce County Superior Court.
Learn more here.
---
West Virginia
Governor Jim Justice partnered with Comcast to connect over 2,100 unserved West Virginia homes and businesses through West Virginia's Line Extension Advancement and Development (LEAD) Program.
Learn more here.
---
Wisconsin
Governor Tony Evers announced the opening of the application period for the new $2 million Veterans Rental Assistance Program.
Learn more here.
---
Capital and Capitol Happenings: New Positions, Promotions, and More
Dustin Todd: new Vice President, Head of Government Affairs, Synopsys Inc.
Jimmy Wittrock: new Chief of Staff, California State Assembly
John Pappas: new Senior Vice President of Government and Public Affairs, GeoComply
Rebecca Hyder: new Vice President of Governmental Affairs, American Academy of Ophthalmology
Mike Goscinski: new Vice President, Government Affairs, IHRSA
Kenny Thompson, Jr.: new SVP & Chief Public Affairs Officer, Vail Resorts
Morgan Wagner: new Chief of Staff, Pennsylvania State Senate (Sen. Greg Rothman's office)
Kristine Bush: new District Director, Pennsylvania State Senate (Sen. Rosemary Brown's office)
Joshua Fidler: new Assistant Director of Legislative Affairs, Pennsylvania Treasury
Cesar Puesan: new Policy Advisor, Office of Texas Governor Greg Abbott
Frank Leach: new Manager, Government Relations, SC Johnson
Madison Hetzner: new Senior Manager, Regulatory Affairs, CVS Health
---
Happy Birthdays This Week
Marcy Ritsick: Principal Analyst, Connecticut General Assembly
Todd Pauley: Director, Government Operations, the Boeing Company
Dave Korkoian: Senior Federal Affairs Representative, FedEx
Nick Krats: Government Relations Manager, Pennsylvania Advocacy and Resources for Autism and Intellectual Disability (PAR)
Email future suggestions to rjstevens@dmgs.com.