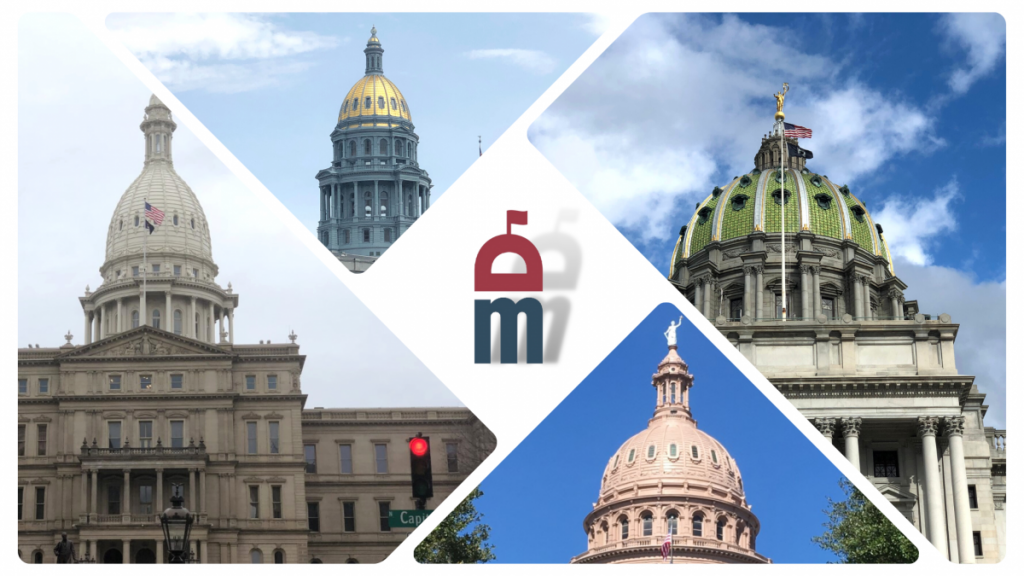 This week, states legislatures around the country convened to begin or continue their respective legislative sessions. Additionally, numerous governors were sworn in to their new terms, and others delivered their State of the State addresses, highlighting future policy priorities. Several governors also introduced their budgets for the upcoming fiscal year. 
---
Alabama
Alabama has a rare $2.7 billion surplus and lawmakers are looking at giving some of that money back to taxpayers in the form of tax rebates.
Learn more here.
---
Alaska
There have already been over 60 bills introduced in Alaska's state legislature, including legislation regarding voting reform, sportsman measures, and pensions for firefighters and police.
Learn more here.
---
Arizona
In her first State of the State Address, Governor Katie Hobbs (D) spoke about some of her policy priorities, including increased funding for public education, improving affordable housing, and fighting inflation.
Learn more here.
---
Arkansas
Governor Sarah Huckabee Sanders (R) was officially sworn in this week, becoming the first woman in the history of the state to serve in the role.
Learn more here.
---
California
Governor Gavin Newsom (D) is anticipating a state budget deficit of $22.5 billion, a reversal of last year's near $100 billion surplus.
Learn more here.
---
Colorado
As Governor Jared Polis (D) was sworn in for his second term, he emphasized his administration's commitment to improving affordable housing, renewable energy, and high crime rates.
Learn more here.
---
Connecticut
This week, Governor Ned Lamont (D) announced the beginning of adult-use cannabis at licensed retailers to adults 21 and older.
Learn more here.
---
Delaware
The new state legislative session in Delaware began this week and a record number of women are now serving in the General Assembly.
Learn more here.
---
Florida
Governor Ron DeSantis (R) is contemplating asking state lawmakers to ban China from real estate investments in Florida.
Learn more here.
---
Georgia
Georgia's state legislature convened this week, and is expected to consider issues such as election reform, sports gambling, and electric vehicle regulations.
Learn more here.
---
Hawaii
Governor Josh Green (D) created a new $100 million climate impact fund, which will help fund green energy initiatives.
Learn more here.
---
Idaho
Governor Brad Little (R) unveiled his 'Idaho First' plan during his state of the state, which focuses on education, workforce development, and combating fentanyl among numerous other issues.
Learn more here.
---
Illinois
Governor J.B. Pritzker (D) signed legislation banning certain types of firearms as well as high-capacity ammunition magazines in the state.
Learn more here.
---
Indiana
Governor Eric Holcomb (R) delivered his State of the State address, in which he emphasized his support for increased funding for education, healthcare, and law enforcement.
Learn more here.
---
Iowa
During her Condition of the State address, Governor Kim Reynolds (R) announced her intention to institute a new plan for state-funded private school scholarships, and other education measures.
Learn more here.
---
Kansas
Governor Laura Kelly (D) was sworn in to her second term this week. Governor Kelly's remarks at her swearing-in focused on increasing civility in government.
Learn more here.
---
Kentucky
The Kentucky state legislature convened this week. They are expected to consider issues such as medical cannabis and sports gambling, among other proposals, this session.
Learn more here.
---
Maine
Governor Janet Mills (D) has introduced her new two-year budget. The proposal totals $10.3 billion and includes further investments in education, housing, and healthcare initiatives.
Learn more here.
---
Maryland
The Maryland state legislature convened this week. Democratic members have a long agenda as incoming Governor Wes Moore (D) prepares to take over for outgoing Republican Larry Hogan.
Learn more here.
---
Massachusetts
With Governor Maura Healey (D) now in office, democratic state legislators are preparing a wave of gun-safety legislation for consideration. Multiple bills are expected to be filed in the next few weeks.
Learn more here
---
Michigan
The state legislature convened this week, with democrats in control of both the House and Senate for the first time in almost forty years.
Learn more here.
---
Minnesota
Governor Tim Walz (D) signed legislation to simplify the state's tax filings, bringing the tax code into conformity with federal tax rules.
Learn more here.
---
Mississippi
Governor Tate Reeves (R) issued a directive to ban TikTok from all state government devices and the internet networks, joining other governors who did the same late last year.
Learn more here.
---
Missouri
Governor Mike Parson (R) is proposing an 8.7% raise and extra late night pay for state employees, which would be funded by the state's budget surplus.
Learn more here.
---
Nebraska
Newly inaugurated Governor Jim Pillen (R) announced he would nominate his predecessor, former Governor Pete Ricketts (R) to fill the United States Senate seat vacated by former Senator Ben Sasse (R).
Learn more here.
---
New Hampshire
Proposed legislation in the New Hampshire House would change filing requirements for candidates. The legislation, HB 116, would increase both the amount of required signatures and filing fee to appear on the primary ballot for Governor, U.S. Senate, and Congress.
Learn more here
---
New Jersey
Governor Phil Murphy (D) indicated his support for reforming the amount of liquor licenses allowed in the state over the next few years.
Learn more here.
---
New Mexico
Governor Michelle Lujan Grisham (D) released her FY 2024 budget, totaling $9.4B in spending, with significant investments in housing, healthcare, and education.
Learn more here.
---
New York
Governor Kathy Hochul (D) announced a new $1 billion plan to support those with mental illness. The plan includes the reopening of 800 inpatient beds and 3,500 units of housing.
Learn more here.
---
North Carolina
The North Carolina state legislature convened this week. Abortion access and a renewed effort at legalizing sports betting are expected to be considered during this session.
Learn more here.
---
North Dakota
A new bill for consideration would reinstate a 2019 tax break on automation equipment for manufacturers. HB 1168 would increase the $1 million credit in 2019 to $2.5 million.
Learn more here.
---
Ohio
Last week, a third of House Republicans banded with Democrats to elect Republican Jason Stephens as Speaker of the House. This week, the other House Republicans formed a "third caucus."
Learn more here.
---
Oklahoma
A GOP state Senator is proposing legislation that could potentially criminalize health professions for providing gender medicine and healthcare to transgender adults.
Learn more here.
---
Oregon
Governor Tina Kotek (D) was sworn in for her first term this week. Kotek declared in her inaugural address that she would direct the state government to help create 36,000 new homes a year to help combat homelessness.
Learn more here.
---
Pennsylvania
This week, Pennsylvania's state Senate passed a bill that would propose three state constitutional amendments to voters, including one on voter ID and another expanding the statute of limitations for child sex abuse victims.
Learn more here.
---
South Carolina
Governor Henry McMaster (R) was sworn in for his second full term this week. At the conclusion of his term, Governor McMaster will be the longest serving governor in South Carolina history.
Learn more here.
---
South Dakota
Governor Kristi Noem (R) delivered her State of the State Address this week, placing a large emphasis on her goal of cutting the state tax on groceries.
Learn more here.
---
Texas
The state legislature in Texas is considering new restrictions on birth control for teens.
Learn more here.
---
Utah
Lawmakers in Utah are considering eliminating the state's sales tax on food during the upcoming legislative session.
Learn more here.
---
Vermont
Lawmakers are considering a bill that would make it easier for those convicted to get a charge expunged from their record.
Learn more here.
---
Washington
Governor Jay Inslee (D) delivered his 2023 State of the State Speech, and discussed issues such as special education, public safety, and reproductive freedom as priorities for the upcoming session.
Learn more here.
---
West Virginia
West Virginia's legislative session began this week, with a large focus on disputes over tax cuts looming in the upcoming session.
Learn more here.
---
Capital and Capitol Happenings: New Positions, Promotions, and More
Joe Fedewa: new Senior Budget Advisor, Michigan House of Representatives
Hunter Tower: new East Coast Director, Freedom Foundation
Michelle Roth: new Senior Director of Governmental Affairs, League of Southeastern Credit Unions & Affiliates
Noelle Britton: new Deputy Chief of Staff, U.S. House of Representatives
Audrey Jackson: Senior Manager, Government Affairs, Carvana
Ann Kaufman: Deputy District Director, Congressman Glenn 'GT' Thompson 
Tim Tarpley: new President, Energy Workforce & Technology Council
Andrew Festerman: new Legislative Aide, Michigan House of Representatives
Bobby Maggio: new Senior Advisor, U.S. Senator John Fetterman
Pam Sucato: new Director of Policy & Intergovernmental Affairs, Connecticut Department of Transportation
Ryan King: new Vice President, Tennessee Electric Cooperative Association
Catherine Grason: new Senior Counsel (Northeast) and Head of Government Affairs, Oscar Health
Pam Goins: new State Government Affairs, Microsoft
---
Happy Birthdays This Week
Andrew Robreno: DIrector, Government & Institutional Affairs, Ferrero
Atalie Ebersole: Senior Director of Membership and Government Relations, Pet Food Institute
Oscar Garza: State Government Affairs Manager, AEP Texas
Elizabeth Hooper: Associate Vice President of Government and Community Relations, Virginia Tech
Matthew Rindfuss: Legislative Assistant, Pennsylvania House of Representatives
Matthew Eggers: Vice President, Cybersecurity, U.S. Chamber of Commerce
Email future suggestions to rjstevens@dmgs.com.
---