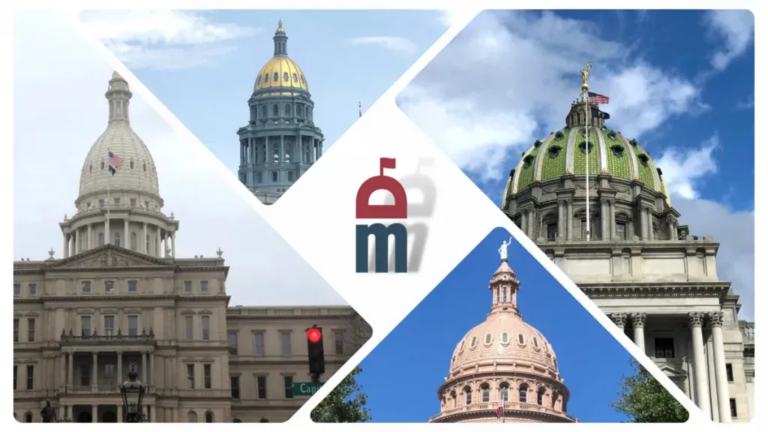 It may be the middle of the summer, but that didn't stop a plethora of legislative and executive action from taking place this week. Some states continued to work on, or finalize, their respective budgets, Oklahoma became the 41st state to offer online voter registration, a court ordered New York to redraw its congressional maps, and Texas lawmakers passed a deal to address property taxes.
---
Alabama
$2.6 million will be allocated towards state infrastructure projects through Alabama's Annual Grant Program. Governor Kay Ivey (R) made the announcement earlier this week and believes the funding will help resolve the state's issues in transportation infrastructure.
Learn more here
---
Alaska
Governor Mike Dunleavy (R) has signed into law a package of bills related to the pharmacy system in the state to combat the opioid crisis.
Learn more here.
---
Arkansas
School districts across the state are facing increasing costs from insurance premiums. Governor Sarah Huckabee Sanders (R) announced that the state will help alleviate school districts of these costs, which are estimated around $11 million.
Learn more here
---
California
Governor Gavin Newsom (D) signed a package of bills to improve the state's infrastructure. Legislation includes improving the state's transportation system and clean water supply, as well as building a 100% clean energy grid.
Learn more here
---
Colorado
The Colorado legislature has passed an updated wildlife and lands management plan to benefit native species and land conservation efforts.
Learn more here.
---
Connecticut
Governor Ned Lamont (D) vetoed five bills, which originally passed unanimously by both chambers of the General Assembly. Despite convening on Monday for mandatory technical sessions, lawmakers declined the opportunity to override the governor's vetoes.
Learn more here
---
Georgia
Governor Brian Kemp (R) announced that Kia will be investing over $200 million towards EV9 Production, which will also generate over 200 jobs in the state.
Learn more here
---
Maine
Governor Janet Mills (D) signed Maine's budget bill this week, which will now pay for family and medical leave beginning in 2026. Maine joins 12 other states to require employers to offer paid family and medical leave.
Learn more here
---
Maryland
Maryland Representative Jamie Raskin (D) will not run for the state's open U.S. Senate seat, following the retirement of Senator Ben Cardin (D). The Maryland Representative will instead seek reelection in the House.
Learn more here
---
Michigan
Governor Gretchen Whitmer (D) signed a slate of bills that are targeted at supporting small businesses, as well as promoting economic development throughout the state.
Learn more here
---
Missouri
After Governor Mike Parson (R) vetoed funding from nearly 200 items within the state's budget bill, lawmakers are seeking to override the governor's vetoes.
Learn more here
---
Montana
Legislators are seeking a special session, in order to lower the state's property taxes. This follows after residents received property tax estimates in late June.
Learn more here
---
New Jersey
Governor Phil Murphy (D) recently signed a package of bills aimed at lowering the cost of prescription drugs, as well as enforcing greater transparency towards pricing of prescription medications.
Learn more here
---
New York
On Thursday, the state was ordered by a New York Appeals Court to redraw its congressional map. The court claimed that the court-drawn districts from last year were temporary.
Learn more here
---
Ohio
Governor Mike DeWine (R) signed the state's budget for the new fiscal year, which includes a $33.3 million grant aimed at creating healthier, safer school districts.
Learn more here
---
Oklahoma
Oklahoma became the 41st state to approve of online voter registration. The Oklahoma State Election Board claims that the system is safe and secure.
Learn more here
---
Pennsylvania
The state's budget remains in deadlock after lawmakers failed to send a completed budget to the governor before the new fiscal year began. While lawmakers passed the state's spending plan, they still need to sign bills before going to Governor Josh Shapiro (D).
Learn more here
---
Texas
The State Legislature finally passed an agreement on property taxes, which includes an $18 billion property tax cut package.
Learn more here
---
Virginia
Governor Glenn Youngkin (R) announced the state's new Offshore Wind Supplier Development Grant, aimed at providing clean energy and boosting Virginia's economy.
Learn more here
---
Wisconsin
Wisconsin lawmakers finally passed the state's biennial 2023-2025 budget. The bill does exclude Governor Tony Evers (D) original plans to help local governments with grants from federal funding.
Learn more here
---
Capital and Capitol Happenings: New Positions, Promotions, and More
Max Linder: new Senior Government Relations Manager, American Academy of Neurology
Becky Campbell: new Senior Director of External Affairs, Leeward Renewable Energy, LLC
Brian Logan: new Director, US State Government Affairs, East Region, SAP
Brian Parks: new Head of Advocacy, LSG
---
Happy Birthdays This Week
Chip Kunde: Senior Vice President, Institutional Affairs & Corporate Communications, Ferrero North America
Lindsay Young: Republican Chief of Staff and Legal Counsel, Michigan House of Representatives
Rob Wooley: Senior Director, Legislative Affairs, Public Policy and Partnership Development, National Hockey League (NHL)
Cody Bright: Northeast Regional Director, REFORM Alliance
Carl Marrara: Executive Director, Pennsylvania Manufacturers' Association
Medinah Muhammad: Director, Intergovernmental Affairs, New Jersey Economic Development Authority
Lindsey Valdez: Director, Mission Operations, Mothers Against Drunk Driving (MADD)
Want to wish someone a happy birthday or recognize their new job or promotion? Email future suggestions to rjstevens@dmgs.com.
---