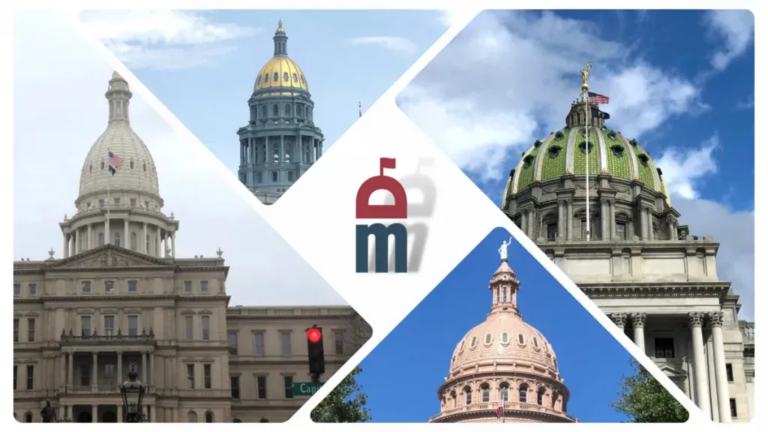 It was a busy week in state capitols around the country. Some states addressed budget measures for upcoming years, while other states took steps to combat workforce shortages. Additionally, Illinois took steps to improve their railway infrastructure, Minnesota released details regarding their new cannabis program, and Vermont legalized sports betting.
---
Alabama
Governor Kay Ivey (R), signed House Bill 342, which expands access for new teachers to alternative certification pathways. The legislation comes in light of teacher shortages in the state.
Learn more here.
---
Arizona
Governor Katie Hobbs (D) indicated that she will veto a Republican proposal to continue a sales tax, which came into effect in 1985, that is used to fund transportation infrastructure in Maricopa County. The tax is set to expire in 2025.
Learn more here.
---
Colorado
Governor Jared Polis (D) signed over 100 new bills into law. The new laws include equal pay measures, medical debt privacy, and school mental health screenings.
Learn more here.
---
Connecticut
Governor Ned Lamont (D) signed the biennial 2024/2025 state budget into law, which notably includes the largest reduction in the income tax in the history of Connecticut.
Learn more here.
---
Illinois
Governor J.B. Pritzker (D) announced a new high-speed rail project. The new project is expected to allow Amtrak trains to reach speeds of 110 mph, which will reduce travel times between St. Louis and Chicago.
Learn more here.    
---
Louisiana
The Louisiana State Legislature approved measures that create new regulations for coroners performing autopsies.
Learn more here.    
---
Michigan
Governor Gretchen Whitmer (D) signed new legislation that prohibits discrimination in employment or education based on an individual's hair texture or protective styles.
Learn more here.      
---
Minnesota
Minnesota's recently legalized cannabis application process will include a social equity consideration, designed to benefit those who may have been harmed by over-policing of marijuana.
Learn more here.    
---
New York
Governor Kathy Hochul (D) announced that more than 80% of state employees are now eligible for 12 week fully paid parental leave, as she works to complete a promise she made during her State of the State Address.
Learn more here.  
---
Nevada
The Nevada State Legislature approved $380 million in funding for a baseball stadium in Las Vegas, in an effort to attract a relocation from the Oakland Athletics.
Learn more here.    
---
Ohio
A bill under consideration in the Ohio Legislature would exempt some child care products, such as diapers, car seats, and strollers, from state sales and use tax.
Learn more here.
---
Oklahoma
Governor Kevin Stitt (R) vetoed Senate Bill 552, which would have helped provide counseling to inmates so they understand the charges they are facing.
Learn more here.
---
Rhode Island
Rhode Island's House of Representatives have passed a new series of legislation around prevention of lead poisoning.
Learn more here.
---
South Carolina
The South Carolina legislature has passed new legislation on bond restrictions for repeat criminals in the state.
Learn more here.
---
Texas
Governor Greg Abbott (R) signed legislation that prohibits public colleges and universities from maintaining diversity programs, including DEI offices.
Learn more here.   
---
Vermont
Governor Phil Scott (R) signed a new bill into law this week legalizing online sports betting.
Learn more here.  
---
Capital and Capitol Happenings: New Positions, Promotions, and More
Lillie Brady: new Policy Advisor – Agriculture & Energy, Office of Iowa Governor Kim Reynolds
Erin Bailey: new State Government Affairs Manager, American College of Cardiology
Cindy Morris: new Chief Advancement Officer, American Society on Aging
Andrea DeFelice: new Director, Political Engagement & Grassroots, American Property Casualty Insurance Association
Amy Maguire: new Executive Director, Florida Policy Project
---
Happy Birthdays This Week
Merita Zoga: Director of Governmental Relations, Teacher Retirement System of Texas
Shane Barry: Assistant Director, State Relations, EY
Jonathan Friebert: Senior Manager, Public Policy, Amazon
Jared Evans: Senior Policy Counsel, NAACP Legal Defense and Educational Fund, Inc.
Shanelle Jackson: Senior Manager, State Government Relations, LyondellBasell
Joe Fedewa: Senior Budget Advisor, Michigan House of Representatives
Jessica Bowman: Senior Director, State Government Relations, Reynolds American Inc.
Want to wish someone a happy birthday or recognize their new job or promotion? Email future suggestions to rjstevens@dmgs.com.
---