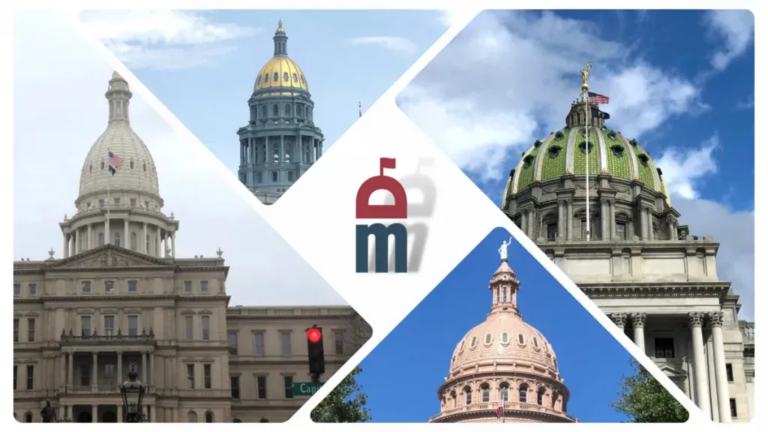 States were busy across the country again this week passing legislation on a variety of issues, namely infrastructure, cannabis, automated speed enforcement, and state budgets.
---
Alabama
The Alabama legislature is considering House Bill 479, which would reduce the statewide sale tax on food.
Learn more here.
---
Arizona
Arizona Governor Katie Hobbs (D) vetoed Senate Bill 1234 which would have banned the use of photo cameras to enforce speeding or red light violations.
Learn more here.
---
California
California lawmakers are considering legislation that would require a human driver to be present in the cab of driverless vehicles for at least the next five years.
Learn more here
---
Colorado
Colorado Lieutenant Governor Dianne Primavera (D) has signed House Bill 23-1215 into law, which changes regulation around facility fees in hospitals and other healthcare facilities.
Learn more here.
---
Connecticut
The Connecticut House passed Senate Bill 922, which will prevent higher education institutions from using debt as reason to withhold student transcripts.
Learn more here.
---
Florida
Governor Ron DeSantis (R) signed new legislation that would allow the use of cameras to enforce school zone speed limits.
Learn more here.
---
Illinois
The Illinois legislature has failed to pass Senate Bill 1559, a cannabis reform bill, partially due to legislators' disagreements over the role of Delta-8 THC.
Learn more here.
---
Kentucky
The Kentucky Opioid Abatement Advisory Commission is considering a new $42 million funding grant to research for treatment of opioid addictions.
Learn more here.
---
Louisiana
The Louisiana Legislature passed a new $50 billion plan to protect and restore the coast over the next half century.
Learn more here.
---
Michigan
Michigan lawmakers proposed a package of bills that would change who is eligible for driver's licenses, including adding those who are in the country illegally.
Learn more here.
---
Minnesota
Minnesota Governor Tim Walz (D) signed a bill that will legalize the usage of recreational marijuana for adults 21 and older.
Learn more here.
---
New York
New York lawmakers are closer to passing the Clean Slate Act, which will seal criminal records for certain misdemeanors and felonies.
Learn more here.
---
Oklahoma
The Oklahoma legislature has passed tax reforms, including the state's franchise and marriage taxes. The legislature failed to repeal the state's grocery tax, however.
Learn more here.
---
Rhode Island
Rhode Island's House Finance Committee is set to vote on the rewrite of their proposed $1 billion tax plan that was proposed earlier this year. Final disputed items included tax cuts and funding for education.
Learn more here.
---
Texas
Proposed teacher pay raises failed this past week, with proposals getting tied up in a debate over private school vouchers programs.
Learn more here.
---
Vermont
Governor Phil Scott (R) is set to sign House Bill 127 into law which will make Vermont the 38th state to have legal online sports betting.
Learn more here.
---
Virginia
The Virginia legislature has released $6 million of federal funding from the U.S. Department of Agriculture to procure food products from local farmers.
Learn more here.
---
West Virginia
West Virginia's Governor Jim Justice (R) has approved a series of 17 West Virginia Water Development Authority Projects.
Learn more here.
---
Capital and Capitol Happenings: New Positions, Promotions, and More
Adam Nagel: new Director of Government Affairs, PennFuture
Noah Marty: new Senior Legislative Aide, California State Assembly
K. Elizabeth Gross: new Director, Government Relations, Discovery Financial Services
James Logan: new Manager, State Government Affairs, American Cleaning Institute
Tony Signorella: new Director of Government Affairs, Comcast
Marisa Balanda: new Deputy Policy Director, PennDOT
Bryan Barash: new Vice President, Deputy General Counsel and External Affairs, Dutchie
Danielle Waterfield: new Senior Advisor for Environmental Review – CHIPS Program Office, U.S. Department of Commerce
---
Happy Birthdays This Week
Shelby Vannoy: Assistant Director of Public Policy, Tennessee Farm Bureau
Sean Slone: Senior Policy Analyst, The Council of State Governments
Jeffrey Waldock: Chief of Staff, Texas House of Representatives
Timothy Graham: Director of Governmental Relations & Coalitions, Kansas National Education Association
Matt Herriman: Director of External Affairs & Development, Noble Education Initiative
Katie Troller Bond: Director, Federal Government Affairs, Boehringer Ingelheim
Juan Vargas: Public Policy Coordinator, Meta
Alexandra Kozak: Pennsylvania Field Manager, Theodore Roosevelt Conservation Partnership
Want to wish someone a happy birthday or recognize their new job or promotion? Email future suggestions to rjstevens@dmgs.com.
---