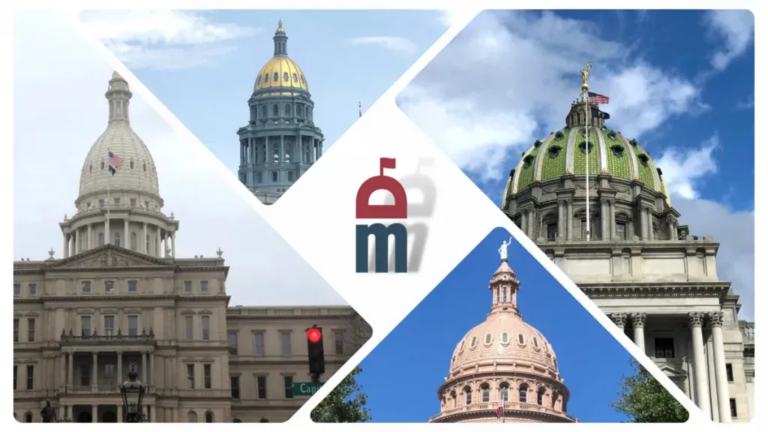 Lawmakers and governors are acting on a variety of issues, as state capitols across the country are addressing several budgetary measures, including on issues related to education and housing. A few notable bills that saw action this week include New York's ban on non-compete agreements and Louisiana's bill that requires parental consent before opening social media accounts.
---
Alaska
Alaska legislators are calling for a special session to potentially override Governor Mike Dunleavy's (R) recent budget cuts to the state's education funding. The override effort is expected to fail.
Learn more here.
---
Arizona
Governor Katie Hobbs (D) vetoed House Bill 2252, which would have allowed out-of-state buyers to purchase some cars in Arizona without paying the state's sales tax.
Learn more here.
---
California
The California State Legislature is currently considering legislation that would expand California's Motor Voter Program to automatically register eligible, unregistered voters.
Learn more here.
---
Connecticut
State lawmakers are urging officials to expedite grant approvals for hundreds of millions of dollars which could improve air quality in school buildings. There is an estimated $94 million in remaining funds allocated to the first round of this program.
Learn more here.
---
Delaware
Senate Bill 180, sponsored by Senator Kyle Evans Gay (D), is headed to the full Senate after advancing out of committee. The legislation would change some of the state's voting rules, including eliminating the requirement that constituents must reside in Delaware a year before voting, removing the literacy requirement, and making it easier for ex-felons to vote.
Learn more here.
---
Hawaii
Governor Josh Green (D) signed a number of bills recently that aim to resolve the state's housing crisis, including actions to assist families who are at risk of becoming homeless.
Learn more here.
---
Illinois
The Illinois House of Representatives has passed House Bill 3751, which would change the eligibility for immigrants to work under federal law, including allowing non-citizens to be hired as police officers.
Learn more here.
---
Indiana
Starting July 1, Indianans will see an increase in their gas-tax, an automatic adjustment designed to keep up with inflation and price changes.
Learn more here.
---
Louisiana
Passed in both the House and Senate, House Bill 62 now heads to the desk of Governor John Bel Edwards (D). Authored by Representative Laurie Schlegel (R), the bill would require minors to receive parental consent before creating accounts on different social media and gaming platforms.
Learn more here.
---
Maine
The Maine Senate approved legislation that would create a statewide paid medical and family leave program, sending the Bill to the Senate. The measure would create a new tax on employers and employees to implement a paid 12-week leave program.
Learn more here.
---
New Hampshire
Governor Chris Sununu (R) recently signed a $15.2 billion two-year state budget. The budget increases salaries for state workers, eliminates certain taxes, and increases funding for affordable housing programs.
Learn more here.
---
South Carolina
Governor Henry McMaster (R) vetoed just $1.5 million from the state's $13 billion budget for the next fiscal year. McMaster cited process issues as reasons for the vetoes.
Learn more here.
---
Texas
The Texas State Senate unanimously passed a new property tax relief bill. This comes in response to Governor Greg Abbott (R) calling a special session several weeks ago to address the issue. The Texas House is not expected to pass the legislation.
Learn more here.
---
Utah
Utah officially began its legal challenge against the U.S. Environmental Protection Agency (EPA)'s new rule known as the "Good Neighbor Plan." The plan regulates how much pollution is allowed to drift across state borders.
Learn more here.
---
Vermont
Vermont's State Legislature overrode numerous vetoes by Governor Phil Scott (R), including his veto on an expansion for childcare subsidies.
Learn more here.
---
Wisconsin
Wisconsin's State Assembly passed a bill that seeks to overhaul the state's liquor laws, which would create a new division of enforcement within the Department of Revenue.
Learn more here.
Capital and Capitol Happenings: New Positions, Promotions, and More
Angela Gochenaur: new Director, Public Policy, Moderna
Kelsey Carlson: new Government Affairs Lead – SMB, Enova International
Kevin Busher: new Chief Advocacy Officer, Pennsylvania School Boards Association
Zach Roberts: new Senior Legislative Advisor, Tennessee General Assembly
---
Happy Birthdays This Week
Bryan Lowe: Regional Director, State and Local Government Relations, Walgreens
Bernard Parker: Vice President External Affairs, SMART
Dave Kralle: Chief of Staff, Essential Utilities, Inc.
Laura Reyes Kopack: Director Government & Community Relations, Mechanical Contractors Association Detroit
Brittney Baker Shurr: Director of Government Affairs & Public Policy, Greater Philadelphia Association of Realtors
Matt Ogburn: State & Local Government Affairs, Verizon
Valerie Rogers: Director of Government Relations, HIMSS North America
Emily Hoffman: Associate, Government Affairs, SoftBank Group International
Kristy Hartman: Director, Stakeholder Strategy & Engagement, Nuclear Energy Institute
Kyndell Gaglio: Government Relations and Legislative Counsel, Turo
Want to wish someone a happy birthday or recognize their new job or promotion? Email future suggestions to rjstevens@dmgs.com.
---