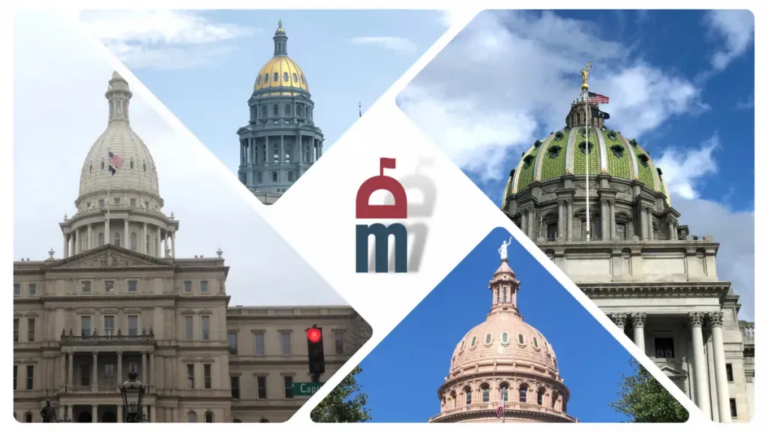 State lawmakers across the country are now rounding out what many consider to be one of the busiest times of the year, with many state budgets due. In addition, various laws signed by governors throughout the year will go into effect on July 1st, relating to education, healthcare, energy, and infrastructure.
---
Alabama
Governor Kay Ivey (R) announced that the state legislature will enter into a special session for redrawing Alabama's congressional districts. The legislature will reconvene on July 17, 2023. This announcement follows after the Supreme Court ruled on the current congressional map this month.
Learn more here
---
Alaska
The Alaska State House will not enter into a special legislative session, following Governor Mike Dunleavy's (R) line-item vetoes. The governor's budget cuts include school infrastructure projects and minimum funding for student costs.
Learn more here
---
Arkansas
Governor Sarah Huckabee Sanders (R) declared a state of emergency in Arkansas, after a severe set of storms that hit the state on June 25th. The state is still in recovery from the deadly tornadoes that hit the state on March 31st.
Learn more here
---
California
On Monday night, the State Legislature and Governor Gavin Newsom (D) reached an agreement for the state's 2023-2024 budget. California will have a  $310.8 billion budget, including $225.9 billion for general fund spending.
Learn more here
---
Colorado
Both Governor of Colorado, Jared Polis (D), and Governor of Wyoming, Mark Gordon (R), signed a memorandum regarding direct air capture activity (DAC) and development. The interstate agreement outlines a partnership of using DAC to enhance the economic growth for both state economies, while reducing carbon dioxide emissions.
Learn more here
---
Connecticut
Governor Ned Lamont (D) signed the Public Act 23-171, which addresses the state's problem with healthcare affordability. The legislation contains multiple initiatives on how the state can reduce healthcare costs for its constituents.
Learn more here
---
Delaware
The State Senate passed a $1.4 billion bond bill, which will be sent to the House of Representatives. The bill is expected to pass in the House and the bill will go towards road construction and other infrastructure projects.
Learn more here
---
Florida
Of the almost 300 bills Governor Ron DeSantis (R) signed this year, more than 200 laws will go into effect as of July 1, 2023. Some bills include the state's 2023-2024 budget for the fiscal year, expansion on affordable housing, and prohibiting governor investment strategies that consider ESG standards.
Learn more here
---
Idaho
The Idaho Republican State Central Committee adopted a presidential caucus proposal. The state will use the caucus proposal to select a presidential nominee if legislators do not reinstate the presidential primary election.
Learn more here
---
Illinois
Governor J.B. Pritzker (D) signed legislation to improve the health insurance market for consumers by authorizing a new state-based marketplace (SBM) and historic rate review.
Learn more here
---
Indiana
Governor Eric Holcomb (R) signed over 250 bills that will go into effect on July 1st. A few bills include HB1015, which intends to make roads safer for construction workers, along with SB1, a behavioral mental health bill.
Learn more here
---
Kansas
The state will obtain $451.7 million in federal funding for the Broadband Equity, and Deployment Program. The funds will be used to improve the state's high-speed infrastructure.
Learn more here
---
Kentucky
Governor Andy Beshear (D) recently announced that $2.25 million will be allocated to Kentucky Medical Reserve Corps, in order to enhance the state's emergency preparedness.
Learn more here
---
Maine
The Maine legislature has finally reached a compromise on the state's budget, approving paid family leave and investing more money for childcare.
Learn more here
---
Massachusetts
Legislators have yet to pass a 2024 state budget, as the state government's fiscal year is quickly approaching on July 1st. Acting Governor Kimberley Driscoll (D) signed an interim budget that sustains basic government functions until August 1st,
Learn more here
---
Michigan
Governor Gretchen Whitmer (D) is expected to sign the $81.7 billion budget for 2024 that lawmakers passed. The budget intends to resolve current issues in education, infrastructure, and taxes.
Learn more here
---
New Jersey
New Jersey lawmakers approved of a $54.3 billion budget, barely avoiding a government shutdown if the spending bill had not been approved.
Learn more here
---
North Carolina
The U.S. Supreme Court declined the "independent state legislature" theory, determining that the North Carolina Supreme Court can supervise the state legislature's exercise of power to regulate federal elections.
Learn more here
---
Oklahoma
Governor Kevin Stitt (R) rejected Senate Bill 1369, which would implement a statewide information exchange (HIE) for the Oklahoma Health Care Authority (OHCA). If signed, the bill would have gone into effect on July 1st.
Learn more here
---
Pennsylvania
The state budget is due on June 30 and a deal does not appear imminent. A sticking point in negotiations is funding for "lifeline scholarships."
Learn more here
---
Texas
The state's first 30-day special session ended without a deal on how to implement property tax cuts. Governor Greg Abbott (R) called a second special session, in which property taxes will be his main issue to address.
Learn more here
---
Vermont
The Vermont State Legislature overrode Governor Phil Scott's (R) veto to the Brattleboro charter change for voting, allowing 16 and 17 year-olds to vote in local elections.
Learn more here
---
Capital and Capitol Happenings: New Positions, Promotions, and More
Brian Parks: new Head of Advocacy, LSG
Noah Formica: new Grassroots Associate, Americans for Prosperity
Zerina Curevac: new Sr. Director, lead Privacy Counsel, GoodRx
Andrea Hechavarria: new Head of Government Affairs and Policy, North America, Terumo Blood and Cell Technologies
---
Happy Birthdays This Week
Carlton Jackson: Chief Executive Officer, Dayton REALTORS
Bennie Tinson: Executive Director, Licensed Adult Residential Care Association
Mike Holland: Director, Government Affairs, Bayer Crop Science
Jennifer Statler: Assistant Director of Government Relations, Pennsylvania State Education Association
Emily Greene: Deputy State Director, Americans for Prosperity-Pennsylvania
Sarah Bovim: Vice President, Government Affairs, CHS
James Hickey: VP of Government Affairs, Day & Zimmerman
Jordan Bailey: Senior Legislative Policy Advisor, DoorDash
Allie Kutz: Director of Government Relations, Pennsylvania Association of Community Bankers
Want to wish someone a happy birthday or recognize their new job or promotion? Email future suggestions to rjstevens@dmgs.com.
---