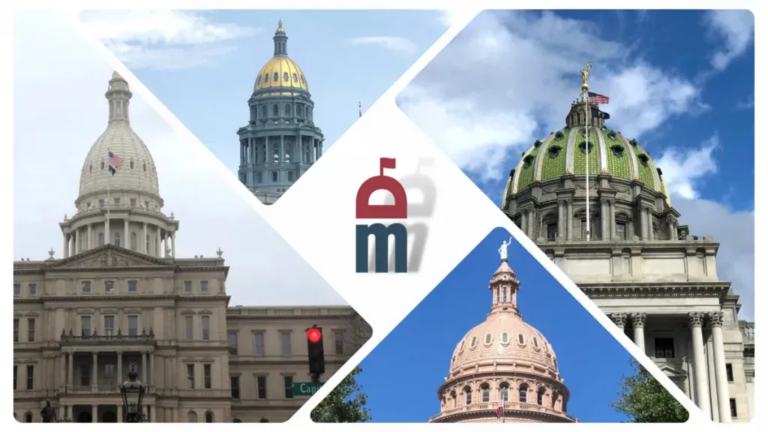 Lawmakers in various states around the country took action on a myriad of issues this week. Notably, two states addressed automated speed enforcement, a right-to-repair bill passed in California, Michigan enacted a hands-free driving law, and a Digital Bill of Rights was signed into law in Florida.
---
Alabama
State lawmakers passed House Bill 473 which would make amendments to the current Safe Haven laws.
Learn more here.   
---
Arizona
The Arizona Senate has voted on a new recommendation to confirm a new head of the state prison system.
Learn more here.         
---
California
California lawmakers have passed Senate Bill 244, a right to repair bill, which will change requirements for manufacturers' production of tools and parts for repairs.
Learn more here 
---
Colorado
Governor Jared Polis (D) vetoed House Bill 23-1190 which would have given cities a right of first refusal to buy apartment buildings for affordable housing reasons.
Learn more here.      
---
Connecticut
On Wednesday, the state Senate approved the so-called "Vision Zero" bill that allows Connecticut municipalities to use automated speed enforcement and red light cameras.
Learn more here.   
---
Florida
Governor Ron DeSantis (R) this week signed Senate Bill 262, a "Digital Bill of Rights" bill, which has a goal of protecting user data on the Internet.
Learn more here.     
---
Illinois
The Illinois legislature passed an omnibus election reform piece of legislation, Senate Bill 2123. The bill addresses various election issues, including allowing 16 and 17 year olds to pre-register to vote online, mandating public schools close for the 2024 General Election, and establishing a task force to study future election reforms such as ranked-choice voting.
Learn more here.     
---
Louisiana
The Louisiana House has voted in favor of lifting the state's spending cap by $1.65 billion.
Learn more here.     
---
Michigan
Governor Gretchen Whitmer (D) signed a series of "hands-free driving" bills into law this week, which prohibits holding or using a cell phone while driving.
Learn more here.       
---
Minnesota
Included in the transportation policy and finance bill that lawmakers passed last month is the approval of a task force to assist in studying the possibility of legalizing speed cameras in Minnesota.
Learn more here.
---
New York
New York lawmakers failed to pass two worker protection bills, leaving them to stall for now.
Learn more here.
---
Nevada
The Nevada legislature approved a new budget for capital improvements during a special session.
Learn more here.
---
Ohio
State lawmakers are considering a bill that would lower the minimum hiring age for police officers from 21 to 18 years old in an attempt to address the workforce shortage issue.
Learn more here.
---
Oklahoma 
The Oklahoma legislature, in a recent special session passed a budget bill that would repeal the franchise tax.
Learn more here.
---
Rhode Island
A bill this week advanced through a legislative committee to legalize the possession and cultivation of psilocybin mushrooms, otherwise known as "magic mushrooms."
Learn more here.
---
South Carolina
A budget deal between the state House and Senate showed no signs of getting closer to an agreement this week as a conference committee held its first public meeting in 18 days.
Learn more here.
---
Tennessee
A federal judge declared Tennessee's so-called "anti-drag" law as unconstitutional, but the ruling leaves questions over enforcement and next steps.
Learn more here.
---
Vermont
In a move that was widely predicted, Governor Phil Scott (R) vetoed legislation that would have added $120 million in annual funding for child care.
Learn more here.
---
Virginia
On Wednesday, the Virginia Air Pollution Control Board voted to withdraw the state from RGGI, an auction-based carbon emissions reduction program that other East Coast states belong to.
Learn more here.
---
West Virginia
Governor Jim Justice (R) has announced a new plastic conversion facility in a small community near Charleston.
Learn more here.
---
Capital and Capitol Happenings: New Positions, Promotions, and More
Lindsey Dowling: new Director of Government Affairs – NC, Carolinas Credit Union League
Katherine Thordahl: new Digital Director & Deputy Communications Director, U.S. House of Representatives
Sarah Mysiewicz: new Senior Pensions Counsel, U.S. Senate Committee on Health, Education, Labor, & Pensions
Sara O'Neill: new Senior Vice President, Aera Energy LLC
Trent Machamer: new Research Analyst, Senate of Pennsylvania
Julie Carraghan: new Legislative Director, State Senator Nick Miller
Jemille Duncan: new Director of Policy and Legislation, City of Philadelphia
Charles Lawlor: new Press Secretary, California State Senate
---
Happy Birthdays This Week
Matthew Welsh: Government Affairs Director, Indivior
Jennifer Snyder: Field Coordinator and Policy Advocate, Alliance for American Manufacturing
Patrick Millham: Chief of Staff, Swift Solar
Joe Hoellerer: Director of Government Affairs, Information Technology Industry Council
Hunter Tower: East Coast Director, Freedom Foundation
Eric Blackwell: Director, Government and Political Affairs, NRG Energy
Want to wish someone a happy birthday or recognize their new job or promotion? Email future suggestions to rjstevens@dmgs.com.
---