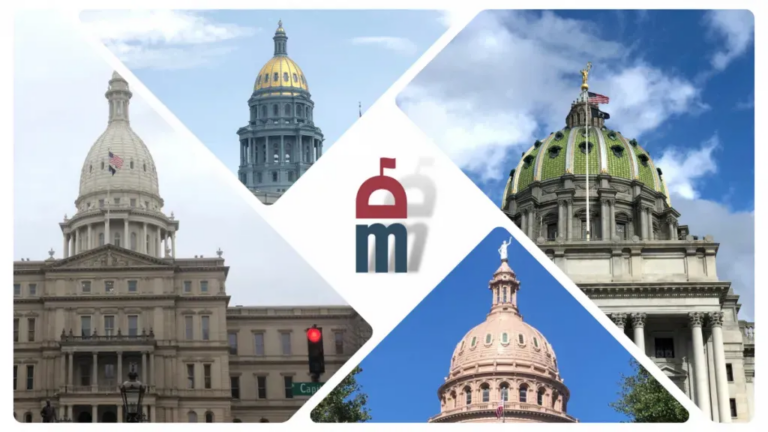 It was a busy week in states around the country. Governors and state legislatures worked through state budgets and economic incentives, proposals to address youth mental health were considered, and New York became the first state in the nation to officially ban fossil-fuel use in new construction.
---
Alabama
A proposal in the Alabama legislature that would provide an $800 tax rebate for Alabama households is expected to be considered this week.
Learn more here.
---
Alaska
A bill that would extend Medicaid coverage for new mothers advanced through the Alaska State House by a vote of 35-3.
Learn more here.
---
Arizona
A bill that would guarantee funding for a statewide recycling program passed the State Senate.
Learn more here.
---
California
The State Legislature approved a piece of legislation that would provide $150 million in funding to aid hospitals in financial distress.
Learn more here.
---
Colorado
A proposal that would offer mental health screenings to sixth through 12th graders cleared the General Assembly.
Learn more here.
---
Florida
The Florida State Senate approved a bill that would allow the Central Florida Tourism Oversight District Board to cancel agreements that were signed up to three months before the board's creation.
Learn more here.
---
Georgia
Governor Brian Kemp (R) signed a package of bills to help combat the state's workforce shortage.
Learn more here.
---
Illinois
Governor J.B. Pritzker (D) is expected to sign a bill that would prevent institutions that ban books from receiving state funds.
Learn more here.
---
Kansas
Governor Laura Kelly (D) announced $30 million towards increasing high-speed internet availability in the state.
Learn more here.
---
Maryland
Governor Wes Moore (D) signed a package of bills, including legislation that would create licensing and tax rates in preparation for the opening of a recreational marijuana market on July 1st.
Learn more here.
---
Michigan
Governor Gretchen Whitmer (D) announced the opening of a new hydrogen plant in the state, which is expected to add 500 new jobs.
Learn more here.
---
Nevada
Governor Joe Lombardo (R) is advocating for a new bill that would provide funding to help attract the Oakland Athletics baseball team to Las Vegas.
Learn more here.
---
New York
The New York State Legislature passed a new bill that bans the use of fossil-fuels in any new construction. The measure includes stoves, furnaces, and water heaters that use gas.
Learn more here.
---
North Carolina
The North Carolina Legislature passed a new measure that would ban abortion in the state after 12 weeks.
Learn more here.
---
Pennsylvania
A new bill to broaden protections for LGBTQ+ individuals in Pennsylvania passed the State House this week.
Learn more here.
---
South Carolina
Governor Henry McMaster (R) signed a new law establishing school voucher programs. The programs will give up to 15,000 students six-thousand dollars a year for private school tuition and associated expenses.
Learn more here.
---
Tennessee
The State Legislature passed new bills this week that establish new regulations on producing, selling, and distributing products containing hem-derived cannabinoids.
Learn more here.
---
Virginia
Governor Glenn Youngkin (R) announced that he would not be a candidate for President in 2024.
Learn more here.
---
Capital and Capitol Happenings: New Positions, Promotions, and More
Leah Hirsch: new Vice President, Medicare Operations, Government Contracts, Molina Healthcare
Matthew Welsh: new Government Affairs Director, Indivior
Joseph Crifasi: new Government Affairs Analysis, Chevron
Lesly Weber McNitt: new Senior Director of U.S. Advocacy and Communications, Eleanor Crook Foundation
---
Happy Birthdays This Week
Jeannette Zanipatin: California State Director, Drug Policy Alliance
MoReno Taylor: Executive Director, Fund MI Future
Joe Forte: Deputy Chief of Staff and Chief Diversity Officer, State of New Jersey
Shelby Rexrode: Policy Officer, Pennsylvania Housing Finance Agency
Christopher Francis: State Budget and Policy Advisor, California State Senate
Rob Karr: President and CEO, Illinois Retail Merchants Association
Want to wish someone a happy birthday or recognize their new job or promotion? Email future suggestions to rjstevens@dmgs.com.
---