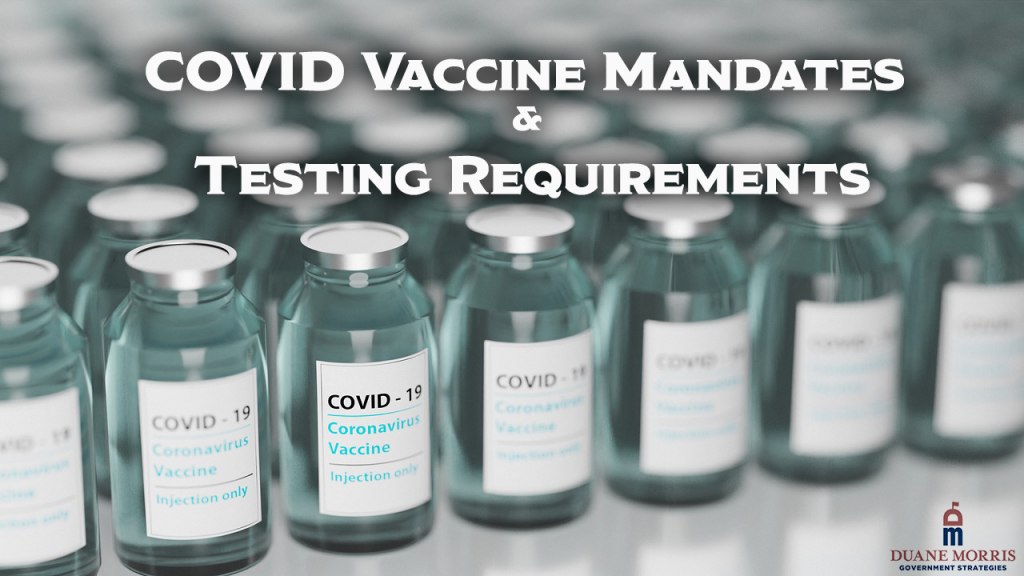 On August 23rd, the U.S. Food and Drug Administration fully approved the Pfizer-BioNTech COVID-19 vaccine for those 16 years and older. In announcing the vaccine's approval, Acting FDA Commissioner Janet Woodcock noted that they hope the full FDA approval will instill additional confidence for people to get vaccinated. Others are hoping the FDA approval leads to not only more vaccinations, but more COVID vaccine mandates by employers and businesses.
We previously covered legislation prohibiting COVID vaccine mandates and vaccine passport legislation, but states are taking new action in recent weeks due to an increase in COVID cases and spread of the Delta Variant. In addition to schools and government entities, numerous private businesses have already announced their own vaccination requirements, and more could be on the horizon.
---
Louisiana: COVID Vaccine Mandate Coming?
One week prior to the FDA fully approving the Pfizer COVID-19 vaccine, Governor John Bel Edwards indicated the state would implement stricter testing requirements for its own workforce when the FDA fully approves of a vaccine.
Now that Pfizer's vaccine gained full FDA approval, the governor's office announced that state workers who are not yet vaccinated would be subject to mandatory testing and certain other requirements at some point in the near future, although no specific date was given.
---
New Jersey: COVID Vaccine Mandates
In early August, Governor Phil Murphy signed an Executive Order requiring all workers in certain state and private health care facilities and high-risk congregate settings to be fully vaccinated against COVID-19 by September 7th. If such workers do not get vaccinated, they will be subject to COVID testing one or two times a week.
The governor's Executive Order specifies health care and high-risk congregate settings to include:
Acute, pediatric, inpatient rehabilitation, and psychiatric hospitals, including specialty hospitals, and ambulatory surgical centers;
Long-term care facilities, including the state Veterans Homes;
Intermediate care facilities, including the state developmental centers;
Residential detox, short term and long term residential substance abuse disorder treatment facilities;
Clinic-based settings like ambulatory care, urgent care clinics, dialysis centers, Federally Qualified Health Centers, family planning sites, and Opioid Treatment Programs;
Community-based healthcare settings including Program of All-inclusive Care for the Elderly, and pediatric and adult medical day care programs;
Licensed home health agencies and registered health care service firms operating within the State;
State and county correctional facilities;
Secure care facilities operated by the Juvenile Justice Commission;
Licensed community residences for individuals with intellectual and developmental disabilities (IDD) and traumatic brain injury (TBI);
Licensed community residences for adults with mental illness; and
Certified day programs for individuals with IDD and TBI.
Murphy signed another Executive Order on August 23rd calling for all state employees and all preschool to grade 12 personnel to be vaccinated or be subject to once or twice a week COVID testing by October 18th. All public, private, and parochial pre-K programs, elementary and secondary schools, and charter and renaissance schools fall under the Order. Additionally, workers in school settings include full and part-time administrators, teachers, educational support professionals, individuals providing food, custodial, and administrative support services, substitute teachers, and contractors.
---
Oregon: COVID Vaccine Mandate and Mask Requirement
Oregon Governor Kate Brown announced on August 10th she would be issuing two measures related to the coronavirus: indoor mask requirements statewide and a vaccine requirement for state employees.
The state's COVID vaccine mandate will apply to all executive branch employees, who will not have the option of weekly testing as an alternative to showing proof of vaccination. Such employees will be required to be fully vaccinated on or before October 18th or six weeks after a COVID vaccine receives full approval from the FDA, whichever is later. Since the FDA gave full approval on August 23rd, the October 18th deadline applies.
---
Pennsylvania: COVID Vaccine Mandate for Some State Employees
Governor Tom Wolf announced in early August that employees in state health care facilities and high-risk congregate care facilities will be required to receive full COVID vaccination by September 7th. If individuals choose not to get vaccinated, they will be subject to weekly COVID testing. Additionally, all new external hires in such facilities will be required receive full vaccination before beginning their employment with the Commonwealth.
Wolf also is trying to incentivize state employees under his jurisdiction to be vaccinated. Beginning on October 1st, vaccinated employees under the governor's jurisdiction will be eligible for an extra 7.5 or 8 hours of paid time off.
---
Washington: Vaccine Required as Condition of Employment
Governor Jay Inslee announced on August 18th a COVID vaccine mandate on all employees, on-site contractors, and on-site volunteers at all public and private K-12 schools, public and private higher education institutions, and early learning and child care programs serving children from more than one household.
Receiving the COVID vaccine will be a condition of employment for K-12 educators, school staff, coaches, bus drivers, school volunteers, and others working in school facilities. These individuals will have until October 18th to be fully vaccinated.
---
Wisconsin: Vaccine Status Reporting Requirement
While a new rule in Wisconsin does not mandate employees be vaccinated for COVID-19, it does require all state employees and contract staff within the executive branch agencies to provide their vaccination status and documentation by September 9th. The rule also requires all executive branch employees, contract staff, interns, and volunteers to wear masks while indoors in state facilities and when conducting state business.
---