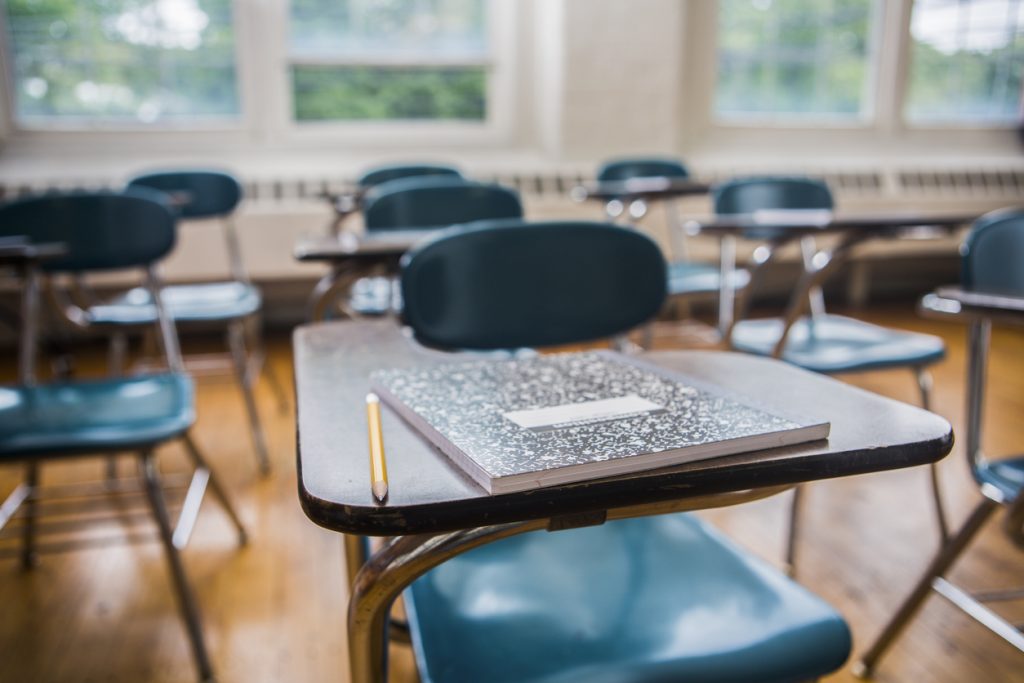 As students return to classrooms across the country, 62% of public schools have expressed concerns regarding teacher and staff vacancies, with 88% concerned about burning out teachers and staff. The number of American public school teachers has steadily decreased in recent years; the Bureau of Labor Statistics documented 567,000 fewer educators than before the Covid-19 pandemic. With increasing job demands and low pay, educators face significant stress and burnout, which have caused nearly 55% of teachers to indicate a desire to leave their profession earlier than they initially expected. Some state legislators have responded to educator shortages by introducing Grow Your Own Teacher legislation to encourage and assist high school students and other community members in pursuing careers as educators.
---
Massachusetts
Massachusetts State Representatives Uyterhoeven and Doherty introduced legislation, H.1366, to establish a "Grow-Your-Own Teacher Initiative" in March 2021. The bill would create the Initiative using funds provided by an annual 0.25% tax on the endowments of higher education institutions in Massachusetts. A grant competition would then award funds to qualified groups made up of one 4-year higher education institution with a successful educator preparation program, a school district/collection of schools, and one or some community organizations (consortium may also include a 2-year higher education institution and/or a school employee union). The selection of awardees would hinge on the proportion of economically disadvantaged children within a consortium's schools and if the programs offered by the consortium demonstrate a focus on producing teachers able to serve in diverse environments. Awardees would decide how best to distribute grant funds among their consortium members to institute programs that successfully generate highly competent teachers and provide services that assist with the cost of participant childcare, transportation, tutoring, technology, and counseling. Program participants, including dually enrolled high school students, paraeducators, parent community leaders, or individuals from a community with an eligible school, would need to maintain a cumulative 2.5-grade point average and attend monthly meetings, among other expectations. The Massachusetts House and Senate referred the bill to the Massachusetts Joint Higher Education Committee for a hearing in May 2021. As of September 2022, the bill accompanied a study order within H.5174.
---
New Jersey
In March 2022, New Jersey State Representatives Wimberly and Reynolds-Jackson introduced a bill, A3254, that would require New Jersey's Department of Education to financially support selected school districts in establishing "Grow-Your-Own Teacher Programs" to train and hire individuals who work in the district but do not yet have the certification to teach students with disabilities specifically. The bill would require school districts to apply, highlighting the quality of their "Grow-Your-Own Teacher Program," their ability to support program participants (including flexible schedules and financial assistance), and their need for teachers of disabled students to be considered for financial support by the New Jersey Department of Education. The New Jersey Department of Education has noted that it would prioritize school districts that severely lack teachers of disabled students and would provide funding to at least one school district from each of the northern, central, and southern regions of the State, looking to assist urban, suburban, and rural schools alike. The State Assembly referred the bill to New Jersey's Assembly Education Committee in March 2022.
---
Ohio
In May 2022, Ohio State Representative Lightbody introduced legislation, HB667, to establish a "Grow-Your-Own Teacher Initiative" that draws from State Treasury funds. The initiative would function as a scholarship program in which the Ohio chancellor of higher education and the Ohio Department of Education award scholarships up to $7,500 for each of four academic years to low-income high school seniors and current employees who lack full teaching certification at high-need schools. The bill would require all scholarship recipients to fulfill a 4-year teaching commitment within six years of graduating from their teacher education programs at high-need schools. If recipients fail to complete the program or the required teaching commitment, they become responsible for repaying the funds supplied by the Ohio chancellor of higher education and the Ohio Department of Education. The House referred the bill to Ohio's Committee of Higher Education and Career Readiness in May 2022.
---
Pennsylvania
In August 2022, Pennsylvania State Senators Comitta, Hughes, Collet, Cappelletti, Schwank, Brewster, Costa, Kane, Dillon, and Muth sponsored legislation, SB1316, to establish a "Grow-Our-Own Educators Program." The program would provide financial assistance to high school students participating in an aspiring educator pathway, paraprofessionals seeking to become educators, and parents training to become paraprofessionals. The Pennsylvania Department of Education would provide financial assistance by competitively awarding grants and prioritizing high-need schools with funds supplied by several sources, potentially including General Assembly appropriations, funds given to the Pennsylvania Department of Education for the costs of general government operations, and institutional resources. Although application guidelines would need to be developed, partnerships composed of a school and an institution of higher education (a community organization may also be included) would be permitted to apply for either an implementation grant or a planning grant. High school students on the educator pathway that receive financial assistance would be required to complete a designated teaching requirement at a partnering high-need school after graduation from the program. The State Senate referred the bill to the Senate Education Committee in August 2022.
---
Utah

In February 2022, Utah State Senate members, Riebe and Moss, introduced bipartisan legislation, SB0125, to alter Utah's "Grow-Your-Own Teacher and School Counselor Pipeline Program," which functions as a competitive grant program. Under the proposed changes, local education agencies can use grant funds to award scholarships to select aspiring teachers, paraprofessionals, school counselor assistants, and school counselor interns working within the local education agencies while also completing their training to become certified teachers or school counselors. Awarded scholarships may be used for tuition, books, fees, certification tests, and stipends for mentors or school counselor assistants. The Utah State Senate passed the bill in early March 2022, and the Utah State House followed in March 2022. The Governor signed the bill at the end of March 2022.
---