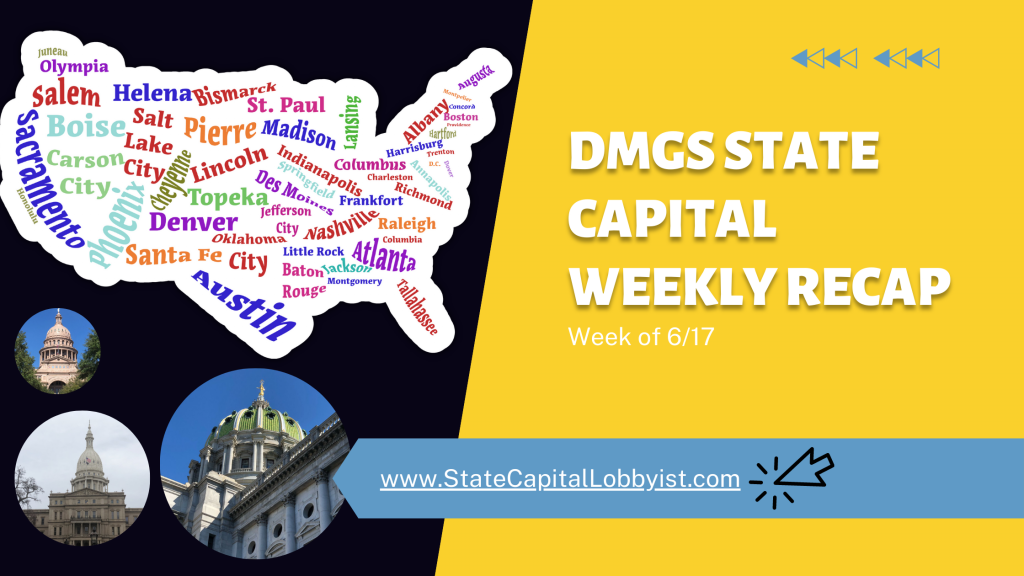 This week, lawmakers across the United States continued to take action on various gun-related proposals. Delaware lawmakers passed two bills on background checks and increasing the age to purchase firearms, while the governor in Ohio signed legislation making it easier to arm teachers and school staff. In other news, some states like California and Rhode Island saw action on their respective budgets, Oklahoma lawmakers are in two simultaneous special sessions, and Pennsylvania lawmakers take action against Russia and Belarus.
---
California
At the beginning of the week, state lawmakers passed a $300 billion operating budget over the objections of Gov. Gavin Newsom.
Learn more here.
---
Delaware
Lawmakers in the Delaware state House passed two bills this week to strengthen gun background checks and increase the state's purchasing age for most firearms to 21 years old.
Learn more here.
---
Florida
Governor Ron DeSantis signed six pieces of legislation that aim to offer support to veterans, military members and their families throughout the state.
Learn more here.
---
Illinois
Illinois Governor J.B. Pritzker signed two pieces of legislation designed to remove barriers to access HIV and AIDS care and prevention.
Learn more here.
---
Iowa
Governor Kim Reynolds signed legislation designed to address a lack of treatment options for Iowans looking for mental health care services.
Learn more here.
---
Maine
Governor Janet Mills signed an Executive Order establishing a Cabinet on Aging, fulfilling a promise made in her State of the State address earlier this year.
Learn more here.
---
Massachusetts
The Massachusetts Legislature set this year's sales tax holiday weekend for Aug. 13 and 14 earlier this week. Shoppers in the state do not have to pay the state's 6.25% sales tax on most goods under $2,500 during those two days.
Learn more here.
---
New Jersey
State legislators in the Garden State are considering toughening up gun laws, including a proposal for microstamping on new semiautomatic pistols sold in New Jersey.
Learn more here.
---
Ohio
This week, Ohio Governor Mike DeWine signed legislation that makes it much easier for teachers to legally carry guns in schools.
Learn more here.
---
Oklahoma
State lawmakers convened at the state capitol this week for two special sessions that will take place at the same time. The governor called for a special session for lawmakers to repeal the state's portion of the grocery sales tax and reducing the state's income tax rates. Lawmakers called for their own special session that would allow them to control $79 million in federal ARPA funding.
Learn more here.
---
Pennsylvania
This week, a Pennsylvania Senate committee unanimously approved two bills prohibiting government contracts with Russia and Belarus and divesting public holdings connected with the countries as the war on Ukraine persists.
Learn more here.
---
Vermont
Governor Phil Scott signed the state's $8.126 billion budget that goes into effect July 1. The fiscal document includes investments in work force development and training, tax relief, the state's economy, and providing for children and families.
Learn more here.
---
This Week's DMGS Posts
---
Capital and Capitol Happenings: New Positions, Promotions, and More
David Wojnar: new Senior Vice President, Government Relations, Provi
Lindsey Short: new Director of Public Policy Services, the Ohio Manufacturers' Association
Lauren Sheehan: new Director, Federal Government Affairs, Valero Energy Corporation
Diana Swisher Burckhart: new Government Affairs Manager, TotalEnergies
---
Happy Birthdays This Week
Claire Trokey: Legislative Director, Congressman Steve Scalise
Jessica Bowman: Senior Director, State Government Relations, Reynolds American Inc.
Dolly Judge: Vice President, U.S. Government Affairs, Teva Pharmaceuticals
Joe Fedewa: Deputy Director of Legislative Affairs, Executive Office of Governor Gretchen Whitmer
Email future suggestions to rjstevens@dmgs.com.
---