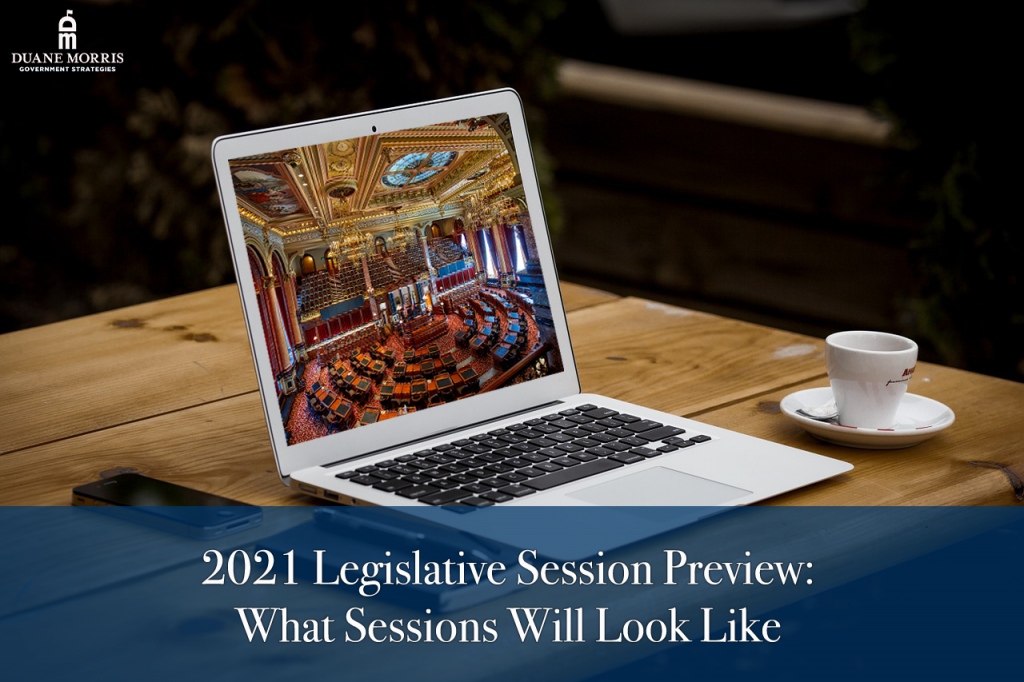 COVID-19 upended many facets of life in 2020, including the way lawmakers operate. Some states suspended their legislative sessions, while others adopted safety measures. Some legislatures remained in-person, while others moved to full remote participation or a hybrid plan. State legislatures will begin 2021 legislative sessions across the country over the coming weeks. They will undoubtedly look different than in years past.
---
Alaska
In late December, a 14-member bicameral legislative council voted on COVID-19 protocols for the 2021 legislative session. Safety protocols prohibit the public in the state Capitol, bar members of the news media from entering the House and Senate chambers, and require lawmakers to wear masks. According to the guidelines, any legislator that refuses to submit a health screening will be denied entrance to the Capitol. Any lawmaker refusing to wear a face mask on their chamber floor will be escorted to their office.
Further, lawmakers are being asked to quarantine after traveling to or from the state capital. They are being discouraged from returning to their districts during a session. The new rules will remain in effect until the House and Senate elect new leaders for the next session, which begins January 19.
---
Colorado
Colorado's legislature will convene on January 13 for swearing-in and will go into recess until February 16. Ceremonial activities will be delayed. The Governor's annual State of State address will be delayed until at least February when lawmakers reconvene.
---
Connecticut
State lawmakers in Connecticut will be sworn in outdoors on January 6. Incoming Speaker Matt Ritter outlined how the day will proceed, starting with roll call through Zoom with lawmakers in their personal offices. Everyone participating in the outdoor swearing-in must wear facemasks. Governor Ned Lamont traditionally would give the State of the State address to a joint session of lawmakers in the Hall of the House. However, the Governor's speech will instead take place in the Governor's Capitol office via livestream.
Incoming Speaker of the House, Matt Ritter, envisions a two-pronged session this year. To start, lawmakers will continue the way they have been operating with Zoom hearings and physical distancing. However, Ritter noted that having many bills on a single agenda will likely not happen, as it usually does. Ritter hopes lawmakers return closer to typical ways of operating after COVID-19 vaccines become more widely available.
---
Idaho
Lawmakers in Idaho will begin their legislative session on January 11 with safety measures in place. Safety measures include reconfiguring legislative committee rooms to allow for social distancing (impacting capacity), allowing remote public testimony, and setting up overflow rooms for committee hearings. Further, hand sanitizer and masks will be available throughout the Capitol. Staff must wear masks when not inside their own offices. Lawmakers are also able to request plexiglass shields that can be mounted on their desks. The HVAC system will also run 24 hours a day within the Capitol, allowing for as much fresh air to come in as possible. House Speaker Scott Bedke made clear the Capitol will not be closed to the public.
However, Democratic lawmakers hope to postpone the session until April, once a COVID-19 vaccine becomes more widely available. Democratic leaders stated so in a letter to House and Senate Republican leadership. Both chambers' leadership is encouraging, but not mandating, that members wear masks, practice social distancing, and exhibit safe practices.
---
Montana
In Montana, the Joint House and Senate Rules Committee voted in December to convene the 2021 legislative session on January 4 using a hybrid system.  Democratic lawmakers introduced proposals to delay the 2021 legislative session entirely until a vaccine becomes widely available and allow lawmakers to conduct the session entirely virtually, both of which failed to advance.  Another measure to require masks to be worn inside the State Capitol and require six feet of social distancing also failed.  However, state lawmakers did approve the use of remote participation and the creation of a COVID-19 Response Panel, comprised of both legislative chambers' leadership, with authority over all aspects of legislative business impacted by COVID-19, including in-person participation rules for both lawmakers and the general public.  The panel's decisions would not require the approval of all lawmakers to institute changes.
---
New Jersey
In March, Governor Phil Murphy signed A-3852/S-2296 into law, allowing legislators to conduct legislative business through electronic means during emergency periods, which will continue as the legislative session begins in 2021. Access to the Capitol will also remain limited to government members, government employees/contractors, credentialed members of the press, and invited participants with business in the Capitol Complex. Further, tours, field trips, and other large gatherings will not occur. The public is encouraged to submit written testimony electronically for committees. Facemasks are also required in any government buildings, including the Capitol, per Governor Murphy's Executive Order No. 163.
---
Texas
The Texas State Capitol has been closed to the public since March due to COVID-19. However, it is reopening the first week of January before the first day of the 2021 legislative session on January 12. The opening ceremony for this year's session will be shortened. Fewer people will be allowed on the House floor and in the gallery, and COVID-19 tests and facemasks will be required to attend.
House and Senate leaders are working to create rules for the rest of the session. Lawmakers are considering limiting Capitol occupancy, requiring masks in all public parts of the Capitol, and allowing lawmakers to vote remotely. Some of these changes require approval by the State Preservation Board, run by Governor Greg Abbott. In contrast, only lawmakers would need to approve others, such as remote voting and allowing witnesses to testify virtually.
---
Utah
Utah's Capitol will be open to the public during the 2021 legislative session, but facemasks and social distancing will be required. Utah House Speaker Brad Wilson and Senate President Stuart Adams announced new safety precautions for the upcoming legislative session.
Safety measures include opening larger committee rooms for social distancing purposes, allowing remote participation for lawmakers and the public, and new video-streaming. Further, spaces will be available throughout the Capitol for the public and media to work, which will be regularly sanitized. Such spaces will have signs reading "clean" or "not clean," so when someone is done working there, they can flip the signs to indicate to cleaning crews that the space needs to be cleaned. Speaker Wilson also said "mask ambassadors" will remind the public of the mask requirement, and if they do not comply, they will be asked to leave.
Additionally, no events will be hosted in the Capitol this session, such as school field trips. At the same time, protests and rallies will be permitted if mask-wearing and social distancing occur. Wilson also noted a handshake ban and that lawmakers would be given rapid COVID-19 tests throughout the week during the session. Lawmakers have also had plexiglass installed at their desks.
---
Washington
In preparing for a hybrid session, Washington state democratic lawmakers asked their members to introduce no more than seven bills each during the upcoming 2021 legislative session. House Committee chairs were also instructed to limit the number of public hearings and rein in the number of bills they pass. To help members tailor the number of bills introduced, the House Democratic Caucus sent out guidance urging them to focus on racial equity, COVID-19, economic recovery, and climate change.
---
Wisconsin
In December, Democratic members of the Wisconsin Assembly participated in a virtual swearing-in ceremony on Zoom with Governor Tony Evers. However, Republican lawmakers are planning for all lawmakers to meet in-person for swearing-in, with face masks suggested but not required. Democratic lawmakers are considering boycotting the meeting, arguing their virtual swearing-in meets legal standards.
Assembly Speaker Pro Tempore Tyler August indicated that lawmakers would be divided into two groups with social distancing in place. Speaker Robin Vos announced that the session would be in-person and virtual participation would not be an option. The session in April included virtual participation by lawmakers.
Governor Tony Evers announced that both the January 12 State of the State address and February 7 budget address would be virtual and asked lawmakers to attend virtually.
---
Wyoming
The 2021 legislative session in Wyoming is postponed beyond January, with safety measures considered when lawmakers convene. Wyoming's Constitution requires the swearing-in of lawmakers, adoption of rules, of delivery of an address by the Governor, which will continue, albeit virtually, on January 12. Afterward, leadership will assess whether a session could be held in-person and indicated that remote participation would be an option for lawmakers and the public. Leadership anticipates remote participation options will be in place by March 1, with meeting rooms in the Capitol being outfitted with cameras and other technology. However, leadership also indicated that if COVID-19 conditions do not look good in late January, a virtual session would initiate in early February to consider the budget and other priority bills.
---
Need Help Navigating These Changes?
If you need help navigating these changes, check out our lobbying tips on how to advocate in the age of COVID-19:
---