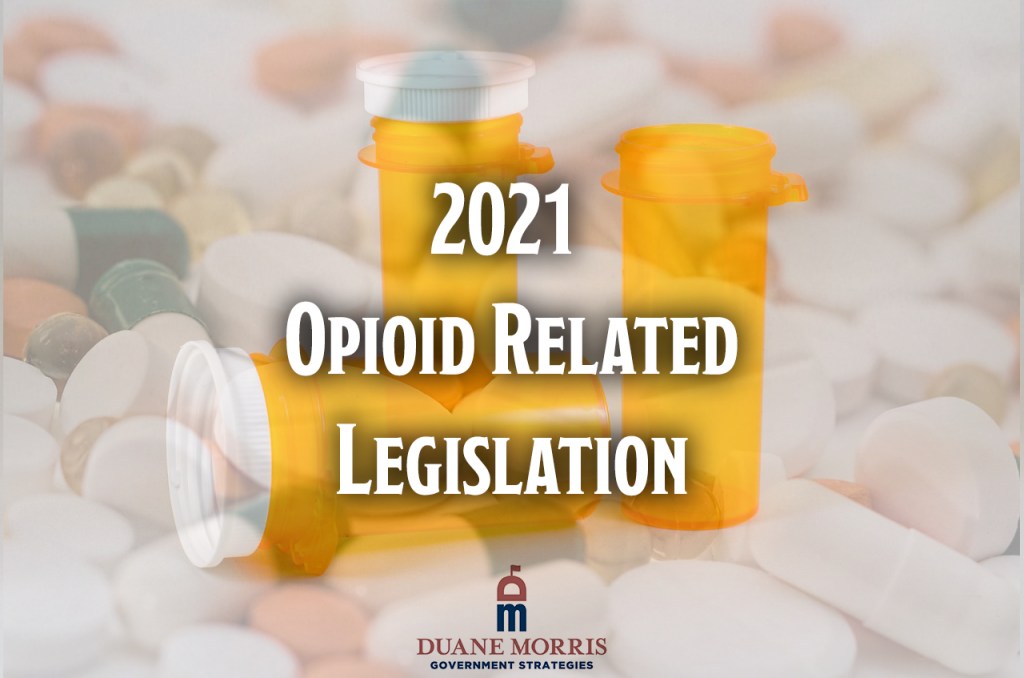 The opioid epidemic is not a new problem in the United States. In fact, the amount of drug overdose deaths has quadrupled since 1999, including a 5% increase from 2018 to 2019 alone. Additionally, in just 2019, over 10 million people over the age of 12 misused opioids. As a result, lawmakers have been taking action for years in the form of various pieces of opioid related legislation to help in efforts to combat the public health crisis. This year, the states examined below passed new legislation to deal with the opioid crisis.
---
New Jersey Governor Signs Opioid Related Legislation Package
On July 2, 2021, New Jersey Governor Phil Murphy signed a series of bills into law as part of a package to deal with the state's opioid crisis. The bills work to ensure overdose prevention by expanding medication assisted treatment and improving access to naloxone. Additionally, the bills strengthen public health data and help provide the resources necessary for families and children to be resilient in dealing with opioid abuse.
According to the Governor, "The fight against the opioid epidemic has required a focus on harm reduction by providing safe and compassionate access points to care and by securing funding for vital programs and recovery services."
The six bills signed into law were:
S3491- Revises the process for the authorization to distribute and obtain opioid antidotes.
S3803- Allows certain paramedics to administer buprenorphine.
A5595- Requires the retail price of certain opioid antidotes to be published by the Division of Consumer Affairs.
A5597- Permits school districts to administer student health surveys after prior written notification to parents and legal guardians.
S3814- Requires the New Jersey DCF or court to consider placement of children with relatives or kinship guardians; changes the standards by which individuals can petition to terminate parental rights.
A5703- Requires certain health insurers, Medicaid, NJ FamilyCare, SHBP, and SEHBP to cover naloxone without imposing prior authorization requirements.
---
New York Opioid Settlement Fund Legislation
On June 9th of this year, both houses of the New York Legislature passed bills ensuring that funds from opioid litigation and settlements go towards opioid abatement and treatment programs. Assembly Bill 6395 and its counterpart in the State Senate, S7194, provide that, "all funds received by the state as the result of a settlement or a judgment in litigation against opioid manufacturers, distributors, dispensers, consultants, or resellers shall be deposited into [an] opioid settlement fund, and that such funds shall not supplant or replace existing state funding."
Furthermore, the state government will ensure that the funds are used for the prevention, treatment, education, and abatement of opioid addiction.
The legislation was signed by Governor Andrew Cuomo on June 29th. 
---
Connecticut Pilot Program Legislation
Public Act 21-113, "An Act Concerning Opioids," was signed into law by Connecticut Governor Ned Lamont on July 6, 2021. The act will establish pilot programs to better help those who are suffering from opioid abuse in urban, suburban, and rural communities and requires the Commissioner of Public Health to increase awareness for numerous chronic pain treatments.
With the passage of PA 21-113, the Department of Mental Health and Addiction Services is required to establish pilot programs in up to five communities. The pilot programs will feature teams of at least two peer navigators per team who are responsible for increasing engagement between people suffering from opioid abuse and providers of treatment and other services. They will also be tasked with improving the retention of such persons in treatment by addressing local health and social conditions. Lastly, these peer navigators will work to increase the capacity of communities to support those suffering from opioid abuse by addressing systemic barriers to treatment and social services.
Additionally, the peer navigators are individuals who have experience working with those suffering from opioid abuse, can provide nonmedical mental health and substance abuse services, and have collaborative relationships with healthcare professionals who can provide medical services for opioid abuse.
---
Rhode Island Harm Reduction Legislation
On July 9, 2021, Rhode Island Governor Daniel McKee signed into law H5245A. The legislation would establish a two-year pilot program to prevent drug overdoses through the establishment of harm reduction centers. These harm reduction centers would provide community-based health screening, disease prevention, and recovery assistance where persons can safely consume pre-obtained substances. After approval from the municipality where the centers would operate, the bill would authorize the safe consumption of those substances under the supervision of healthcare professionals.
Additionally, the bill will create an advisory committee to make recommendations to the Rhode Island Department of Health on how to maximize public health at these centers. The committee will also provide services for the proper disposal of hypodermic needles and syringes, the recovery of people at these centers, and the ways these centers can adhere to federal and state operating guidelines.
---
Oklahoma Governor Signs Restorative Justice Bill
House Bill 1880, signed by Oklahoma Governor Kevin Stitt in April and ceremonially signed in August, will allow for a victim-led restorative justice pilot program. Beginning November 1st, non-violent offenders will be diverted from traditional prosecution and incarceration towards citizen-led mediation panels that determine the right path for restorative justice or potential punishment.
According to the legislation, the purpose of the bill and the restorative justice program is to have offenders take responsibility for their actions, understand the harms they have committed, and make amends with victims, themselves, and their communities.
---