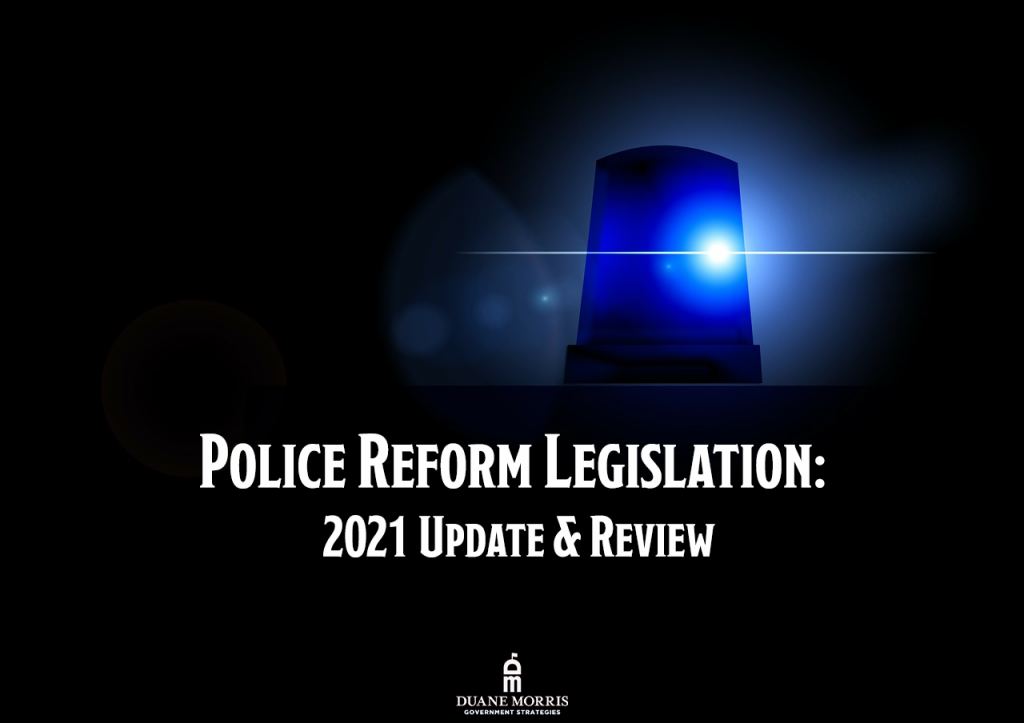 After the 2020 murder of George Floyd by a Minneapolis police officer and the subsequent mass unrest that followed, many states brought forth legislation that would reform police conduct, hold officers more accountable for unnecessary use of force, and implement new policing strategies altogether.  Throughout the past year, 30 states and DC have passed statewide legislation addressing a wide range of issues pertaining to law enforcement conduct.  However, of these reforms enacted, only 25 of the states that passed bills addressed areas directly related to Floyd's killing: the use of force, the duty of surrounding officers to intervene in physical altercations, and policies related to police officer decertification after the misconduct has been committed.
Of the police reform legislation signed in the last year, the package signed by Governor Ralph Northam of Virginia was the most expansive. The Virginia Governor signed over a dozen bills that would ban no-knock warrants, create new training standards for police officers, and strengthen the processes used to decertify officers who use deadly force, such as neck restraints and other chokeholds.
---
Virginia Police Reform Legislation Package Signed by Governor
In October of 2020, Virginia Governor Ralph Northam signed over a dozen pieces of legislation as part of a criminal justice package passed by the State Assembly and Senate.  SB 5030, the omnibus police reform legislation, contained nine of these bills that would significantly reform police conduct, create new oversight boards, and create a more thorough process of holding police accountable who are accused of wrongdoing.
Included in the Senate bill was:
House Bill 5099: prohibiting the execution of no-knock search warrants, making Virginia the third state in the nation to ban no-knock warrants.
House Bill 5049: demilitarizing the police by prohibiting the use of specified equipment, including grenades, weaponized aircraft, and high caliber firearms.
House Bill 5109: creating statewide training standards, including racial awareness and racial profiling training, and new de-escalation techniques.
House Bill 5104: mandating law enforcement agencies and jails requests new hires' prior employment and disciplinary history.
House Bill 5108: diversifying the Criminal Justice Services Board so that perspectives of different racial and ethnic backgrounds are adequately represented in policymaking.
House Bill 5051: strengthening the law enforcement decertification process and allowing the Criminal Justice Services Board to initiate decertification proceedings.
House Bill 5069: limiting the use of neck restraints.
House Bill 5029: requiring law enforcement officers to intervene when they witness other officers committing misconduct or excessive use of force.
House Bill 5045: making it a Class 6 felony for law enforcement officers to "carnally know" someone they have arrested or detained, an inmate, parolee, probationer, pretrial defendant, or post-trial offender, if the officer is in a position of authority over such an individual.
---
Colorado Law Enforcement Integrity Legislation
In July of 2020, Colorado Governor Jared Polis signed into law SB 217, which would enhance law enforcement accountability and integrity.  More specifically, the bill requires that all law enforcement officers, unless working undercover, must wear a body camera at all times, requires that the division of criminal justice in the department of public safety create annualized reports pertaining to the use of force and other violations of policy, and strengthens the decertification process.
Additionally, the bill changes qualified immunity for Colorado law enforcement officers. Previously, under Colorado law, law enforcement was partially shielded from the personal liability of committing misconduct while on duty. As a result of SB 217, this protection is ended, and individuals can take state court actions against law enforcement officers who they believe acted in violation of their rights under the Colorado Constitution. This not only applies to officers who commit misconduct but to those who are aware of an alleged violation but fail to intervene.
The bill also changes when law enforcement officers can use force. Before the bill was passed, deadly force was legal if the officer suspected that someone was a threat to themselves, other officers, or the public. After SB 217, officers can only use deadly force if they face imminent danger or there is a significant threat that the person being apprehended will hurt others. Furthermore, the bill also makes it so that officers cannot use deadly physical force to apprehend a person who is suspected of a minor or nonviolent offense.
---
Massachusetts Law Enforcement Accountability Bill
SB 2963, an act relative to justice, equity, and accountability in law enforcement in the commonwealth, was signed into law by Massachusetts Governor Charlie Baker at the end of 2020.  More specifically, the bill made significant changes to the certification process of law enforcement officers, created statewide training requirements, amended when officers are legally allowed to use deadly force, and effectively banned racial profiling in the state.
After the bill's passage, police may only use deadly physical force if all nonviolent de-escalation tactics have failed, and the use of force is proportionate to the threat of imminent harm exhibited by the suspect. The bill also prevents law enforcement officers from discharging any firearm at a fleeing motor vehicle unless it is to prevent imminent harm to a person. Additionally, the bill effectively bans law enforcement officers from using chokeholds to apprehend a suspect.
Lastly, the bill also established the Massachusetts Peace Officer Standards and Training Commission (MPOSTC). This commission functions as an independent state entity, the majority of which is composed of civilians, to implement statewide standardizing procedures for the certification, training, and decertification of police officers. In addition to this, the commission will have the ability to investigate misconduct. The MPOSTC will also establish a public database containing the records of all police misconduct investigations, police suspensions, re-trainings, and certifications.
---
New York Chokehold Legislation Signed by Governor
In June of 2020, New York became one of the first states to act on the use of chokeholds following the death of George Floyd in May. While the bill was passed two weeks after the death of George Floyd, it was titled the Eric Garner Anti-Chokehold Act after the 2014 death of Eric Garner.
Assembly Bill 6144B, signed nearly one week after it was introduced in the New York State Assembly, "Establishes the crime of aggravated strangulation for police officers or peace officers where such officer commits the crime of criminal obstruction or breathing or blood circulation, or uses a chokehold or similar restraint, and causes serious physical injury or death."  Furthermore, according to the bill, this would be a class C felony, punishable by up to 15 years in prison.
---
Connecticut Police Reform Legislation
In Connecticut, HB 6004, an act concerning police accountability, was signed into law by Governor Ned Lamont in July 2020.  More specifically, the bill makes significant changes to the Police Officer Standards and Training Council (POSTC), effectively strengthening the process by which the council can revoke officer certification. 
According to the bill, the council can revoke an officer's certification if "(g) the certificate holder was found by a law enforcement unit to have used a firearm in an improper manner which resulted in the death or serious physical injury of another person; (h) the holder has been found to have engaged in conduct that undermines the public confidence; (i) the holder has been found by a law enforcement unit to have used physical force on another person in a manner found not to be justifiable."
HB 6004 also creates new implicit bias training for law enforcement officers, creates a new statewide crowd management policy, and attempts to "set forth guidelines for recruiting, retaining, and promoting minority officers." Additionally, the bill expands the Transparency and Accountability Task Force directing it to look at how officers conduct no-knock warrants.
Lastly, the bill allows local ordinances to create civilian review boards with the power to issue subpoenas and require the production of any papers that the board deems necessary. Also, according to the bill, each law enforcement unit will conduct studies on the effectiveness of and potential impact of social workers from the department responding to calls for assistance.
---