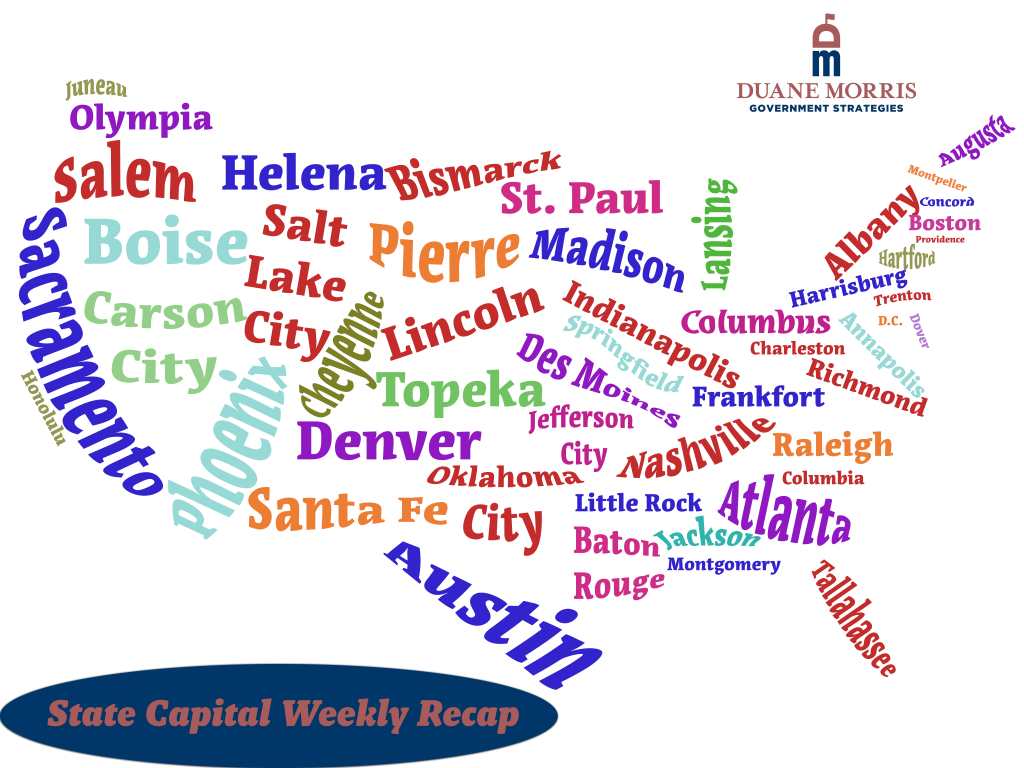 This week saw activity in state capitols across the country on a multitude of issues ranging from redistricting to mask mandates, marijuana, special sessions, and more.
Notably, the Census Bureau released data on Thursday that is used to draw both congressional and state legislative district lines, prompting state lawmakers to get to work to address redistricting.
---
Arkansas
During a committee meeting Tuesday, legislators approved the study of a bill that would prohibit employers from requiring the disclosure of an employee's vaccination status.
Read more here.
---
Kentucky
Governor Andy Beshear signed an executive order requiring masks in schools, citing the COVID delta variant and already existing outbreaks in some schools.
Read more here.
---
Nevada
Governor Steve Sisolak proposed "Innovation Zones" in his State of the State address earlier this year, and now lawmakers kicked off a study committee this week to address them. Lawmakers are specifically looking at an economic development proposal that would allow technology companies to exercise powers similar to those of local governments if they own land and promise investment.
Read more here.
---
Nebraska
Numerous lawmakers are urging Governor Pete Ricketts to reinstate the state's COVID dashboard as schools begin opening for the fall and businesses begin making operational decisions.
Read more here.
---
New York
New York Lieutenant Governor Kathy Hochul will soon become the first woman governor in New York's history when Governor Andrew Cuomo's resignation takes effect following his sexual harassment scandal.
Read more here.
---
North Carolina
Lawmakers in North Carolina adopted guidelines on Thursday for redrawing political lines. As a result, the General Assembly is not permitted to use racial demographic and election data to inform how districts and maps are drawn this year.
Read more here.
---
Tennessee
The Tennessee Speaker of the House, Cameron Sexton, sent an open letter along with 72 other GOP lawmakers to Governor Bill Lee, requesting a special session to cover school mask mandates.
Read more here.
---
Texas
Texas House Speaker Dade Phelan signed civil arrest warrants on Tuesday for the 52 House Democrats still missing from the state Capitol. Phelan is hoping to regain a quorum so the House can start moving legislation during Texas' second special session.
Read more here.
---
Wisconsin
Wisconsin Democrats are taking their push to legalize cannabis over the board to a dispensary in Illinois that attracts Wisconsin customers.
Read more here.
---
Check Out This Week's Other Articles!
---