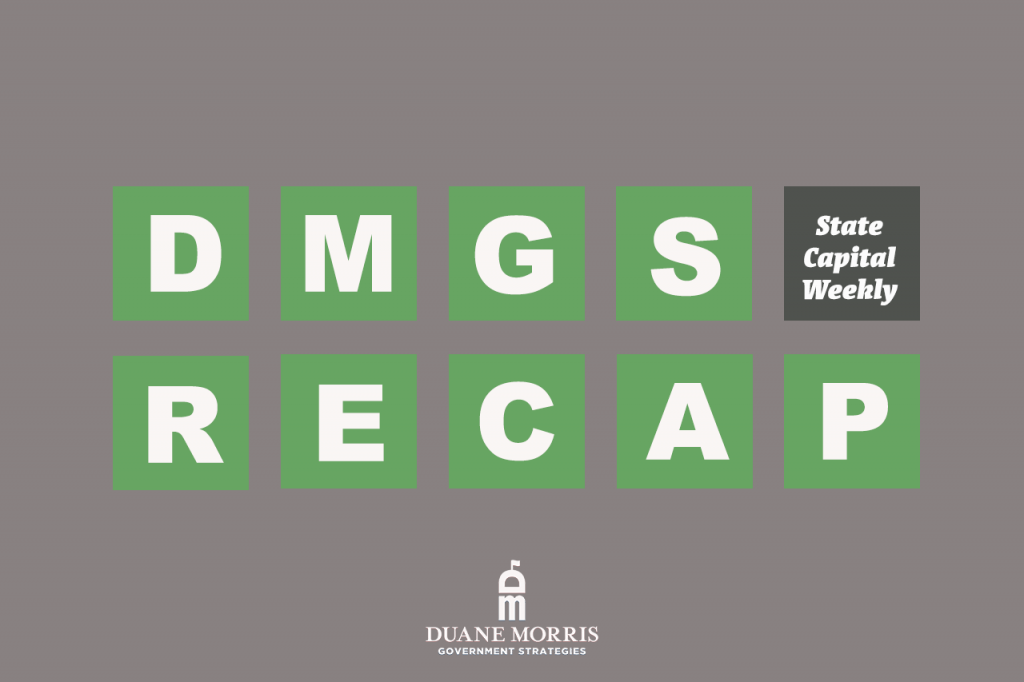 Many different issues dominated state capitals across the country this week, but cannabis loomed large. Massachusetts is looking at legalizing cannabis cafes, Mississippi legalized medical marijuana, South Carolina lawmakers continue to debate medical marijuana, and a Tennessee lawmaker introduced a bill to legalize adult-use recreational marijuana. Additional issues being tackled by various legislatures include permitless concealed firearms, public safety, flooding, property taxes, liquor reform, redistricting, and more.
And don't forget the latest DMGS blog posts from this week which include an update on self-driving vehicle legislation around the country and a look at the 2022 congressional agenda.
---
Alabama
Alabama lawmakers have advanced legislation that would eliminate the requirement to get a permit to carry a concealed handgun.
Learn more here.
---
Alaska
The Alaska state House canceled a floor session Wednesday after one lawmaker tested positive for COVID-19 and contact tracing was unable to be finished in time.
Learn more here.
---
California
Earlier this week, the California Assembly passed legislation that would create the Fast Food Sector Council, which would conduct a full review every three years on the adequacy of fast food restaurant health, safety, and employment standards.
Learn more here.
---
Connecticut
GOP lawmakers in Connecticut helped debut what they are calling a "legislative scorecard" on public safety.
Learn more here.
---
Florida
State lawmakers and South Florida municipal leaders are calling for improvements on dozens of canals over fears of flooding, which is an issue they agree needs to be fixed fast.
Learn more here.
---
Hawaii
State lawmakers are looking to set tighter limits on using Hawaii location names to sell coffee.
Learn more here.
---
Indiana
State lawmakers are considering a bill that would allow K-12 schools to grant adjunct teaching permits to prospective instructors.
Learn more here.
---
Kentucky
The Kentucky state House approved a measure this week that would set Kentucky up as a potential site location for the rapidly growing advanced recycling industry.
Learn more here.
---
Maryland
State lawmakers, housing advocates and renters called on the Maryland legislature earlier this week to pass a package of renter protection legislation after similar legislation failed last session.
Learn more here.
---
Massachusetts
The Massachusetts legislature is considering legislation that would establish cannabis cafés.
Learn more here.
---
Mississippi
Republican Gov. Tate Reeves signed legislation Wednesday to legalize medical marijuana in the state for people with debilitating conditions such as cancer, AIDS, and sickle cell disease. While the legislation became law immediately, it could be months before the first marijuana dispensaries open.
Learn more here.
---
Missouri
On Tuesday, the House and Senate canceled their session for the week because of the looming bad weather, but not before the GOP-controlled Senate handed Governor Parson a loss by failing to approve of his appointment for a new director of the Missouri Department of Health and Senior Services.
Learn more here.
---
Nebraska
A Nebraska state lawmaker introduced Legislative Resolution 268CA, which would amend the State Constitution to allow for Nebraska voters to remove future governors and members of the legislature through the recall process.
Learn more here.
---
New Jersey
A few New Jersey lawmakers have put forward two proposals to address the state's high property taxes, an issue that remains at the top of many lawmakers' priority list for this session.
Learn more here.
---
New York
On Thursday, New York lawmakers approved new state legislative districts for the Assembly and Senate.
Learn more here.
---
Ohio
Republicans in the Ohio state House are trying to ban so-called "big tech censorship" within the state.
Learn more here.
---
Pennsylvania
State GOP lawmakers are looking to put the question of privatizing liquor sales on a ballot for voters to decide via a constitutional amendment.
Learn more here.
---
South Carolina
The South Carolina Senate continues their debate over a bill that would legalize medical marijuana for those with certain medical conditions. The legislation would specifically create a seed to sale tracking system and sets out certain regulations, although the smoking or burning of marijuana leaf would not be allowed.
Learn more here.
---
Tennessee
A Tennessee state lawmaker is pushing again to legalize the growth sale, and possession of recreational marijuana in the state.
Learn more here.
---
This Week's DMGS Posts
Self-Driving Vehicle Legislation

As we noted last year, autonomous vehicles (AVs) have automated driving systems that allow for self-driving, with little or no human input. While fully automated vehicles are not readily available at this point, lawmakers are already taking action to permit and regulate such vehicles via self-driving vehicle legislation.

In the Loop: What is on Congress's 2022 Agenda

As 2022 continues to get underway with the 2nd Session of the 117th Congress, much remains on the Congressional to-do list.
Capital and Capitol Happenings: Staff on the Move, Promotions, and More
Max Rosen: new Manager, Advocacy & Government Affairs, Association for Unmanned Vehicle Systems International (AUVSI)
Tim Dawkins: new Director of Public Policy, Einride
Clayton Stewart: new VP of Public Affairs and Chief Lobbyist, Texas Medical Association
---
Happy Birthdays This Week
Ryan Stevens: Director of Public Affairs and Business Development, Duane Morris Government Strategies
Victor Cabral: Deputy Director, Office of Advocacy and Reform, PA Governor Tom Wolf
Zaida Ricker: Associate, Ridge Policy Group
Lindsey Gray: Executive Director of CSG Southern Office/Southern Legislative Conference, The Council of State Governments
Catherine Hendricks: Manager, State Advocacy, American Urological Association
Lindsay Scott: Government Affairs Director, USAA
Landon Stevens: Director of Policy and Advocacy, Conservative Energy Network
Eric Hagarty: Deputy Chief of Staff, PA Governor Tom Wolf
J. Bucy: Partner, Capitol & 5th Public Strategies
Email future suggestions to rjstevens@dmgs.com
---