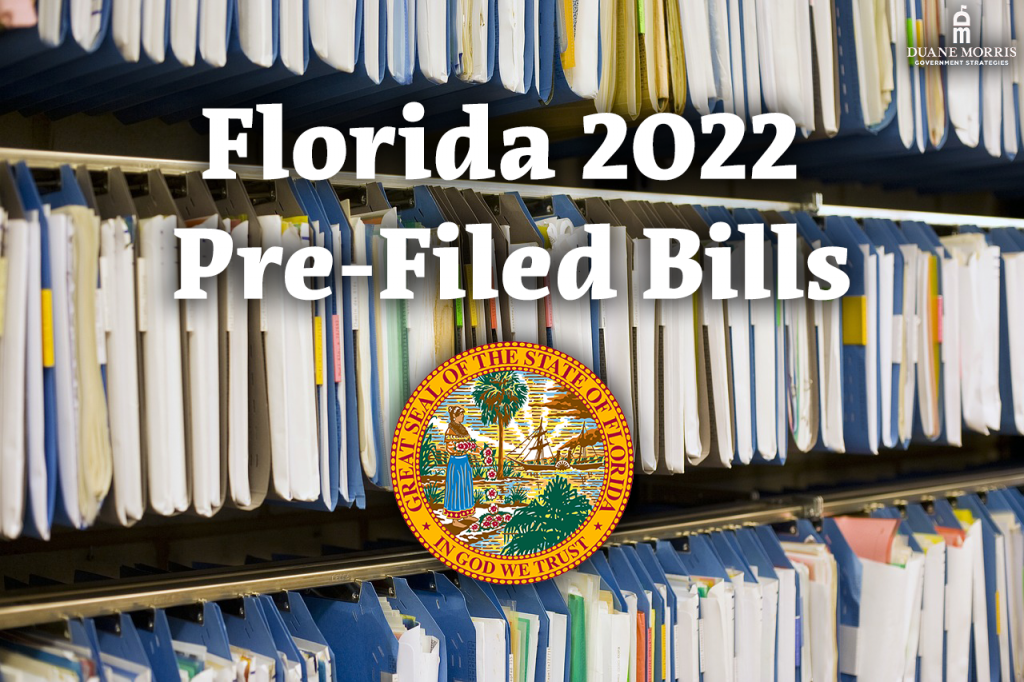 It may still be 2021, but Florida lawmakers have already begun pre-filing legislation for next year's 2022 legislative session.  Much attention has been paid to some Florida lawmakers who intend to introduce an abortion-ban bill like the one passed in Texas (TX SB 8). However, lawmakers have already pre-filed a myriad of legislation on other topics such as smoking, firearms, COVID, the lottery, aerospace commerce, and more.
---
Senate Bill 224: Regulation of Smoking in Public Places
SB 224 was pre-filed on September 15th.  The bill would allow Florida counties and municipalities to restrict smoking within the boundaries of any public beaches or public parks they own.  The bill also would allow municipalities to restrict smoking within the boundaries of any public beaches or public parks within their authority but are owned by the county if it would not conflict with a county ordinance.  The bill's sponsor, Senator Joe Gruters, introduced the bill in the most recent legislative session. Two separate committees approved the bill, but the Rules Committee killed it in April 2021.
The bill would take effect July 1st, 2022.  Lawmakers introduced a similar bill in the House – HB 105.
---
House Bill 103: Carrying Firearms Without Licenses
HB 103 would delete language in the current Florida Statutes requiring a license to carry a concealed firearm.  The bill would also amend criminal penalties related to carrying a concealed firearm without a license.
The bill would expand reciprocity, allowing nonresidents to carry concealed weapons or firearms, not a concealed firearm as is currently the law. The bill would further provide that a nonresident would be subject to the same laws and restrictions for carrying a concealed weapon or firearm as a Florida resident.
---
House Bill 6015: Marriages Between Persons of the Same Sex
While the U.S. Supreme Court ruled in 2015 that same-sex couples have the right to marry under the freedoms provided by the U.S. Constitution, Section 741.212 of the Florida Statutes still theoretically ban recognition of same-sex marriages.  While Florida's ban has been unconstitutional for several years, Florida lawmakers have been slow to repeal the infringing statute.
HB 6015 would change that by deleting language related to the prohibition on the recognition of same-sex marriages.
---
Senate Bill 184: Dental Therapy
SB 184, pre-filed on September 14th, would authorize Medicaid to reimburse for dental services provided in a mobile dental unit owned by, operated by, or contracted with a health access setting or a similar setting or program.
---
Senate Bill 170: Public Records/Lottery Winners
SB 170 would make certain changes to when the name of a lottery winner becomes public.  Under the bill, the name of a winner of a prize of $250,000 or more would be confidential for 90 days from the date the winner claims the prize.  The winner may consent to the release of their name.  After 90 days, however, a winner's name would no longer be confidential.  The bill cites the need for confidentiality because winners of valuable lottery prizes in the past have been the targets of violent and nonviolent criminal acts based on the publicly available and identifying information.
---
House Bill 129: Insurance Coverage for At-Home COVID-19 Tests
HB 129 would require a health insurer or health maintenance organization to provide 100% coverage for an at-home COVID-19 test kit purchased with or without a prescription.  The bill would define an "at-home test kit" as an over-the-counter diagnostic test kit that serves to detect active COVID-19 infections that have received FDA Emergency Use Authorization.
---
House Bill 85: Tax Exemption for Diapers and Incontinence Products
HB 85 would create a sales tax exemption for diapers and incontinence products.  Specifically, the bill would exempt the sale for human use of diapers, incontinence undergarments, incontinence pads, or incontinence liners from the state sales and use tax.  The bill would go into effect on January 1st, 2023.
---
House Bill 75: Limiting COVID-19 Restrictions
HB 75 would impose various restrictions on state, county, and municipal public health responses to COVID-19. Expressly, the bill would prohibit the state or any political subdivision from adopting or enacting any law, order, rule, regulation, or plan of action to require people to wear a mask or other facial covering to minimize the spread of COVID-19.  The bill further states that any mask mandate is invalid in Florida.
The bill would also mandate that state governmental entities and political subdivisions may not require COVID-19 vaccination or issue a vaccine passport, vaccine pass, immunity passport, or any other standardized documentation to certify an individual's COVID-19 vaccine status to a third party.
HB 75 would also control Florida businesses, mandating that a business may not require patrons or customers to provide proof of COVID-19 vaccination to gain access to, entry upon, or service from the business or "discriminate" in any way against them for failing to provide information concerning their vaccination status.
---
House Bill 65: Aerospace Commerce
HB 65 would exempt spaceport users from specific fees or charges while transporting equipment. It would create the Zero G, Zero Fee program granting certain tax exemptions.  Specifically, the Zero G, Zero Fee program would be created to grant tax exemptions for spaceport users' sale, rental, storage, use, or consumption of certain aerospace materials and consumables.  Under the bill, a spaceport user approved for the program would be exempt from any fees or charges that apply while transporting a space vehicle, launch equipment, or recovery equipment.
The bill would also require the Business and Professional Regulation Secretary to review current professional rules and regulations. The Secretary would recommend which rules or regulations detrimental to the commercial aerospace industry the Legislature should eliminate. The bill would require the Secretary to report, including such recommendations and findings, to the Governor, President of the Senate, Speaker of the House, and Space Florida board of directors no later than December 31st, 2022.
---
HJR 35: Partisan Elections for Members of District School Boards
HJR 35 would amend the Florida Constitution to introduce partisanship into district school board members' elections, which are currently nonpartisan.  The amendment would only apply to elections held on or after November 5th, 2024.
---