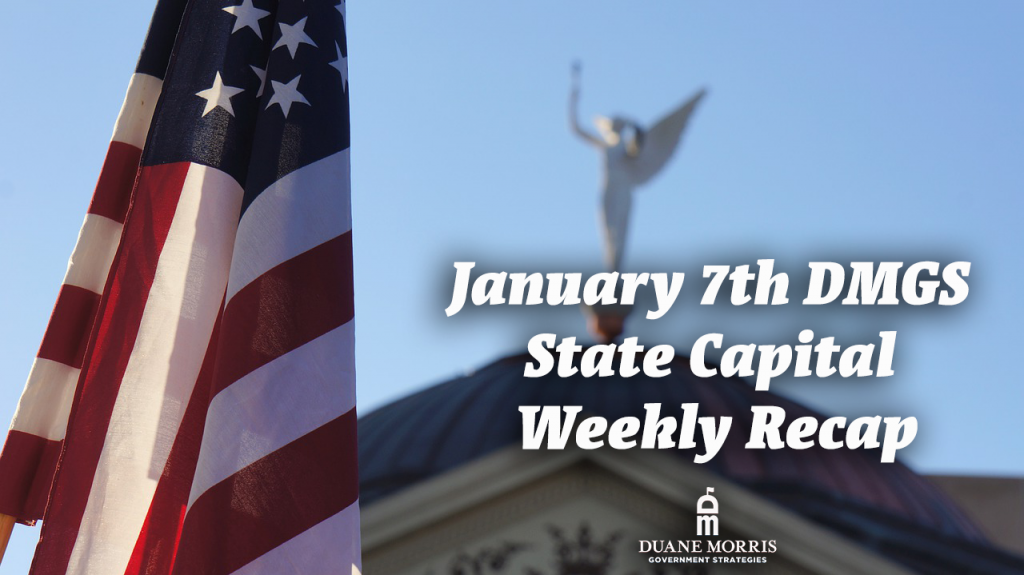 The first week of 2022 turned out to be a busy one in state capitals around the country. Legislative sessions began in some states this week, while various governors either delivered their annual State of the State addresses or scheduled them for the coming weeks as they seek to set their priorities for 2022.
Lawmakers are already looking at legislation related to firearms, marijuana, homelessness, cocktails-to-go, and more.
---
Arizona
Arizona Republican lawmakers who pushed through a nearly $2 billion income tax cut in the last session are looking to repeal it and replace it with a new version, a move that would end a voter referendum that has stopped the tax cut law from taking effect.
Learn more here.
---
California
State lawmakers on Tuesday introduced a bill that would allow private citizens to sue gun makers and sellers over shootings.
Learn more here.
---
Delaware
After failing to advance legislation to legalize recreational marijuana last session, lawmakers are hoping to introduce an amended version of the legislation this year.
Learn more here.
---
Florida
Legislative leaders in Florida are monitoring the rise in COVID cases in the state but haven't made plans to reimpose restrictions on public access that were used during the 2021 session.
Learn more here.
---
Hawaii
Hawaii's legislative session will begin January 19th and state lawmakers are expected to consider a number of measures aimed at dealing with the state's homelessness problem, including more money for the state's Ohana Zones program.
Learn more here.
---
Iowa
Governor Kim Reynolds' 2022 Condition of the State address is scheduled for next Tuesday, the second day of the new legislative session.
Learn more here.
---
Kentucky
Kentucky's legislature convened Tuesday for the start of a 60-day session.
Learn more here.
---
Nebraska
Governor Pete Ricketts is set to deliver his annual State of the State address on January 13th, but outlined some of his priorities in a recent Op-Ed.
Learn more here.
---
New Jersey
Governor Phil Murphy asked the state Legislature for a 90-day extension of some of his remaining COVID-19 emergency powers
Learn more here.
---
New York
New York Governor Kathy Hochul, in her State of the State address earlier this week, indicated her intention to permanently legalize the sale of cocktails to-go as part of a small business recovery plan.
Learn more here.
---
North Dakota
Governor Doug Burgum is set to deliver his 2022 State of the State Address in Fargo on Wednesday, January 19th.
Learn more here.
---
Ohio
A petition to legalize recreational marijuana in Ohio fell roughly 13,000 signatures shy of the 133,877 total signatures needed to head the state legislature. While the coalition behind the petition has until January 13th to submit additional signatures, a bill is currently going through the legislature to expand the medical use of marijuana.
Learn more here.
---
South Dakota
You may recall that South Dakota voters approved legalizing medical and recreational marijuana in 2020. While the medical program has started in the state, recreational marijuana is already set to dominate the legislative agenda in 2022.
Learn more here.
---
This Week's DMGS Posts
Struggling to Schedule Legislative Meetings? Here are the Tips You Need to Succeed

The key to effective lobbying is being able to get in front of the right lawmakers or regulatory and policy leaders. However, getting in front of the right people may not always be the easiest thing to do, or could take longer than anticipated. If you are struggling to schedule legislative meetings on your own, here are some tips to help you succeed!

2022 Legislative Session Preparation Tips: All You Need To Know!

With 2022 legislative sessions beginning this week in numerous states, it is essential to prepare for your advocacy efforts. While you may have advocated or lobbied lawmakers for an issue or cause in the past, you are likely to face different obstacles in 2022.
---
Capital and Capitol Happenings: Staff on the Move, Promotions, and More
Johnnie Pina: new Legislative Affairs, Lobbyist, League of California Cities
Mike Liptak: new Vice President of Government Relations, the Travel Technology Association
Jamie Campbell Petty: new Director of Industry and Governmental Relations, Whitefield Global Holdings
Tanisha Sanders: new SVP, Corporate & Legislative Affairs, ITG Brands
Danie Bendesky: new Director of Intergovernmental Affairs, Pennsylvania Department of State
Jedd Hampton: new Director of Legislative Affairs, California Association of Health Plans
Megan Coyne: new Social Media Director, Office of NJ Governor Phil Murphy
---
Happy Birthdays This Week
Rafaela Amador Fink: Chief Public Affairs and Communications Officer, Tampa Bay Rays
Taryn Kinney: Executive Officer, California Alcoholic Beverage Control Appeals Board
Brian O'Connor Director of Policy & Research, Connecticut General Assembly
Michael Cooney: Election and Voter Registration Clerk
Email future suggestions to rjstevens@dmgs.com
---