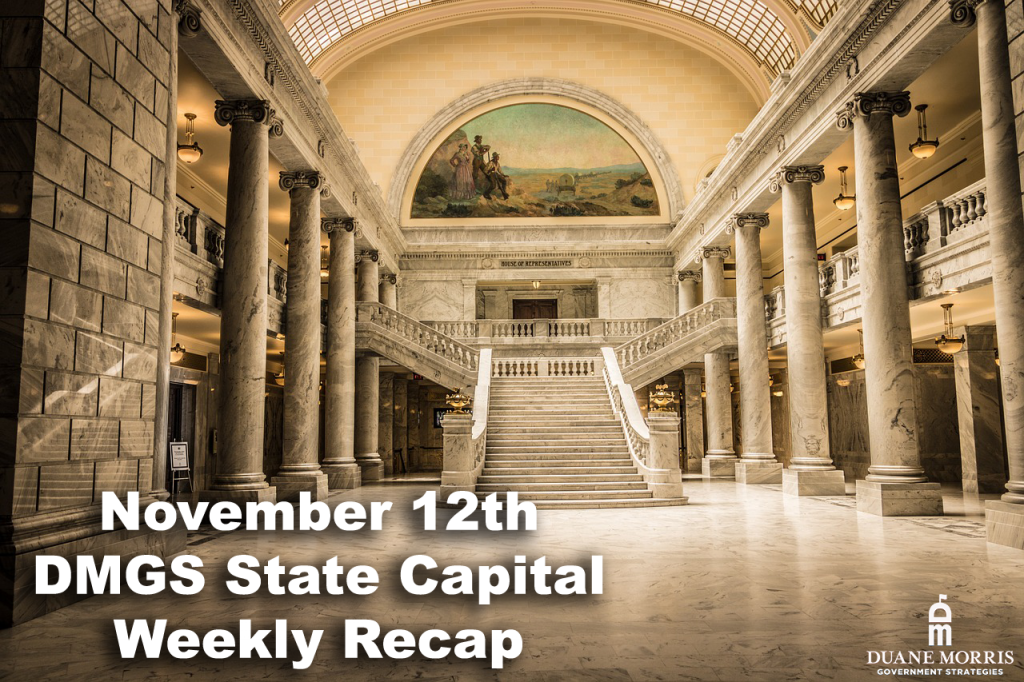 Following last week's elections, State Capitols around the country were back to business this week. Redistricting remains at the forefront for many states as they seek to redraw their political lines heading into 2022. Additionally, New Jersey will have a new Senate President, Kansas Governor Laura Kelly wants to eliminate the state sales tax on food, and Florida Governor Ron DeSantis and legislative leaders have outlined the agenda for next week's special session.
Learn about all this, and more, in this week's DMGS State Capital Recap!
---
Alabama
Governor Kay Ivey intends to ask legislators to delay a requirement to hold back third graders who don't meet reading benchmarks but said the state needs to improve efforts to boost both math and reading scores.
Learn more here.
---
Arizona
Lawmakers in Arizona met this week to debate whether or not to update laws or regulations around wildfires, particularly how fires are managed to oversite.
Learn more here.
---
Colorado
This week, a Colorado appeals court panel reinstated a lawsuit filed by GOP lawmakers and a Colorado gun-rights group challenging a "red flag" law that allows courts to order firearms taken away from people who pose a danger to themselves or others.
Learn more here.
---
Connecticut
Lawmakers held a legislative forum this week to address solutions towards the pediatric behavior health crisis.
Learn more here.
---
Florida
Governor Ron DeSantis and legislative leaders outlined four pieces of legislation earlier this week that lawmakers will tackle during a Special Session scheduled to begin next week.
Learn more here.
---
Kansas
Governor Laura Kelly announced legislation this week to "Axe the Food Tax" and eliminate the state sales tax on food in the state of Kansas.
Learn more here.
---
Kentucky
Governor Andy Beshear is proposing to raise the starting pay for Kentucky State Police by $15,000 per year in an effort to recruit and retain troopers.
Learn more here.
---
Maine
Maine's top marijuana regulator said this week that Maine has few tools to prevent medical marijuana from being sold on the black market. The state advisory commission met for the first time since federal prosecutors alleged that a medical marijuana operation illegally sold more than $13 million in weed.
Learn more here.
---
Maryland
Governor Larry Hogan is calling lawmakers into a special session next month to address redistricting for both state legislative and congressional maps.
Learn more here.
---
New Jersey
Senate Democrats in the Garden State are expected to meet as early as Friday to choose Sen. Steve Sweeney's replacement as Senate president after Sweeney's re-election bid fell short last week.
Learn more here.
---
North Carolina
A Senate bill to allow and regulate sports gambling in North Carolina reemerged in the state House as a committee passed the measure.
Learn more here.
---
Ohio
Governor Mike DeWine signed legislation earlier this week that will allow the use of consumer-grade fireworks for certain holidays and holiday weekends.
Learn more here.
---
Pennsylvania
GOP lawmakers this week announced proposed constitutional amendments to give the legislature the ability to block regulations or administrative orders by the executive branch by a majority vote in the legislature in an attempt to expand the legislature's power and curtail the power of the governor.
Learn more here.
---
Rhode Island
Rhode Island's state revenues are projected to come in $274 million higher than initially budgeted earlier this summer. This figure does not include any of the state's $1.1 billion in federal American Rescue Plan funds.
Learn more here.
---
South Dakota
South Dakota lawmakers approved new political maps in a move that is likely to shake up the landscape of the Statehouse.
Learn more here.
---
Utah
Legislation targeting businesses which mandate employees receive the COVID-19 vaccine passed the legislature on Wednesday and is off to Gov. Spencer Cox's desk for signature.
Learn more here.
---
Wisconsin
Governor Tony Evers announced this week that $100 million will be available for the state's next round of the State Broadband Expansion Program.
Learn more here.
---
This Week's DMGS Posts
OSHA Announces COVID-19 Vaccination and Testing ETS for Employers with 100+ Employees

If your business has more than 100 employees, this news will certainly impact you. As DMGS noted last month, the U.S. Government announced that the Occupational Safety and Health Administration (OSHA) would introduce an Emergency Temporary Standard (ETS) requiring private-sector companies that employ 100 or more workers to require proof of vaccination or weekly testing.

Daylight Saving Time Legislation: Make Permanent or End Completely?

Did you remember to set your clocks back one hour recently? Some state lawmakers are hoping you won't have to worry about changing your clocks two times a year. In just the last four years, 19 states have passed Daylight Saving Time legislation providing for year-round DST, as long as Congress were to allow it.
---
Capital and Capitol Happenings: Staff on the Move, Promotions, and More
Elle Ciapciak: new Chief of Staff, U.S. Rep. Jodey Arrington (R-TX)
Kristina Ishmael: new Deputy Director of the Office of Ed. Tech, U.S. Department of Education
Denice Ross: new U.S. Chief Data Scientist, Office of Science and Technology Policy
Dar Vanderbeck: new VP of the Aspen Global Leadership Network, Aspen Institute
Rhonda Bentz: new EVP of Public Affairs, Consumer Brands Association
Prashanth Rajan: new Director of Public Policy, Mastercard
---
Happy Birthdays This Week
Patty Packavage: Executive Director, Duane Morris Government Strategies
Ted Christian: Senior Director, Duane Morris Government Strategies
Chase Everton: Partner, Lincoln Hill Partners
Diana Ostroff: Managing Director, Ostroff Associates
Andrew Barnhill: Head of Public Policy (Chief Government Affairs Officer), IQVIA
Andy Miller: Senior Government & Community Relations Director, Flywheel Energy
Jim Scarborough: Director of Government Relations, International Association of Plumbing and Mechanical Officials (IAPMO)
Kim Stolfer: President, Firearms Owners Against Crime
Allison Rivera: Executive Director of Government Affairs, National Cattlemen's Beef Association
Email future suggestions to rjstevens@dmgs.com