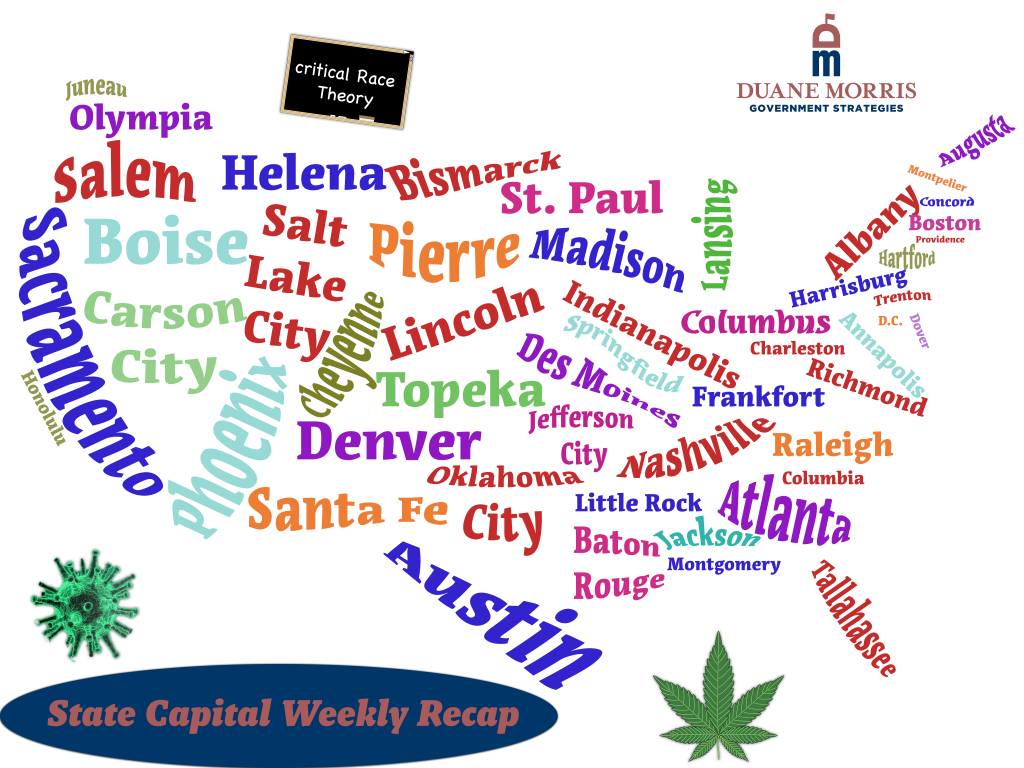 Lawmakers and governors this week were busy on a range of issues, including redistricting, COVID-19, critical race theory, marijuana, and more.
Feel free to let us know what is going on in your state for our upcoming State Capital Weekly Recaps!
---
Alabama
Alabama lawmakers are preparing to draw new political districts based on the 2020 census and started public hearings on redistricting this week.
Read more here.
---
California
The California Legislature passed a bill on Wednesday aimed at getting rid of traditional pink and blue marketing schemes for items like toys and toothbrushes in an attempt to force large department stores to display some child products in gender neutral ways.
Read more here.
---
Illinois
Illinois lawmakers have sent a revised legislative district map to the governor following the recent release of U.S. Census data.
Read more here.
---
Iowa
60 GOP lawmakers are asking the Iowa Supreme Court to overturn a 2018 ruling that declared abortion a fundamental right.
Read more here.
---
Maryland
A group of state lawmakers heard from education officials and health care experts this week on combatting the coronavirus in school settings.
Read more here.
---
Nebraska
On Monday, a group of Nebraska state senators tasked with redistricting started the first day of a two week session to address the issue.
Read more here.
---
New Jersey
The New Jersey Cannabis Regulatory Commission ("CRC") has adopted regulations relating to environmental impact and sustainability of the cannabis industry. These regulations will be in effect for up to one year and will empower the CRC to begin licensing cannabis businesses.
Read more here.
---
New York
New York is moving closer to marijuana legalization as the state Senate confirmed Governor Kathy Hochul's nominations of former Assembly Member Tremaine Wright to chair the Cannabis Control Board and cannabis advocate Christopher Alexander to serve as executive director of the new Office of Cannabis Management.
Read more here.
---
North Carolina
North Carolina lawmakers passed House Bill 324 on Wednesday with a vote of 60-41. The bill would address critical race theory by limiting how teachers can discuss certain racial concepts in school. The bill is likely to be vetoed by Governor Roy Cooper.
Read more here.
---
Pennsylvania
Governor Tom Wolf's administration's announced earlier this week that children and everyone else in schools across the state would be required to wear masks. With the announcement, the public debate on the issue abruptly moved from school board meetings to the state Legislature.
Read more here.
---
South Dakota
South Dakota state lawmakers looking to amend the state's recently voter-passed medical marijuana law are recommending that growing medical marijuana in homes be prohibited.
Read more here.
---
Texas
The United States Supreme Court this week refused to block Texas' new law banning abortions as early as six weeks into pregnancy.
Read more here.
---
Utah
Governor Spencer Cox met with state lawmakers this week to discuss what to do about the recent increase in COVID-19 cases and hospitalizations.
Read more here.
---