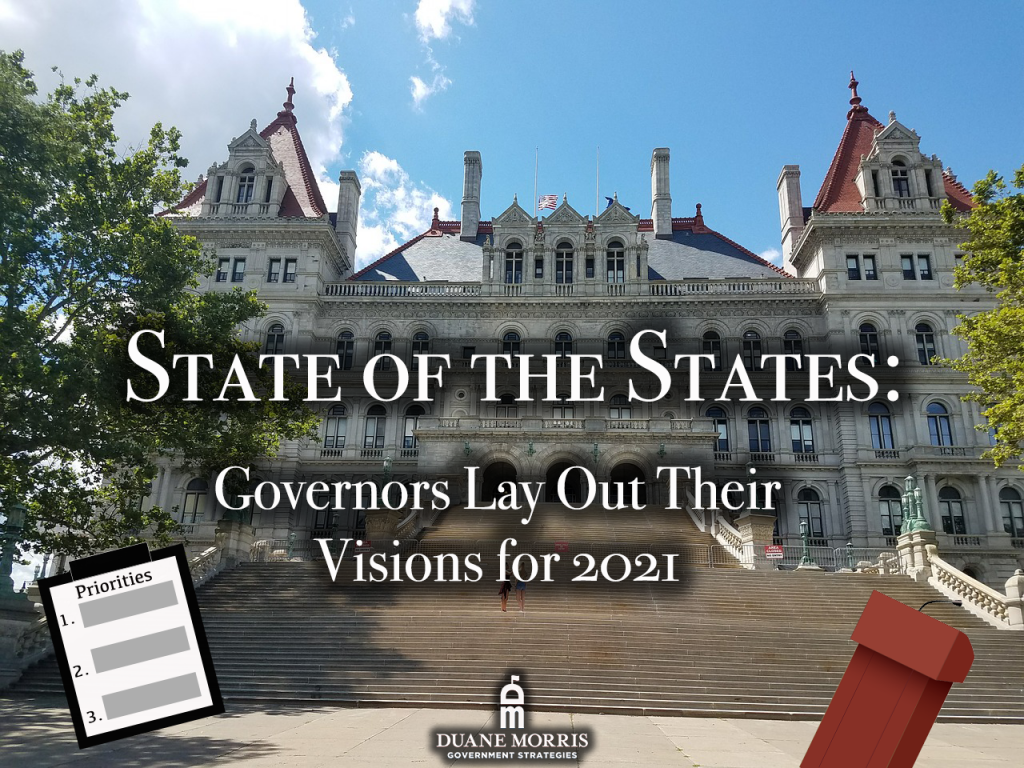 With 2021 legislative sessions underway, governors across the country are delivering their "state of the state" addresses—budget addresses in some states—outlining their visions for their state in 2021. Lawmakers must agree with the governor for policies to advance and become law, which largely depends on each state's partisan makeup. A trifecta, where a political party controls the governor's office and both chambers of the legislature, may make it easier to advance what governors laid out in their addresses. In a divided government, legislators must make compromises.
DMGS' 2021 legislative session preparation tips are available to help navigate the below policies and issues that may pop-up in states around the country.
---
New York
Governor Andrew Cuomo recently delivered his 11th State of the State address, outlining the 2021 Agenda: Reimagine, Rebuild, Renew. In the address, Governor Cuomo called for the following:
Pass the Medical Supplies Act – to promote domestic manufacturing of critical medical equipment and to reduce overseas dependency on PPE, the Medical Supplies Act will prioritize buying PPE and other medical supplies made in the U.S.
Pass Comprehensive Telehealth Legislation – to address adjusting reimbursement incentives to encourage the use of telehealth, eliminating outdated regulatory prohibitions on telehealth delivery, removing outdated location requirements, etc.
Ensure Social and Racial Justice for the COVID-19 Vaccination Effort – as vaccine availability increases, New York will establish partnerships with private entities, localities, and public clinics to reach vulnerable and underserved populations.
New York State Public Health Corps – to help prepare for future public health crises, Cuomo is calling on the nation's first public health corps, which would see up to 1,000 fellows recruited to assist with vaccination operations. Post-COVID, the state will build on this model to help serve the state in any future crisis.
Free Citizen Public Health Training – the state would develop a training program to educate and certify New Yorkers to be prepared to volunteer the next time there is a health emergency.
Fight for Federal Support to States Fighting COVID-19 – New York faces a $15 billion budget gap due to the pandemic and will continue to fight for more federal aid.
Pass a Comprehensive Adult-Use Cannabis Program – Cuomo proposed to legalize adult-use marijuana and creating an Office of Cannabis Management to oversee the program, along with the existing medical and cannabinoid hemp programs.
Enable Online Sports Betting – under the proposal, the New York State Gaming Commission will issue RFPs to select one or more providers to offer mobile sports wagering.
Create a Rapid Testing Network to Help Business Reopen – New York will continue to scale up testing availability to help businesses, safely reduce capacity restrictions, and work with testing companies to stand up a network of convenient testing sites in city centers.
Facilitating Policing Reforms – Governor Cuomo signed an executive order creating the New York State Police Reform and Reinvention Collaborative, which requires all local governments and police forces to develop a plan to modernize their policing strategies and strengthen relationships with the communities in which they serve. Failure to complete this process by April 1 will lose state funding.
Facilitating the Creation of Statewide Childcare Options – Cuomo will adopt the Child Care Availability Task Force recommendations to standardize and modernize the childcare subsidy system to eliminate waste, duplication, and confusing rules for families.
Streamlining and Enhancing Work to Address Gender-Based Violence – Cuomo is calling for a comprehensive package which includes a proposal allowing courts to require abusers to pay for damages to housing units, moving expenses, and other housing costs related to domestic violence; there are also proposals to create a domestic violence misdemeanor label to close the domestic violence gun-purchasing loophole to ensure abusers convicted of misdemeanor assaults on a domestic partner cannot obtain weapons.
Provide Rent and Mortgage Relief for Tenants and Small Business Owners – Cuomo already signed legislation placing a moratorium on residential evictions until May 1, 2021, for those impacted by COVID-19, but wants to codify an Executive Order banning fees for late and missed rent payments during the pandemic while allowing tenants to use their security deposit as payments.
Eliminating Health Care Premiums for Low-Income New Yorkers – Governor Cuomo calls for eliminating monthly premiums for over 400,000 New Yorkers under the state's Essential Plan, which has a maximum premium of $20 a month per person.
Continue New York's Liberty Defense Project – Governor Cuomo will continue to support the Project, which provides legal services to immigrants and communities in need.
Strengthen and Expand Access to Elections – the reforms called for by Governor Cuomo would expand early voting access, allow no-excuse absentee voting for all New Yorkers, allow more time for voters to request absentee ballots, and speed up the process of counting absentee ballots.
Repurpose Underutilized Commercial Space for Housing – Governor Cuomo will propose legislation to create a five-year period where property owners may convert office buildings and hotels in New York City to residential use.
Ensuring Safe Shelters and Providing Sustained Care for Homeless on the Street – Governor Cuomo directed the Office of Temporary and Disability Assistance in September to issue guidance to all social services districts in the state laying out the requirements for providing safe shelter conditions during the pandemic. OTDA will continue to ensure strict compliance with the guidance.
Democrats control both legislative chambers in New York, giving them a trifecta with Democratic Governor Cuomo.
---
Idaho
In the 2021 State of the State and Budget Address, Idaho Governor Brad Little outlined a "Building Idaho's Future" plan to provide tax relief and make investments strategically. Highlights of Little's plan include:
Tax Relief – proposes the single most extensive tax cuts in the state's history, amounting to more than $450 million, including $295 million in one-time tax relief and $160 million in permanent tax cuts.
Transportation – proposes $126 million in state and local highway infrastructure projects and $80 million in new ongoing transportation funding.
Education – proposes investments in literacy to close achievement gaps that widened due to the pandemic. The governor's plan also invests in higher education and career technical education training.
Law Enforcement – invests in items to support frontline personnel at the Idaho State Police and local police officers' training.
Broadband – proposes $35 million for new internet connectivity investments in underserved areas.
Water and Agriculture – proposes significant water infrastructure projects and projects for agriculture and outdoor recreation.
Small Business – proposes more support for Idaho small businesses after the $300 million given directly to small businesses last year.
Criminal Justice Investments and Capital Construction – proposes strategic investments in "overdue needs" in the criminal justice system to help break repeat offenders' revolving door.
Republicans maintain a trifecta in Idaho, controlling the governor's office and both legislative chambers.
---
Kentucky
Governor Andy Beshear delayed the 2021 State of the Commonwealth address, initially scheduled for January 6, due to violent attacks on the U.S. Capitol in Washington, D.C., which occurred the same day. The next day, Governor Beshear delivered a three-pillared Better Kentucky Budget proposal in a combined State of the Commonwealth and Budget Address.
Pillar 1: Immediate Relief to Families and Businesses Harmed During the Pandemic
Governor Beshear is proposing legislation to provide $220 million in the Better Kentucky Small Business Relief Fund. The governor is also authorizing $48 million in CARES Act relief funding to help individuals who waited too long to receive unemployment benefits and to help individuals who missed out on the federal government's Lost Wages Assistance Program because they did not earn enough money.
The governor is also proposing $47.5 million to upgrade the state's unemployment system, $1.1 million in general fund spending for 2021, and $8.4 million for 2022 to help restore employees to help with unemployment claims throughout the Commonwealth's 12 career centers.
Pillar 2: Investing in our People
Governor Beshear proposes a $1,000 raise for teachers and classified staffers, an increase to the SEEK formula, and funding textbooks and technology. Beshear is also proposing restoring a teacher loan forgiveness program in the Commonwealth.
A 1% raise for state employees is also a priority of the governor, who also wants to give local and state law enforcement and firefighters a $600 stipend increase, bringing the total stipend to $4,600. Beshear's budget also calls for a full exclusion of military pensions from Kentucky's income tax, adding 76 new social workers for child protective services, adding $12 million in FY 2022 to improve the epidemiology and clinical capacity for local health departments, and providing pension relief to quasi-governmental agencies. Governor Beshear's budget also calls for reinstating funding for the Commission on Women, reinstating the Office of Minority Empowerment, and providing additional funds annually to reinvest in the Commission on Human Rights.
Pillar 3: Investing Boldly in our Future
The third pillar of Governor Beshear's budget proposal calls for investing $272 million in one-time funds for infrastructure in the Commonwealth. The governor is also calling for $100 million to renovate or replace crumbling schools, $50 million to fund last-mile broadband coverage, $7.7 million in state bond funds to match federal funding to repair, replace, and improve local drinking water and wastewater infrastructure, and $6 million in state bonds to assist localities in accessing federal funds for critical flood control projects.
Governor Beshear is also calling for legalizing medical marijuana, sports betting, and saving horse racing.
Kentucky has a divided government. Governor Beshear, a Democrat, must work with the Republican-controlled legislature to advance the goals outlined above.
---
New Jersey
Governor Phil Murphy delivered his third State of the State address on January 12, outlining accomplishments from the first three years in office and outlining priorities for 2021.
Murphy pointed to the Garden State establishing a $15 an hour minimum wage, implementing a millionaire's tax, passing earned sick leave and expanding paid family and medical leave, creating the New Jersey Wind Port and new manufacturing facility at the Paulsboro Marine Terminal, and reducing health care costs and eliminating surprise medical bills, among other things.
Looking ahead to 2021, Governor Murphy outlined the following priorities:
Continue the state's COVID-19 vaccination program and vaccinating every willing adult resident;
Support small businesses and innovative startups;
Solidify New Jersey's bridge and tunnel infrastructure along the Northeast Corridor through improvement projects at the Portal North Bridge and working with President-elect Joe Biden to fund the Gateway Program and build new tunnels under the Hudson River;
Build a clean energy economy to develop a robust green jobs workforce development strategy;
Codifying a woman's full reproductive rights into state law;
Eliminate the root causes of systemic racism to make the state's criminal justice system more transparent and fair;
Enact early in-person voting;
Ensure students have academic, digital, and social/emotional support needed to emerge from the current pandemic;
Build out a robust and affordable childcare support system;
Improve the healthcare system to make it more transparent, accessible, and affordable;
Institute ethics reforms to ensure transparency and accountability in government;
Expand opportunities for safe and affordable housing by assisting renters and homebuyers and allowing renters impacted by COVID-19 up to 30 months to make up for back-rent.
---
Arizona
Arizona Governor Doug Ducey delivered a State of the State address on January 11, outlining the vision for 2021. The governor's vision for 2021 includes focusing on combating the pandemic, distributing the COVID vaccine, prioritizing K-12 education, creating jobs, and assisting those who have been negatively impacted by the ongoing pandemic.
Highlights from Governor Ducey's address include:
Vaccine Distribution – the state has launched a 24/7 vaccination site at State Farm Stadium, the Arizona Cardinals' home.
Economic Recovery – Governor Ducey proposed reforming and lowering taxes and to "think big" about tax reform.
Honoring Medical Professionals and Lives Lost –
K-12 Education Support – Governor Ducey noted the state needs to get students back in the classroom and narrow the achievement gap caused by distance learning during the pandemic. He specifically called for policies that protect parental choice and students falling behind to get the resources they need to ensure every student graduates from high school on time and at grade level.
Integrity – Ducey referenced the rioting in Washington D.C., noting that violence and vandalism "have no place in the people's House" and that those in Arizona will conduct themselves with integrity and respect for each other and the Constitution as well.
Other Issues – Ducey also acknowledged more talks will be had with lawmakers and wants to see action on COVID liability protection, broadband expansion, greater telemedicine access, infrastructure improvements for roads and bridges, continuing to be a leader on water innovation, better training and equipment for law enforcement, criminal justice reform, and guarding against wildfires.
Arizona has a Republican trifecta, controlling the governor's office and both legislative chambers.
---
Maine
Maine Governor Janet Mills submitted a supplemental budget proposal for FY 2021 and a biennial budget proposal for FY 2022-2023 to the state Legislature. Governor Mills' budget focuses on rebuilding public health infrastructure that protects health care and education investments. The total budget proposal for FY 2022-2023 is $8.394 billion, an increase of $57 million – or 0.69% – over existing commitments in the baseline budget.
The governor's budget proposal includes:
$3 million to the Maine CDC to fund the Health and Environmental Testing Lab, the Health Inspection Program, the Maine Immunization Program, and the Public Health Emergency Preparedness Program;
$5 million for Maine CDC for COVID-19 testing, vaccines, and support services for those who must stay isolated and quarantine;
$6 million to fund Section 29 services for adults with developmental disabilities in their homes and communities;
$45 million for MaineCare rate increases for nursing facilities, residential facilities for children and older Mainers, services for adults with intellectual and developmental disabilities;
$7.5 million towards mental health and substance use disorder services, including funds for community mental health and $2 million for the OPTIONS Initiative to dispatch response teams to communities that have high rates of drug overdoses;
$45 million for K-12 public education with a goal toward a minimum teacher salary of $40,000 per year and allowing school districts to manage in-person, remote, and hybrid learning options during the current pandemic;
$1.8 million for expanding broadband access to areas with inadequate service;
Adding $61 million to the Budget Stabilization Fund (Rainy Day Fund), which would be at $320 million if added; and
Adding $25.5 million to the Medicaid Stabilization Fund to budget for MaineCare.
Democrats maintain a trifecta in Maine, controlling the governor's office and the Legislature.
---