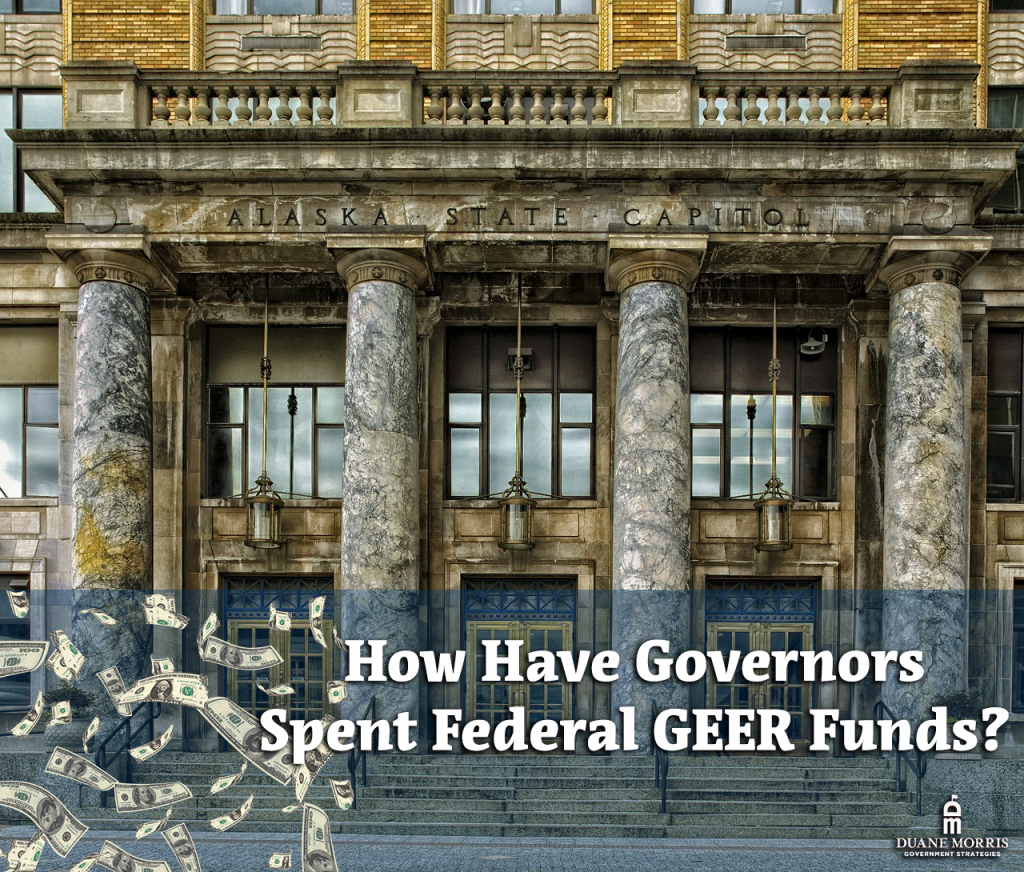 The Coronavirus Aid, Relief, and Economic Security (CARES Act) included emergency funds made available to governors for emergency education relief. The CARES Act created the Governors Emergency Education Fund (GEER Fund), dispensing about $3 billion to state governments to address emergency secondary education and higher education needs. Additionally, the Coronavirus Response and Relief Supplemental Appropriations Act of 2021 (CRRSA) provided an additional $4 billion for the GEER Fund. However, governors' allocations of their respective states' GEER funds have not been uniform. Many have prioritized GEER Funds for specific funding initiatives. How have states allocated their GEER I and GEER II funding thus far?
---
Alaska
Alaska received $8,191,720 in GEER I funding and $2,824,017 in GEER II funding. The State initially allocated $3,700,000 to K-12 Education and $1,700,000 to Postsecondary Education. The Alaska Department of Education and Early Development utilized the federal GEER funding to improve distance learning curriculums, increase access to devices, and expand connectivity.
However, not all school districts utilized the allotted funds uniformly. For example, large urban school districts, such as the Anchorage School District, supplied students with computers. Conversely, small rural school districts, where internet access is sparse, supplied students with paper packets containing educational materials. Moreover, the funds have been used to develop the Alaska State Virtual School program and supply remote rural communities with iPads.
---
Colorado
Colorado received $47,865,504 in GEER I funding and $19,431,573 in GEER II funding. Governor Jared Polis announced in June 2020 the following allocations from initial funding:
Nearly $33 million in grants to school districts, public schools, public institutions of higher education, and other education-related entities to support equity and innovation to address the COVID-19 crisis; the grant program called the Response, Innovation, and Student Equity (RISE) Education Fund will be accepting applications this fall.
$5–6 million for dramatically increasing capacity for Colorado Empowered Learning.
$3 million investment in educator recruitment and retention to provide school districts stability through the Quality Teacher Recruitment program.
---
Illinois
Illinois was provided with $132,394,042 in GEER I funding and $47,904,238 in GEER II funding. Governor Pritzker and the Illinois State Board of Education allocated the GEER funds to K-12 Education ($50,000,000), Postsecondary Education ($49,000,000), and Early Childhood Education ($10,000,000). Specifically, the $50 million for K-12 education addresses closing the digital divide (purchasing devices such as laptops and tablets), training for educators and parents, and social-emotional supports for students. Illinois specifically used $7.5 million to purchase Wi-Fi hotspots and increase internet connectivity for students and families.
The funding for K-12 Education aims to support multiple state projects, including funding the Abraham Lincoln Presidential Library, supporting teachers and students in remote learning environments. Additionally, the focal point of funding for Early Childhood Education aims to provide intensive support for parents, including increasing the infant/early childhood workforce in mental health consultation.
Of the $49 million in funding that went to higher education, $46 million went directly to public universities and community colleges to target access to laptops, wireless hotspots, targeting advising, mentoring, tutoring, books, childcare, transportation, and all strategies to help with recruiting and retention.
---
Indiana
Indiana received $108,185,708 in GEER I funding and $26,529,708 in GEER II funding.
Governor Eric Holcomb announced in June that PK-12 schools and higher education institutions could apply for a needs-based competitive $61,590,954 grant program to help improve remote learning.
Indiana's GEER funding allocations aim to increase device availability, expand internet connectivity, and increase educators' training initiatives. For example, by expanding device availability and internet connectivity, the State hopes to address the need for digital learning devices for PK-12 students and address gaps in internet access for remote learning.
---
Michigan
Michigan received $125,658,839 in GEER I funding and $38,881,998 in GEER II funding. Governor Whitmer allocated the majority ($60,000,000) of initial GEER funding to disadvantaged school districts serving high-needs students. However, limitations have been placed on GEER funds. The limitations on what GEER funds may be used for include: increasing internet access, student mental health, addressing learning loss, remote learning materials, and teacher training.
An additional $5.4 million was distributed to entities to support statewide tools/resources for schools. That includes $1.5 million for statewide mental health and social-emotional learning supports, $1.4 million for the implementation of teacher professional learning practices and standards to train teachers on digital communication tools and online instructional strategies, $1.5 million to support educational programming on public television and $1 million to support Early On.
Michigan received $38.9 million in GEER funding through CRRSAA, which Governor Whitmer proposed distributing as follows:
$10 million to support intermediate school districts in coordinating pandemic response and student recovery efforts. The recommendation also includes $2 million to help develop and implement a strategy for intermediate school districts to identify and reengage students who became disconnected from learning during the pandemic.
$8.4 million for physical, emotional, and mental health programs for educators and students.
$6 million to support out-of-school-time providers who serve children in low-income communities and help these children participate in virtual instruction and get back on track academically, mentally, socially, and physically.
$3 million to accelerate innovation and learning in childcare, improving access to high-quality care. The recommendation also adds $2 million for continued development and broadcast of high-quality early childhood programming through public television.
$3 million for additional supports for Early On, a program designed to identify and respond to developmental delays in young children, with particular attention given to reaching more families in innovative ways during the pandemic.
$3 million for competitive grants to community colleges, state universities, and independent colleges to increase college persistence and completion rates, particularly among working-age adults impacted by the pandemic.
$1.5 million for the Michigan Center for Education Research and Implementation to lead the replication and scaling of best practices in instruction, administration, and student support, beginning first with the State's COVID-19 Student Recovery Advisory Council's recommendations.
---
Oregon
Oregon received $41,767,534 in GEER I funding and $14,172,115 in GEER II funding. The State allocated $20,000,000 to K-12 Education, $10,000,000 to Postsecondary Education, and $1,600,000 to Early Childhood Education. Oregon plans to use the funds for emotional and mental support services, increasing access to technology, and summer learning programs for middle school and high school students.
---
Washington
Washington State received $71,715,508 in GEER I funding and $25,452,480 in GEER II funding. However, unlike most other states, most of Washington's initial funds went to Postsecondary Education. The State prioritized community colleges and technical schools, providing $44,000,000 to 34 community and technical schools and $10,000,000 to six public universities.
---
Wisconsin
Wisconsin received $98,325,015 in GEER I funding and $20,833,014 in GEER II funding. In Wisconsin, the majority of funding was allocated to K-12 educational initiatives. Governor Evers indicated that the GEER funding would target students and school districts with the highest remote learning needs. Additionally, the State intends to allocate part of the funds toward technology access, especially access to educational hardware and software. Specifically, the Governor made $46.6 million in grants available for 155 local education agencies via initial GEER funding.
---