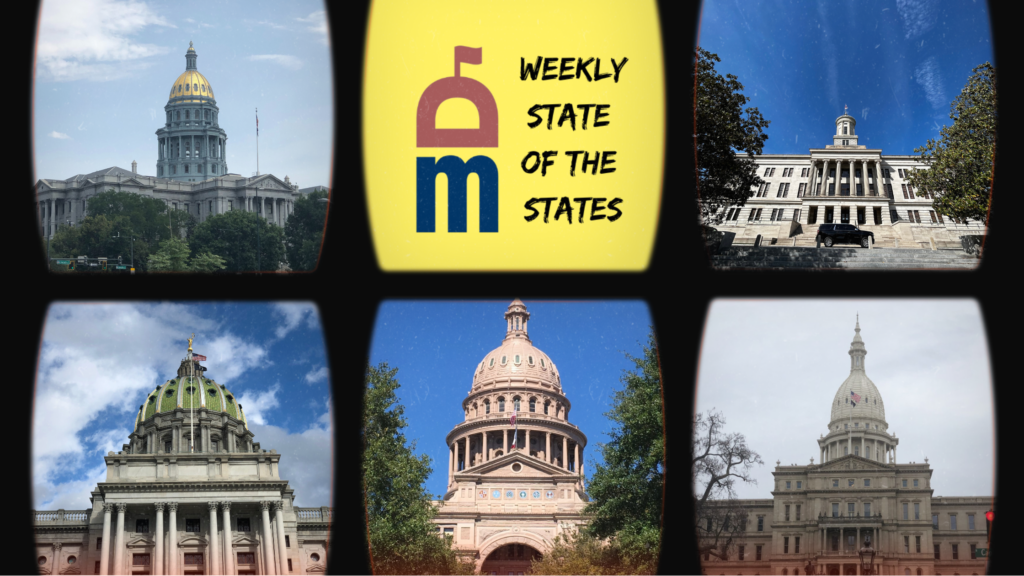 The weather outside may be getting chillier in some parts of the country, but activity in state Capitols around the country heated up. Some lawmakers are looking at legislation for 2024 sessions, while Texas is debating school vouchers in its special session, and other states are tackling issues including school bus safety, deep fakes, social media use, and more.
---
Alabama
Lawmakers are already working on several new bills for the 2024 legislative session. Among them are bills regulating "deep fakes" or digitally manipulated media, as well as legislation that would impose stricter penalties on those who stage fake abductions.
Learn more here
---
Alaska
Alaska's attorney general approved a regulation that will allow the state to provide legal representation for the Governor, Lieutenant Governor, and Attorney General in ethics complaints filed against them.
Learn more here
---
California
Governor Gavin Newsom (D) has signed over 50 housing bills in the past month. The bills, including SB 423 and SB 4, aim to build more affordable housing and ensure cities are held accountable for permitting a fair distribution of housing.
Learn more here
---
Florida
This week, lawmakers filed legislation for next year that would prohibit event venues that have accepted taxpayer funding in the last decade from signing sole source contracts with a ticketing firm. The bill would also address hidden fees and forcing an artist to sell their tickets on a specific website.
Learn more here
---
Kentucky
State lawmakers are looking to introduce a bill to temporarily remove guns from individuals with mental illness. The bill, known as the Crisis Aversion and Rights Retention, has been enacted in 19 other states and the District of Columbia.
Learn more here
---
Massachusetts
The Massachusetts House approved a new gun bill this week. The bill expands on the state's assault weapons ban by prohibiting new purchases of AR-15-style weapons and the turning of a legal firearm into an illegal automatic weapon. The bill also cracks down on unregistered "ghost guns".
Learn more here
---
Maine
Days after a report was released from Maine's Office of Child and Welfare Services that showed the state's rate of repeat maltreatment among children to be twice the national average, the office's director faced a series a tough questions from state lawmakers.
Learn more here
---
Michigan
The State Senate passed a bill to expand protections for individuals breastfeeding. The bill allows breastfeeding in public spaces, including those using a breast pump or other means to express milk.
Learn more here
---
New Jersey
Car dealers in New Jersey say they are committed to transitioning from gas to electric vehicles, but that current proposed Advanced Clean Cars II rules don't take into account consumer opinions when it comes to electric vehicle mandates.
Learn more here
---
New York
Governor Kathy Hochul (D) signed legislation aimed at expanding consumer options and supporting small businesses in the alcohol industry. Some changes under the new legislation include allowing the sale of beer, mead, braggot, and cider on any day of the week, expanding Sunday hours for liquor and wine stores, and more.
Learn more here
---
Ohio
Ohio lawmakers have introduced bipartisan legislation that would help shield election officials from increasing threats.
Learn more here
---
Pennsylvania
This week, Pennsylvania's Senate approved a bill that extends the required stopping distance to 15 feet when a school bus flashes its lights and puts its side stop arm out.
Learn more here
---
Texas
After the Senate passed a school voucher bill, its fate now lies in the House during a special session. The bill would create an $8,000 education savings account for parents to use to cover the cost of private education.
Learn more here
---
Utah
Following the enactment of the Utah Social Media Regulation Act earlier this year, Utah's Division of Consumer Protection published its rules for how the state will require parental consent for minors to use social media. Social media companies must now verify the ages of all their users in Utah and prohibit any child from creating an account without the permission of their parent or guardian.
Learn more here
---
Wisconsin
This week, the legislature passed a new bill banning gender-affirming surgery for minors. The GOP-sponsored bill has been criticized by Governor Tony Evers (D) who has vowed to veto the measure.
Learn more here
---
Wyoming
The Wyoming Management Audit Committee is considering a new bill that would allow state lawmakers more power when it comes to the governor's appointees.
Learn more here
---
Capital and Capitol Happenings: New Positions, Promotions, and More
Zachary McKeown: new Advocacy Manager, Connecticut Conference of Municipalities
Caroline Beohm: new Policy Director, Pennsylvania Insurance Department
Danni Hoefer: new Chief of Staff, Arkansas Public Service Commission
Jesse Monoski: new Executive Director, Pennsylvania Senate Consumer Protection & Licensure Committee
George Helmy: new Executive Vice President, Chief External Affairs and Policy Officer, RWJBarnabas Health
Justin Fiore: new Deputy Director, Advocacy and Public Affairs, Maryland Municipal League
---
Happy Birthdays This Week
Abbey Haslam: Director of Government Affairs, Commonwealth Foundation
Ivette Fernandez: Vice President, Government Relations, Endeavor
Bethsabee Medina: Director, State Government Affairs, Viatris
Steven Askew: Manager, State and Local Legislative Affairs, Design-Build Institute of America
Limer Batista: Senior Manager, International Government Relations, the Hershey Company
Richard Montgomery: Director of Legislative & Government Relations, Maryland State Bar Association
Ryan Shacklette: Programs Associate, CSG South
Want to wish someone a happy birthday or recognize their new job or promotion? Email future suggestions to rjstevens@dmgs.com.
---