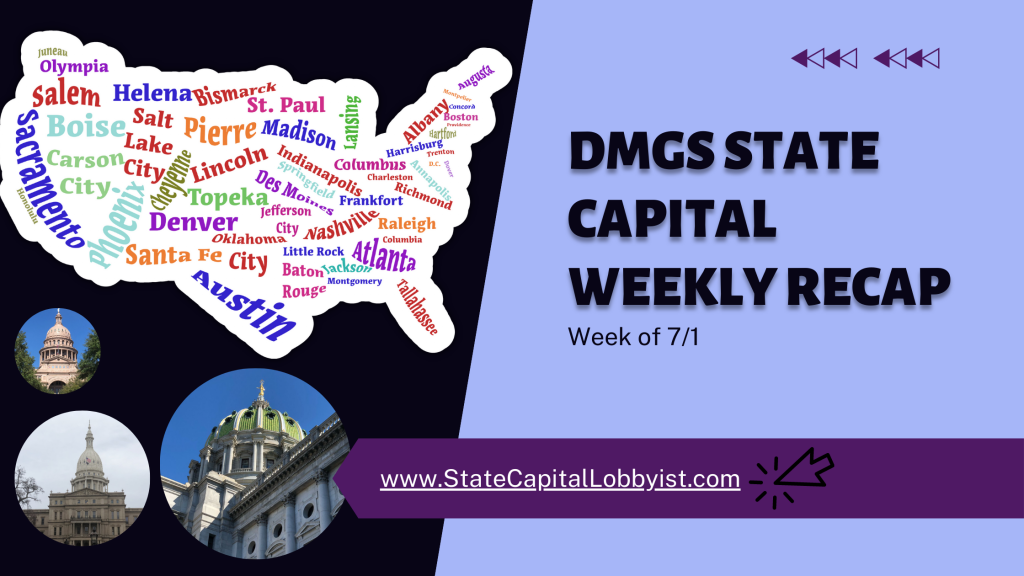 This week saw state lawmakers around the country busy on various issues, including working to pass their state's budgets as well as continued reactions to the recent Supreme Court ruling on abortion and recent mass shootings in Buffalo, NY and Uvalde, TX.
---
Arizona
Governor Doug Ducey (R) signed Arizona's state budget for FY 2023 this week.
Learn more here.
---
California
Governor Gavin Newsom (D) this week signed a $308 billion state budget that includes tax refunds for 23 million California residents who could benefit from up to $1,050 beginning in October.
Learn more here.
---
Delaware
Governor John Carney (D) signed a bill this week expanding abortion care access and protecting providers and patients from seeking services in Delaware.
Learn more here.
---
Florida
Gov. Ron DeSantis on June 27th signed legislation to expand eligibility requirements for the Bright Futures Scholarship Program to include paid work experience as a substitute for service hours. 
Learn more here.
---
Georgia
On July 1st, various bills passed by Georgia lawmakers earlier this year went into effect, such as bills expanding mental health services and teacher pay raises.
Learn more here.
---
Hawaii
Gov. David Ige (D) announced this week his plans to veto 30 bills passed by state lawmakers this session. Such bills include one to eliminate cash bail for some felonies and another to ban the sale of certain flavored tobacco products.
Learn more here.
---
Louisiana
Earlier in June, Governor John Bel Edwards (D) signed the CROWN Act into law. The new law prohibits race-based hair discrimination and protects a person from being denied employment and educational opportunities due to their hair texture.
Learn more here.
---
Michigan
Michigan lawmakers approved a state budget early Friday morning that increases funding for education but delays a decision on how to lower taxes as Governor Gretchen Whitmer (D) and GOP legislative leaders could not come to an agreement.
Learn more here.
---
Missouri
Gov. Mike Parson (R) signed legislation this week making changes to the state's election laws. Specifically, the bill requires all registered voters in the state to provide a photo ID to vote and overturns the use of mail-in ballots.
Learn more here.
---
New Jersey
This week, Gov. Phil Murphy (D) signed two bills intended to protect reproductive health care providers and increase abortion care access for people from out of New Jersey.
Learn more here.
---
New York
This week, Gov. Kathy Hochul (D) signed a bill aimed at targeting hidden fees and "predatory anti-consumer ticketing practices" in the state's live event industry.
Learn more here.
---
North Dakota
North Dakota lawmakers met early this week to review the Legislature's workplace harassment policy, nearly 16 months after the state House a representative for workplace and sexual harassment of women at the Capitol.
Learn more here.
---
Pennsylvania
Both chambers of Pennsylvania's legislature canceled weekend sessions planned after missing the midnight Thursday deadline to send this year's budget to Gov. Tom Wolf's (D) desk.
Learn more here.
---
South Dakota
Gov. Kristi Noem (R) announced that she would call for a special session to address the state's trigger law banning abortion in the state.
Learn more here.
---
Tennessee
With Tennessee's trigger ban abortion laws set to take effect, some lawmakers are hoping to include a provision for victims of rape and incest to seek abortion care.
Learn more here.
---
West Virginia
Gov. Jim Justice (R) announced this week that lawmakers will be called to the Capitol soon for a special session to clarify the state's abortion law.
Learn more here.
---
This Week's DMGS Posts
---
Capital and Capitol Happenings: New Positions, Promotions, and More
Zachary Bartscherer: new Senior Officer, the Pew Charitable Trusts
Jessica Stram: new Director of Public Affairs, Target
Chloe Becker: new Manager, State Legislative Affairs, Portland General Electric
Sarah Douglas: new Assistant State Director, NFIB
Samar Jha: new Government Affairs Director, AARP
---
Happy Birthdays This Week
Katie Hetherington Cunfer: Director of Government and Community Relations, Greater Reading Chamber Alliance
Gene Barr: President & CEO, PA Chamber of Business & Industry
Ed Potosnak: Executive Director, NJ League of Conservation Voters
Alyana Alfaro Post: Press Secretary, Office of Governor Phil Murphy
Email future suggestions to rjstevens@dmgs.com.
---