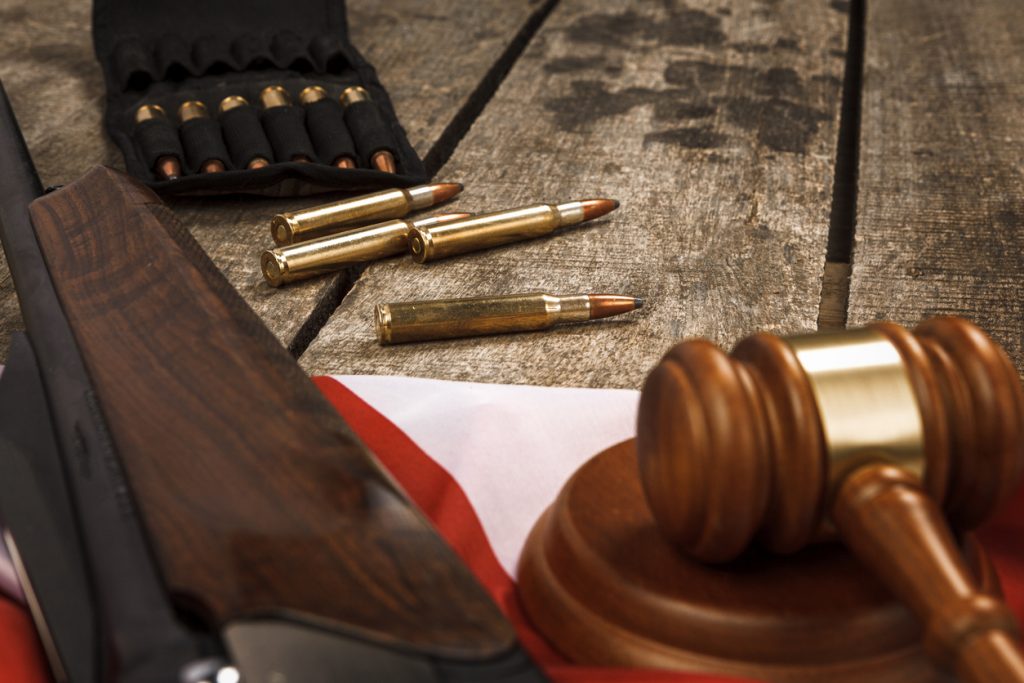 On Friday, June 25, 2022, President Biden signed into law the Bipartisan Safer Communities Act (S. 2938), which bolstered gun safety measures through expanded background checks, restrictions on certain individuals owning firearms, and incentives for states to enact "red-flag" programs. The measure also criminalized "straw purchases" and provided funding for mental health services and school safety. The legislative package represented a bipartisan deal negotiated in the U.S. Senate by Sens. John Cornyn (R-Texas), Chris Murphy (D-Conn.), Kyrsten Sinema (D-Ariz.), and Thom Tillis (R-N.C.), which the Senate passed 65–33. It was based on a previously agreed-upon framework by a larger bipartisan group of senators following the 2022 mass shootings in Buffalo, N.Y., and at Robb Elementary School in Uvalde, Texas.
---
Firearms Provisions
Background Check Expansion
The measure bolstered background check requirements for individuals under age 21. If someone younger than 21 tries to buy a gun, the National Instant Criminal Background Check System (NICS) must provide licensed dealers with a unique identification number. The system will have three business days to investigate for cause for further review. If further investigation is warranted, the system will have ten days to immediately contact the criminal history repository or juvenile justice information system, mental health records, and local law enforcement agencies to investigate for disqualifying records and inform the licensee whether the transfer or receipt would violate the law. The enhanced background check requirement for purchasers younger than 21 expires on Sept. 30, 2032.
State and federal agencies are directed to submit a report annually through fiscal 2032 to Congress detailing the number of records removed from the system, the reasons for removal, and the disqualifying factors that led to the submission.
Incentives for Red Flag Laws
The measure authorized states to use money for the Edward Byrne Memorial Justice Assistance Grant (JAG) Program, a leading source of federal justice funding to state and local jurisdictions, for crisis intervention programs such as extreme risk protection orders under "red flag" laws, provided that due process rights are protected, in addition to veterans' courts, mental health courts, and drug courts. The law directs the Justice Department (DOJ) to publish an annual report detailing grants awarded and crisis intervention programs funded by the grants, evaluating the effectiveness of the programs in preventing violence and suicide, outlining measures taken by recipients to safeguard due process rights, and describing efforts the DOJ is making to protect the constitutional rights of individuals subject to the programs. The law also authorized JAG program funding for civil proceedings.
Gun Trafficking
The law made "straw purchases" a federal crime. Individuals who knowingly purchase guns for a third party with a reasonable belief that such person meets the criteria for disqualifying records would face fines, as long as 15 years in prison, or both. The penalty is as long as 25 years in prison for anyone who knowingly purchases guns for a third party with a reasonable belief that a person would use the guns for a felony, terrorism, or drug trafficking. Gun trafficking is also a federal crime under the law. Trafficking violations could result in a fine, as long as 15 years in prison, or both.
Guns purchased illegally for trafficking and related profit are also subject to criminal forfeiture. Defendants who received profits or other proceeds from the violation could be fined twice the gross profits.
The measure authorized $1 million to the DOJ's Bureau of Alcohol, Tobacco, Firearms, and Explosives (ATF) from fiscal 2023 through 2027 for current and expanded efforts to combat illegal straw purchases. The Homeland Security Department (DHS) could reimburse law enforcement agencies for salaries paid while participating in a Border Enforcement Security Task Force unit.
Domestic Violence Provisions
The law closed the "boyfriend loophole" by prohibiting individuals convicted of a misdemeanor crime of domestic violence from purchasing or possessing firearms for five years. Courts can determine dating relationships based on the length and the nature of the relationship and the frequency and type of interaction between the individuals involved in the relationship. The law prohibits current or former spouses, parents, or guardians of a victim and individuals who share a child or live with a victim from owning firearms even after the five-year period. The law bars the possession of firearms after five years should the individual be subsequently convicted of a similar offense or attempt or threaten the use of a deadly weapon. The law exempted any individuals whose conviction was expunged or set aside, were pardoned, or had their firearms rights restored. The law did not apply to individuals with convictions before its enactment.
---
Health Care Provisions
School Health Care
The law authorized $50 million for fiscal 2022 for HHS to award grants to states to expand Medicaid or Children's Health Insurance Program (CHIP) assistance through school-based entities, including school health centers. The law provided $8 million for fiscal 2022 for HHS to issue guidance to state Medicaid agencies and educational agencies on delivering medical assistance to Medicaid and CHIP beneficiaries in schools. The guidance would include tools to reduce administrative burdens, best practices for increasing the availability of Medicaid assistance, and examples of how to enroll providers in school-based Medicaid programs. The law required HHS to establish a technical assistance center to help state Medicaid agencies, local educational agencies, and school-based entities provide medical assistance and receive payment under Medicaid, especially for small and rural educational agencies.
Behavioral Health Clinics
The law provided $40 million for additional planning grants and demonstration programs under the certified community behavioral health clinics program. It also directed HHS to award grants to states to apply for demonstration programs so that as many as ten additional states could participate every two years beginning July 1, 2024. As well, it extended existing demonstration programs for additional time.
Pediatric Mental Health
The law authorized $31 million annually for fiscal 2023 through 2027 for the Pediatric Mental Health Care Access program. It also allowed programs to provide training and assistance to emergency departments, educational agencies, and schools. HHS may provide technical assistance to awardees or do so through grants or contracts.
---
School Safety
The law requires DHS to create a federal clearinghouse on evidence-based practices and recommendations to improve school safety. The information will be available at SchoolSafety.gov or a successor website for educational agencies, law enforcement agencies, higher education institutions, and mental health professionals.
The clearinghouse must:
Identify, to the extent practical, state agencies responsible for school safety or states that do not have such agencies.
Determine, to the extent practical, grant programs and other funding sources that could be used to implement the evidence-based measures.
Help parents identify relevant clearinghouse resources to support its implementation.
DHS must also:
Create an external advisory committee to provide feedback on the clearinghouse.
Regularly identify clearinghouse practices and recommendations that do not have federal resources for implementation.
Collect data analytics, user feedback, and evaluations on the initiative.
---
Cost Estimate
The Congressional Budget Office estimated the law reduced the deficit by a net $154 million from fiscal 2022 through 2032. That included $4.77 billion in decreased spending from the mental health and firearms provisions.
---