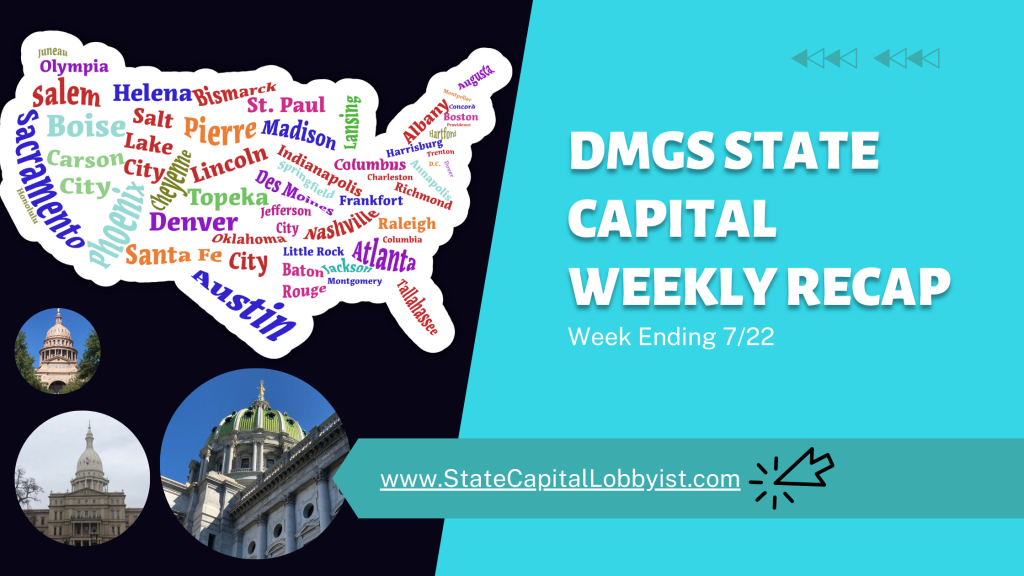 It may be summer but lawmakers and governors across the country were nonetheless busy this week on a myriad of issues. Notably, the special Texas State House investigative committee released their report of the Uvalde school shooting and Colorado lawmakers continue to push for more gun changes approaching the 10 year anniversary of the Aurora theater shooting.
Make sure you read this week's DMGS posts below on states' proposed bans on flavored tobacco, and legislation regarding urban farming.
---
Arkansas
The Democratic members of Arkansas' legislature are pushing for an increase in teachers' salaries, which are currently among the lowest in the United States.
Learn more here.
---
Colorado
Approaching the 10th anniversary of the shooting at an Aurora theater, Colorado lawmakers continue to push for more action on guns.
Learn more here.
---
Connecticut
Governor Ned Lamont this week signed legislation that updates Connecticut's criminal justice statutes to allow law enforcement and the courts to provide "swifter, more effective" responses to youth charged with repeated motor vehicle theft and other crimes.
Learn more here.
---
Florida
Following the death of a 14-year old at an amusement park earlier this year, Agriculture Commissioner Nikki Fried is proposing legislation to improve rider safety.
Learn more here.
---
Kentucky
Governor Andy Beshear this week joined state lawmakers, educators and advocates to sign six bipartisan pieces of legislation which expand education access in Kentucky.
Learn more here.
---
Massachusetts
On Monday, lawmakers in Massachusetts sent Gov. Charlie Baker the final budget of his tenure.
Learn more here.
Michigan
Governor Gretchen Whitmer signed 15 pieces of legislation this week including one to expand the state's commercial maritime ports.
Learn more here.
---
New York
Governor Kathy Hochul today signed eight bills to provide support and resources for victims of human trafficking.
Learn more here.
---
Texas
The first detailed report on the school shooting in Uvalde, released to the public and victims' families on Sunday, found that top-to-bottom failures combined to turn the May 24th attack into the worst school shooting in the history of Texas.
Learn more here.
---
West Virginia
Earlier this week, Gov. Jim Justice called for state lawmakers to return to the Capitol next week to consider a permanent 10% reduction in the state's income tax.
Learn more here.
---
This Week's DMGS Posts
---
Capital and Capitol Happenings: New Positions, Promotions, and More
Bob Reilly: new Vice President and Government Relations Officer, WellSpan Health
Devin Whitney: new Senior Manager, Public Affairs & Strategic Research
Leah Sailhamer: new Director of Government Affairs, Nationwide Energy Partners
Amanda Martin: new Lobbyist, Williams Public Affairs
Sarah Gilmore: new Director, Government Affairs, Retail Industry Leaders Association
Robert Williams: new Deputy Director of Intergovernmental Affairs, US Department of Commerce, NTIA
Carly McCain: new Deputy Director of Coalitions for Ohio, Americans for Prosperity
Michael Lyle: new Senior Government Relations Director, Elevance Health
Erin Kanter: new Vice President, Advocacy & Government Affairs, Pennsylvania Bankers Association
Simit Pandya: new Associate Director of Government Relations & Public Policy, Medical Professional Liability Association
---
Happy Birthdays This Week
Holly Lubart: Government Affairs Consultant, News/Media Alliance
Nate Goodman: Digital Advocacy Manager, Child Care Aware of America
Christopher Beichner: President & CEO, Allegheny Land Trust
Kevin Tschirhart: Senior Strategy and Engagement Advisor, New York City Mayor's Office of Operations
Dennis McManus: Government Affairs Director, Greater Pittsburgh Community Food Bank
Email future suggestions to rjstevens@dmgs.com.
---