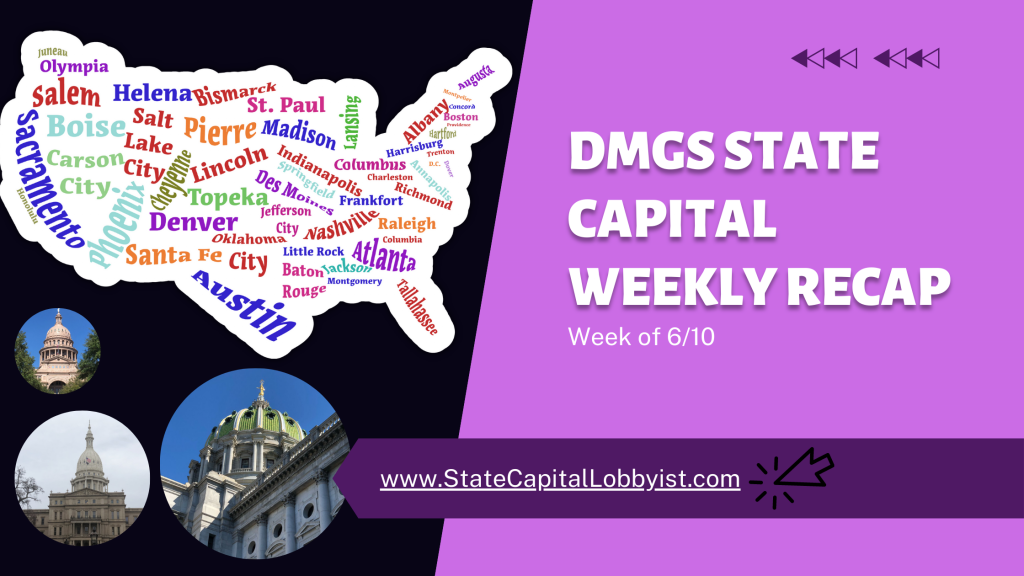 This week saw national headlines dominated by various states holding their primary elections, including California and New Jersey. Legislatively, Connecticut lawmakers are proposing a diesel tax holiday, the Pennsylvania House advanced a liquor privatization constitutional amendment, Delaware lawmakers fail to override a veto of marijuana legalization, and more.
---
Alaska
Governor Mike Dunleavy (R) and state lawmakers celebrated the passage of the Alaska Reads Act, which aims to improve student reading outcomes across the state by third grade.
Learn more here.
---
California
California held its primary elections on Tuesday where a lot of national attention was spent on the race for Los Angeles mayor and the recall of San Fransisco District Attorney Chesa Boudin.
Learn more here.
---
Connecticut
Republicans in the legislature this week proposed a diesel tax holiday and democrats may be open to the idea.
Learn more here.
---
Delaware
Delaware lawmakers fell short this week in their veto-override attempt of recreational marijuana legalization legislation.
Learn more here.
---
Florida
Florida lawmakers have convened for two special legislative sessions this spring to deal with issues they didn't address during their regular legislative session, and now some democrats are hoping for a third special session to address reforming gun laws in the state.
Learn more here.
---
Georgia
Georgia appears likely to again run a multi-billion dollar budget surplus with the state having already collected roughly $2 billion more in general tax revenue than it's on track to spend in the current fiscal year, and there could be even more of a surplus after the end of the month.
Learn more here.
---
Maine
Dozens of state lawmakers this week sent a letter to the state's attorney general asking him to investigate whether or not there is any price gouging or market manipulation occurring amid record setting gas prices.
Learn more here.
---
Massachusetts
State lawmakers are still working on negotiating the major details of a sports betting bill and a top-ranking senator pledged to work swiftly to send compromise language to Governor Charlie Baker's (R) desk.
Learn more here.
---
Mississippi
The Mississippi Department of Archive and History announced major improvements to the Grand Village of the Natchez Indians and Historic Jefferson College in Natchez. The improvements are part of an $8 million restoration project, funded by state lawmakers.
Learn more here.
---
Montana
A lawsuit is in motion against SB 280 which would require people present documentation of gender confirmation surgery in order to change the gender marker on their birth certificate.
Learn more here.
---
New Jersey
New Jersey held its congressional primary elections on Tuesday.
Learn more here.
---
New York
State lawmakers passed legislation that targets the use of warehouse productivity quotas, a move aimed at metrics employed in recent years by Amazon.
Learn more here.
---
Ohio
The Ohio Supreme Court rejected a lawsuit that sought to block state lawmakers form passing pandemic-related legislation.
Learn more here.
---
Pennsylvania
Pennsylvania's House Liquor Control Committee approved legislation this week that would create an amendment to the State Constitution banning the Commonwealth from manufacturing or selling liquor.
Learn more here.
---
Vermont
State lawmakers passed 133 bills this session, including legislation commissioning 99 reports and creating 31 new fact-finding panels.
Learn more here.
---
Virginia
According to a top Virginia lawmaker, the General Assembly will not advance legislation this year intended to lure the NFL's Washington Commanders to the state.
Learn more here.
---
This Week's DMGS Posts
---
Capital and Capitol Happenings: New Positions, Promotions, and More
Alex Torres: new Director of Government Relations, Bay Area Council
Cassidy Denny: new Assistant Consultant, California State Senate
Samuel Schwartz: new Vice President, Public Affairs and Corporate Impact, Parallel
Tiffany Hauser: new Senior Manager of State External Affairs (N. America), Reckitt
Bill Young: new Government Affairs Specialist, Dewberry
---
Happy Birthdays This Week
A.J. Bingham: Founder & CEO, The Bingham Group
Joe Hoellerer: Director, Government Affairs, Information Technology Industry Council
Patrick Millham: Chief of Staff, Swift Solar
Edward Nielsen: Executive Vice President, Pennsylvania Chiropractic Association
Michael Warfel: Senior Vice President of Government Affairs, Highmark Inc.
Email future suggestions to rjstevens@dmgs.com.
---