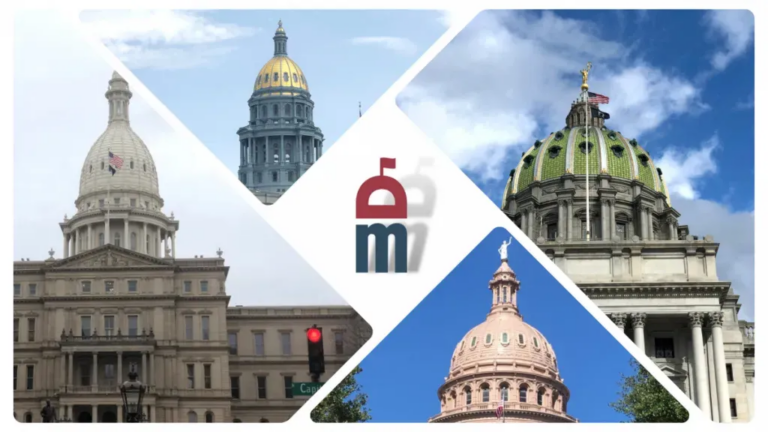 This week, changes in tax levies were passed in Alaska and Arizona, and both Connecticut and South Carolina approved proposed state budgets. Washington state passed a gun reform bill and the GOP governor of Tennessee has also proposed gun reform legislation. Additionally, bills that would limit social media access also gained traction in both Florida and Montana.
---
Alabama
Alabama's House Speaker Nathaniel Ledbetter (R) stated that he will not allow any bill advocating for the legalization of recreational marijuana use during his tenure as speaker.
Learn more here.
---
Alaska
Governor Mike Dunleavy (R) has announced that he will introduce legislation that will propose a 2% sales tax.
Learn more here.
---
Arizona
Governor Katie Hobbs (D) set a veto record, surpassing former Gov. Janet Napolitano, with 63 vetoes through the 100th day of legislative session.
Learn more here.
---
California
Governor Gavin Newsom (D) has announced that California will invest $5 million in three desalination projects.
Learn more here.
---
Colorado
Colorado's Senate passed a bill that would allow the state to enforce existing federal laws that require hospitals to practice price transparency.
Learn more here.
---
Connecticut
Connecticut's Appropriations Committee released their proposed changes to Governor Ned Lamont's (D) budget, which amounted to a $400 million increase from what the governor originally proposed.
Learn more here.
---
Florida
Florida's Senate voted to ban social media platforms such as Tiktok, Twitter, and Snapchat from public school devices, and to require schools to teach students about internet dangers.
Learn more here.
---
Indiana
Indiana's Senate approved a measure that would require the state Treasurer to compile a list of financial investment managers who consider ESG (environmental, social, and governance) factors in investments, and would ban the Indiana Public Retirement System from doing business with those managers.
Learn more here.
---
Iowa
Iowa's Senate approved a bill that would cap pain and suffering damages in commercial vehicle and truck crashes at $5 million. The bill is now being sent to Governor Kim Reynolds (R) for signing.
Learn more here.
---
Kansas
Governor Laura Kelly (D) signed a bill that removes the statute of limitations of criminal prosecutions and civil suits based on allegations of childhood abuse.
Learn more here.
---
Louisiana
Louisiana's Senate Judiciary Committee passed a bill that would raise jail terms for those convicted of managing fentanyl labs from 15 to 40 years.
Learn more here.
---
Michigan
Michigan's Senate is considering four different bills to increase railway safety, including train length limits.
Learn more here.
---
Minnesota
Minnesota's House of Representatives approved a $1 billion climate and energy package that will push the state to reach zero greenhouse gas emissions by 2050.
Learn more here.
---
Mississippi
Governor Tate Reeves (R) signed three bills that will invest $103 million in grants for rural hospitals and invest in health care professional training programs.
Learn more here.
---
Montana
Montana's legislature approved a bill that would ban TikTok throughout the state.
Learn more here.
---
Nebraska
Nebraska's legislature has passed a bill that would allow permitless concealed carry in the state.
Learn more here.
---
New Mexico
The town of Eunice, NM filed a lawsuit against Governor Michelle Lujan Grisham (D) to retain its status as a "sanctuary for the unborn."
Learn more here.
---
New York
Legislative leaders and Governor Kathy Hochul (D) have arrived at an agreement that would grant judges greater discretion in setting bail for violent felony cases.
Learn more here.
---
North Carolina
North Carolina's House of Representatives has approved a bill that would ban transgender athletes from participating in girls' sports.
Learn more here.
---
North Dakota
North Dakota's state Senate approved a bill that would prohibit "vaccine passports," essentially banning governments and businesses from requiring vaccination documents in order to access services.
Learn more here.
---
Ohio
Ohio's Ballot Board approved language for a proposed constitutional amendment that would increase the state's minimum wage to $15 an hour. Supporters of the amendment now must collect 413,000 signatures in order to put the amendment on the ballot.
Learn more here.
---
Oregon
Governor Tina Kotek (D) has requested $1.3 billion to be designated for the creation and preservation of affordable housing, and to assist those experiencing homelessness.
Learn more here.
---
Pennsylvania
Governor Josh Shapiro (D) is taking steps to make xylazine, a veterinary tranquilizer, a controlled (schedule III) drug.
Learn more here.
---
South Carolina
South Carolina's Senate approved the state's $13 billion budget unanimously.
Learn more here.
---
Tennessee
Governor Bill Lee (R) has released his proposal for gun reform in the state.
Learn more here.
---
Texas
Texas's state Senate approved a bill that would purge voters from the state's voter registry if they skip two consecutive federal elections.
Learn more here.
---
Utah
Governor Spencer Cox (R) has declared a State of Emergency due to ongoing flooding in the state.
Learn more here.
---
Vermont
Vermont's state Senate approved a bill that would double pay for state lawmakers from $15,000 to $29,766 annually by 2027.
Learn more here.
---
Virginia
Virginia has passed legislation that would ban the use of employees' social security numbers as identifiers.
Learn more here.
---
Washington
Washington's legislature passed a bill that would ban over 50 semi-automatic gun models.
Learn more here.
---
Wisconsin
Wisconsin legislators have approved a bill that would increase criminal penalties for carjacking. The bill now goes to Governor Tony Evers (D) for signing.
Learn more here.
---
Capital and Capitol Happenings: New Positions, Promotions, and More
Joseph Carvalho: new Senior Advisor, Government & Legislative Affairs, Office of Lt. Governor Susan Bysiewicz
Kaitlyn Floyd: new Senior Correspondence Specialist, Office of Governor Josh Shapiro
---
Happy Birthdays This Week
Michael Miller: Director of Government Relations, California Association of Winegrape Growers
Rachel Karnoff: Government Relations Assistant, U.S. Global Leadership Coalition
Jodiane Tritt: Executive Vice President, Arkansas Hospital Association
Bob Reilly: Vice President and Government Relations Officer, WellSpan Health
William Higgins: Senior Manager, State and Local Affairs, Nikola Motor Company
Geoffrey Green: Executive Vice President of Government and External Affairs, Bollinger Shipyards
Marishonta Wilkerson: U.S. Government Relations Manager, McDonald's
Want to wish someone a happy birthday or recognize their new job or promotion? Email future suggestions to rjstevens@dmgs.com.
---