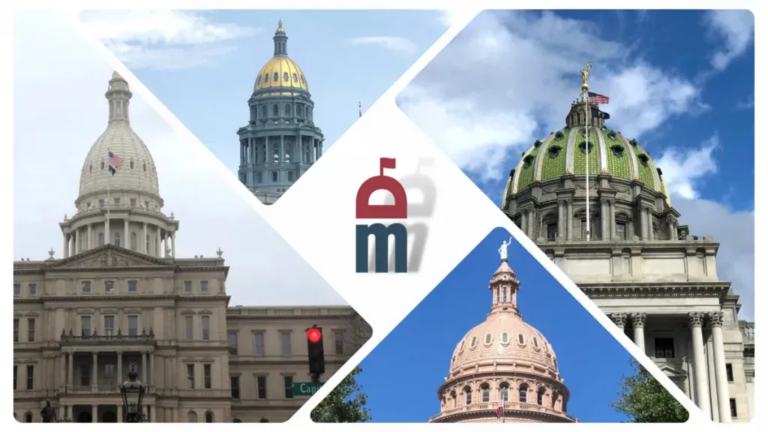 This week, much attention was paid to Ohio, where voters overwhelmingly rejected a ballot initiative that would have raised the threshold to make constitutional amendments, in what is seen as a victory for pro-abortion supporters. In other news, West Virginia wrapped up its special session while Tennessee called for its own special session, and Oklahoma is considering one as well. Additionally, Arizona Gov. Katie Hobbs has set a record for vetoes already, Hawaii Gov. Josh Green is overseeing the state's wildfire emergency, and a new commission in New Hampshire will study potentially legalizing recreational marijuana in the state.
---
Alabama
Governor Kay Ivey (R) announced a new statewide initiative, "Be Linked Alabama," to expand broadband connectivity across the state. Through the initiative, high-speed internet access will be accessible to both rural and urban areas within the state.
Learn more here
---
Arizona
Governor Katie Hobbs (D) broke a record for the most vetoes, a total of 143, by any governor in the state's history.
Learn more here
---
California
Governor Gavin Newsom (D) announced a new strategy to integrate hydrogen into the state's clean energy plans.
Learn more here
---
Connecticut
Governor Ned Lamont (D) announced the state will expand its free school meals program through $16 million in ARPA funds, ensuring that students receive breakfast and lunch at no additional cost to families.
Learn more here
---
Hawaii
Governor Josh Green (D) is scheduled to return from personal travel to address the state's wildfire emergency on Maui and the Big Island.
Learn more here
---
Massachusetts
Governor Maura Healey (D) signed the state's $56 billion budget into law for the new fiscal year. The budget, which was over a month late, includes new funding for free school meals, combating climate change, and improving emergency shelters.
Learn more here
---
Mississippi
Voters went to the polls Tuesday to nominate candidates for the November general election. Incumbent Republican Tate Reeves won the primary and will face off against Democrat Brandon Presley, who was unopposed in the Democratic primary.
Learn more here.
---
New Hampshire
Governor Chris Sununu (R) signed a bill to create a commission that will study how to pursue the legalization of recreational marijuana within the state.
Learn more here
---
New Mexico
Governor Michelle Lujan Grisham (D) shared an announcement about a billion-dollar solar manufacturing project. The project is expected to bring $4.2 billion into the state over the next decade.
Learn more here
---
North Carolina
Members of the state legislature have indicated that a state budget will not be enacted until September. This delay puts funding and raises for teachers and other government employees in a holding pattern.
Learn more here
---
Ohio
Ohio voters overwhelmingly rejected Issue 1, which would have raised the percentage necessary to pass constitutional amendments. The vote is seen as a loss for the state's pro-life advocates ahead of a November ballot referendum on abortion rights.
Learn more here.
---
Oklahoma
Governor Kevin Stitt (R) is considering calling for a special legislative session for the state's lawmakers to address tax cuts, particularly in income and business taxes, and potentially the elimination of the grocery tax.
Learn more here
---
Oregon
Governor Tina Kotek (D) signed several bills this week to bolster the state's behavioral health initiatives. The Governor aims to expand resources to address the state's mental health crisis, with more funding towards addiction treatment services.
Learn more here
---
South Carolina
Governor Henry McMaster (R) signed legislation which permanently reauthorizes the state's "First Steps" program.
Learn more here
---
Tennessee
Governor Bill Lee (R) officially called for a special session to take place on August 21st to address criminal justice and mental health concerns within the state following the March 27th school shooting that killed six people.
Learn more here
---
Texas
Governor Greg Abbott (R) signed into law the state's largest property tax cut in history, totaling $18 billion.
Learn more here
---
West Virginia
The state legislature wrapped up its three-day special session, called by Governor Jim Justice (R). Lawmakers advanced 35 out of 44 bills introduced by the Governor, including those focused on more pay for correctional officers, countering overcrowding of jails, and more money for volunteer fire departments.
Learn more here
---
Wisconsin
Governor Tony Evers (D) called for a special legislative session to advance the remaining part of his legislative agenda, originally rejected by Republican lawmakers. This includes increased funding for childcare services, the University of Wisconsin system, and a family leave program.
Learn more here
---
Capital and Capitol Happenings: New Positions, Promotions, and More
Aaron Zappia: new Director of Government Affairs, Housing Alliance of Pennsylvania
Chris Tosto: new Chief Operating Officer, CiviClick
Lisa Benson: new Specialist in Agricultural Policy, Congressional Research Service
Matthew Macedo: new Principal Program Budget Analyst II, California Department of Finance
Jim Frazier: new Director of Public Policy, The Arc of California
Roger Collins: new Director, State Government Affairs (South), Karuna Therapeutics
DaeSean Ashby: new Director of State Advocacy, Michigan Credit Union League & Affiliates
---
Happy Birthdays This Week
Donald Davidson: Senior Manager, Public Policy and Strategy, Volkswagen Group of America
Meg Michiels: Senior Vice President, Counsel, State and Local Government Relations, Citi
Samuel Delgado: Commissioner, New Jersey Cannabis Regulatory Commission
LaKenya Jordan: Deputy Secretary of State, California Secretary of State
Ashley Grimm: Director of Human Resources and Finance, Pennsylvania Auditor General
Robert Boykin: Legislative Advocate, CA Association of Health Plans
Sarah Kyle: Associate Vice President, Government Affairs, Eli Lilly and Company
Mason Sell: Policy Associate, FiscalNote
Braxton Plummer: Director of State Government Affairs (NJ), Verizon
Kelsey Bernstein: Legislative Consultant, Texas Association of Counties
Want to wish someone a happy birthday or recognize their new job or promotion? Email future suggestions to rjstevens@dmgs.com.
---