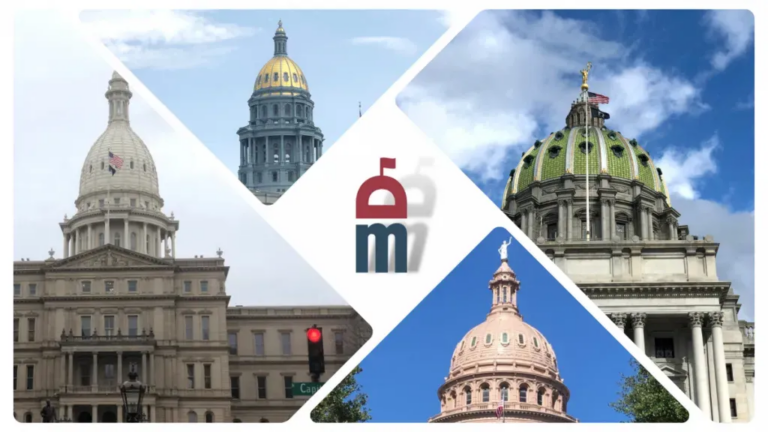 It may still be summer, but that has not stopped a flurry of legislative and executive activity across the country. Notably, Tennessee lawmakers returned to Nashville for a special session, Ohio's governor has come out against the state's marijuana legalization ballot initiative, and Delaware has enacted a ban on single use plastics and polystyrene foam containers for restaurants in the state.
---
Alabama
Governor Kay Ivey (R) announced a $1 million dollar grant that will go towards an expansion of solar power and create over 700 jobs in northern Alabama.
Learn more here
---
Alaska
Alaska is set to receive more than $44 million in federal funding that will go towards improving culverts in the state, in an effort to improve fish passage.
Learn more here
---
California
Governor Gavin Newsom (D) announced that he is directing the California Highway Patrol (CHP) to triple the amount of resources they dedicate to combating organized retail crime in the city of Los Angeles. These efforts will coincide with a new city task force.
Learn more here
---
Delaware
Governor John Carney (D) signed a ban on single use plastics and polystyrene foam containers for restaurants in the state. Senate Bill 51 restricts any foam containers, plastic straws and beverage stirrers in restaurants and will only be provided upon request from customers.
Learn more here
---
Florida
Gov. Ron DeSantis' new board appointees for the governing district that oversees Disney World were confronted by employees over a decision to eliminate their access to free passes and discounts.
Learn more here.
---
Georgia
Governor Brian Kemp (R) announced the appointment of Walter Rabon as the new Commissioner of the Department of National Resources. A Long time staffer, Rabon has served as the interim commission since July 1.
Learn more here
---
Hawaii
The IRS is offering tax relief to any individuals or businesses that were impacted by the recent wildfires. Residents of Maui and Hawaii counties can apply for the relief, which would postpone their tax filing deadlines until next February.
Learn more here
---
Massachusetts
Healthcare workers in Massachusetts will receive some help in repaying their student loans through the "MA Repay Program." The program will award over $140 million to about 3,000 health providers in the state.
Learn more here
---
Minnesota
The Minnesota Department of Transportation applied for grant funding to rebuild the John A. Blatnik Bridge. The bridge connects Superior, Wisconsin with Duluth, Minnesota. The Wisconsin DOT also applied for funding through the Multimodal Project Discretionary Grant Program.
Learn more here
---
Montana
Proposed ballot initiatives in the state would reform the state's voting system ahead of the 2024 cycle. The two proposals would create top-four primaries, regardless of party affiliation, and would require general election candidates to receive the majority of votes to be victorious, potentially opening the door to run-off elections.
Learn more here
---
Maryland
Governor Wes Moore (D) wants to focus on the state's workforce development. At a conference this week, Moore noted the need for particular efforts related to attracting cyber technology and biopharmaceuticals to the state, along with furthering the green energy industry's presence in Maryland.
Learn more here
---
New Hampshire
Governor Chris Sununu (R) vetoed an attempt to keep a biomass plant in Berlin running. The Governor cited the plant's failure to find a sustainable financial model which has cost ratepayers over $200 million.
Learn more here
---
Nevada
Recently enacted legislation in Nevada will make it more feasible for start-ups to operate in the state. The two pieces of legislation will remove some barriers centered around new businesses in the state and establish a new office of entrepreneurship in the Governor's Economic Development Office.
Learn more here
---
New Jersey
Governor Phil Murphy (D) signed AB4284, a bill which prohibits merchants from imposing a credit card surcharge that exceeds the payment processing cost and requires them to disclose the surcharge cost. The legislation is largely an effort to prevent companies from profiting off of surcharge fees.
Learn more here
---
Ohio
Governor Mike DeWine (R) announced his opposition to a ballot measure in November that would legalize adult-use Marijuana sales across the state.
Learn more here
---
Pennsylvania
A Pennsylvania committee heard testimony this week on the regulation of so-called "skill games." According to the testimony, the Commonwealth could be missing out on $250 million in revenue by leaving the industry unregulated and untaxed.
Learn more here
---
Tennessee
Lawmakers returned to the Capitol this week for a special session to address public safety, mental health and guns.
Learn more here
---
Utah
State lawmakers are hoping to increase penalties for those who try to do something similar to the active shooting hoax that targeted numerous schools across Utah.
Learn more here
---
Virginia
Governor Glenn Youngkin (R) is urging the General Assembly to reach an agreement on the state's two-year spending plan. Measures complicating the negotiations include disagreements about hemp product regulations and teacher's raises.
Learn more here
---
Capital and Capitol Happenings: New Positions, Promotions, and More
Charlotte Sawyer: new Manager of Regulatory Affairs, Western Energy Alliance
Brenda Narayan: new Local Government and Public Affairs, Pacific Gas and Electric Company
Henry Mahler III: new Director of Legislative Affairs, Florida Gaming Control Commission
Brandon Kern: new Director of Public Affairs and Issue Analysis, Ohio Soybean Council/Ohio Soybean Association
---
Happy Birthdays This Week
Kenny Montilla: Senior Government Relations Manager, Turo
Brian Quigley: Vice President, Government Affairs, Prudential Financial
Andrew Perkins: Regional Vice President of Government Relations, NAMIC
Michelle Roth: Senior Director of Governmental Affairs, League of Southeastern Credit Union & Affiliates
Katie Brown: Senior Corporate Affairs Specialist, Nestlé
Jimmy Wittrock: Chief of Staff, California State Assembly
Mike Deering: Executive Vice President, Missouri Cattlemen's Association
Gene Harrington: Senior Director, State Government Affairs, Agriculture & Environment, Biotechnology Innovation Organization
Want to wish someone a happy birthday or recognize their new job or promotion? Email future suggestions to rjstevens@dmgs.com.
---