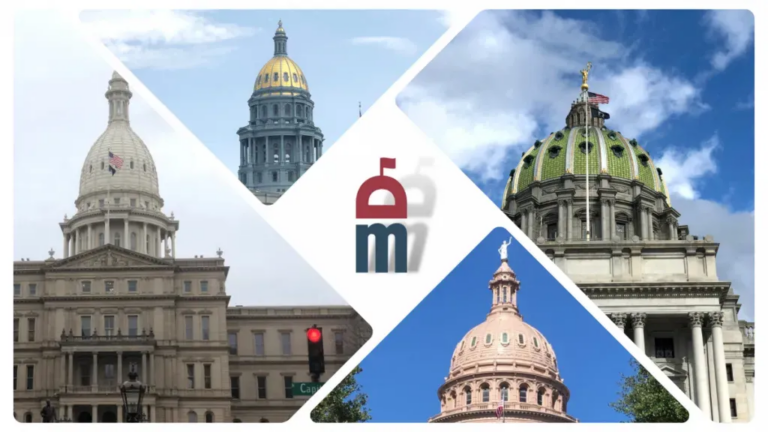 While summer may be in full swing, state Capitols remained busy with lawmakers in different states passing new legislation for programs that aim to improve state infrastructure, combat the opioid crisis, and mental health and homelessness. Some states are also considering how to spend budget surpluses, and another state continues a discussion regarding school vouchers.
Alabama
The Alabama Senate and House of Representatives are redrawing the district maps to eliminate gerrymandering following a ruling from the United States Supreme Court.
Learn more here
---
Alaska
Governor Mike Dunleavy (R) signed SB 58, a bill that extends eligibility and coverage for postpartum Medicaid.
Learn more here
---
Arkansas
Governor Sarah Huckabee Sanders (R) stated that after Arkansas ended the previous fiscal year with a $1.1 billion surplus, she would not rule out the possibility of calling a special legislative session over tax cuts.
Learn more here
---
California
Governor Gavin Newsom (D) announced a major proposal regarding mental health treatment in the state, which would reallocate $700 million from services and direct this money towards housing programs.
Learn more here
---
Colorado
The state recently launched a workforce development initiative through the Colorado Community College System, which will provide free training for in demand jobs to address the state's workforce shortages, including in areas such as firefighting, education, and law enforcement.
Learn more here
---
Georgia
Georgia will collect $5 billion in surplus revenue after concluding the state's previous fiscal year. The surplus can either be spent, invested, or given back to residents. The state's tax revenues came in about $5 billion over what Governor Brian Kemp (R) had anticipated.
Learn more here
---
Hawaii
Governor Josh Green (D) declared a State of Emergency regarding the state's housing market crisis. The measure directs the appointment of a Lead Housing officer along with a new working group to streamline construction of new homes.
Learn more here
---
Idaho
Governor Brad Little (R) announced that the state's $100 million surplus will be used towards the state's property tax relief efforts.
Learn more here
---
Illinois
Illinois will become the first state to end the use of cash bail, after the Illinois Supreme Court upheld the constitutionality of the law on Tuesday.
Learn more here
---
Kentucky
Governor Andy Beshear (D) declared a State of Emergency after widespread flooding from heavy, record-setting rainfall occurred throughout the state, including some areas that were damaged back in 2021 by tornadoes.
Learn more here
---
Louisiana
Lawmakers returned to Baton Rouge to conduct a special veto-override session, in response to several bills vetoed by Governor John Bel Edwards (D) last month. Among items that saw a veto-override was a bill that would have banned minors from receiving gender-affirming care.
Learn more here
---
Maine
Governor Janet Mills (D) vetoed a few major bills on Wednesday, including ones that would have raised the minimum wage for farmers and another bill that bans foreign electioneering.
Learn more here
---
Michigan
Governor Gretchen Whitmer (D) signed a package of bills to expand health care access and quality in the state, including a program designed to increase organ donations by allowing individuals to sign up as donors on their state income tax returns.
Learn more here
---
New Jersey
Governor Phil Murphy (D) signed S3864 or the "New Jersey Maternal and Infant Health Innovation Center Act." The bill intends to provide policy and maternal health care services in the city of Trenton, and will be run by a new 15 member board.
Learn more here
---
New York
Governor Kathy Hochul (D) announced a new pilot program aimed at improving transportation equity and expanding ridership access. The Metropolitan Transportation Authority (MTA) will begin its fare free bus pilot program on five different routes through each NYC borough.
Learn more here
---
South Dakota
Governor Kristi Noem (R) announced that the state will be stockpiling more prescription drugs as a result of drug shortages impacting access on the state and national level. At the same time, Governor Noem urged the FDA to help ease the Unites States' reliance on drugs from foreign suppliers.
Learn more here
---
Texas
Governor Greg Abbott (R) will most likely call a special session of the state's legislature in October to advocate for his school voucher plan. There is expected to be opposition from both Democrats and Republicans that represent rural school districts.
Learn more here
---
West Virginia
Attorney General Patrick Morrisey (R) is pursuing multiple options to combat the state's opioid crisis, including urging federal elected officials to make fentanyl a Schedule 1 drug.
Learn more here
---
Wisconsin
State lawmakers reintroduced legislation that would provide retirees with a tax break by exempting retirement income from their state taxes.
Learn more here
---
Wyoming
Nine school districts will test out a new pilot program known as "Wyoming's Future of Learning." The program would transform Wyoming's education system by making education flexible for students and lessening the weight of test scores.
Learn more here
---
Capital and Capitol Happenings: New Positions, Promotions, and More
Justin Ham: new Government Relations Manager, Navient
Donald Grady: new Senior Director, Legislative Affairs, International Dairy Foods Association
Richard DeRose: new Government Affairs & Policy Director (Renewable Energy Ventures), South Jersey Industries
Jordan Layson: new Senior Director, U.S. Government Affairs, Amgen
Simit Pandya: new Federal Affairs Principal, American Nurses Association
Christina Perez-Gonzalez: new Government Affairs Manager, CenterPoint Energy
Sean Keefer: new Vice President – State Government Relations
David Astrada: new SVP Government Affairs, Cruise
---
Happy Birthdays This Week
Velma Cruz: Vice President State Government Affairs – Texas, Comcast
Nate Moffitt: Deputy Director of Legislative Affairs, Ohio Department of Natural Resources
Tristan Breaux: Director of Federal Affairs, Tyson Foods
Matt Overturf: Regional Vice President State Affairs, NAMIC
Noah Karn: Vice President, Insurance Federation of Pennsylvania
Megan Blue: Director of Government Relations, Beaumont Health
Samantha Summers: Senior Manager of Government Affairs, Albertsons Companies
Robbie McLuckie: Director, State & Local Government Affairs – Eastern Region, CHPA
Want to wish someone a happy birthday or recognize their new job or promotion? Email future suggestions to rjstevens@dmgs.com.
---