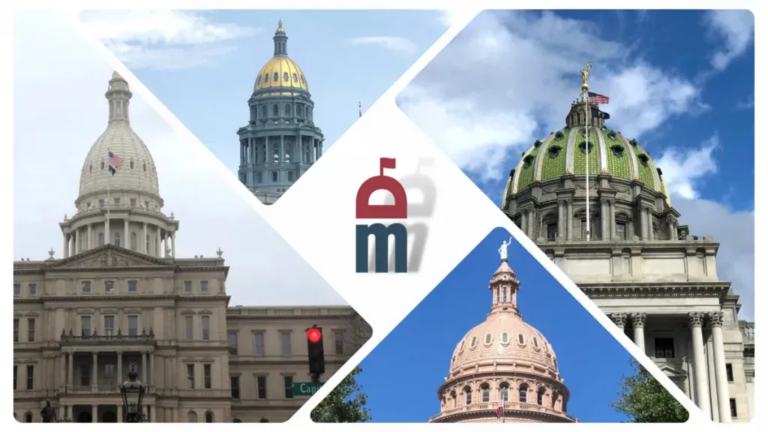 Lawmakers and governors around the country were busy this week, despite the July 4th holiday. Many states finalized or continued to work on their respective state's budget, including Michigan, Pennsylvania, and Ohio. Meanwhile, New Jersey enacted a law requiring flood risk disclosure, recreational cannabis sales went live in Maryland, and Wisconsin's governor used his line-item veto power to increase school funding for the next 400 years.
---
Alabama
The Alabama medical cannabis licensing process has been halted due to "potential inconsistencies" in data according to the Medical Cannabis Commission. The commission will meet Monday and announce program updates.
Learn more here.
---
Arkansas
The Arkansas Department of Finance and Administration announced the state ended the fiscal year with a surplus of over $1.1 billion, the second largest in the state's history.
Learn more here.
---
California
State lawmakers passed Governor Gavin Newsom's (D) infrastructure package to streamline clean energy and infrastructure projects.
Learn more here.
---
Colorado
The Colorado Department of Early Childhood awarded $15.3 million to over 1,000 Universal Preschool providers in the state in a first round of American Rescue Plan Act funds from the state budget.
Learn more here.
---
Connecticut
Governor Ned Lamont (D) signed into law a policy that prohibits utilities from using ratepayer funds for lobbying efforts to delay climate activism.
Learn more here.
---
Hawaii
Governor Josh Green (D) signed a series of bills on Wednesday aimed at protecting local agriculture and combating climate change.
Learn more here.
---
Maine
Governor Janet Mills (D) vetoed a bill allowing the four Wabanaki tribes of Maine to receive the same benefits as other federally recognized tribes. House members fell 10 votes short of overriding the veto.
Learn more here.
---
Maryland
Recreational cannabis was legalized as of July 1st and total cannabis sales (recreational and medical) totaled over $10 million from Friday through Sunday of the holiday weekend.
Learn more here.
---
Michigan
Lawmakers passed Michigan's largest state budget in history this week. The budget now awaits Governor Gretchen Whitmer's (D) signature.
Learn more here.
---
North Carolina
Governor Roy Cooper (D) declared a state of emergency for public education in the state as a result of "extreme legislation" that would cause public schools to lose hundreds of millions of dollars.
Learn more here.
---
Ohio
Governor Mike DeWine (R) signed Ohio's FY 2024-25 budget with dozens of vetoes, including some related to higher education policy and health care management.
Learn more here.
---
Pennsylvania
Governor Josh Shapiro (D) announced he would line-item veto the $100 million private school voucher program he previously supported in the state's budget that had already passed the state Senate. Vouchers became a main sticking point between Senate Republicans and House Democrats in budget negotiations.
Learn more here.
---
New Jersey
This week, Governor Phil Murphy (D) signed legislation requiring sellers of property and landlords to to disclose knowledge of a property's history of flooding, flood risk, and location in a flood zone.
Learn more here.
---
New Mexico
Governor Michelle Lujan Grisham (D) announced that the state will begin adopting some of the country's strictest vehicle emissions regulations to improve consumer vehicle choice and further aggressive climate goals.
Learn more here.
---
Tennessee
Governor Bill Lee (D) announced the formation of a new Governor's council to assist Tennessee military, veterans, and their families in accessing the support they need.
Learn more here.
---
Wisconsin
Governor Tony Evers (D) used his line-item veto power to creatively include an increase in school funding for 400 years, sparking outrage from opponents.
Learn more here.
---
Capital and Capitol Happenings: New Positions, Promotions, and More
Max Linder: new Senior Government Relations Manager, American Academy of Neurology
Becky Campbell: new Senior Director of External Affairs, Leeward Renewable Energy, LLC
Brian Logan: new Director, US State Government Affairs, East Region, SAP
Brian Parks: new Head of Advocacy, LSG
---
Happy Birthdays This Week
Katie Hetherington Cunfer: Director of Government and Community Relations, Greater Reading Chamber Alliance
Scott Dorenkamp: Livestock Program & Government Relations Manager, Professional Rodeo Cowboys Association
Matt Kooiman: Government Relations Manager, National Heritage Academies
Matt Williams: Vice President, State Government Affairs, McKesson
Lindsey Short: Director of Public Policy Services, Ohio Manufacturers' Association
Tim Ward: Director of Advocacy and Government Relations, Pennsylvania Health Care Association
Melissa Gates: Government Relations Manager, County Commissioners Association of Pennsylvania
Want to wish someone a happy birthday or recognize their new job or promotion? Email future suggestions to rjstevens@dmgs.com.
---