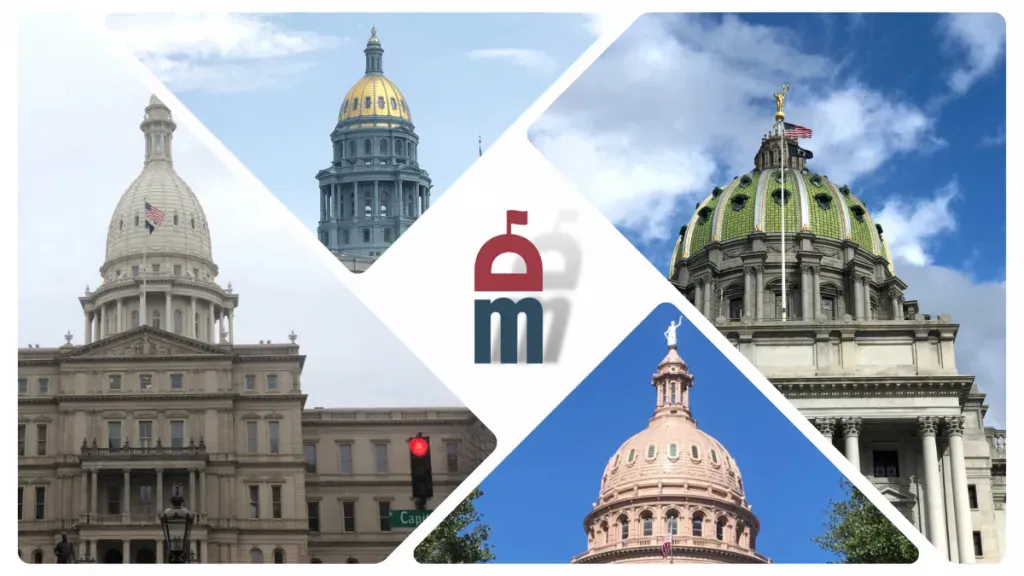 There was a flurry of legislative action this week across the United States. Bills expanding government investment in infrastructure, education, and healthcare were considered this week in Alabama, Connecticut, Kansas, Minnesota, North Carolina, and Oregon. Additionally, tax cuts were announced in Georgia, Kentucky, Maryland, and Montana.
Lastly, don't forget to check out DMGS' latest articles below, which cover legislative topics such as right to repair, term limits, and adult day care services.
---
Alabama
Alabama's House of Representatives is considering allocating $1.06 billion in federal Covid-19 relief funding for infrastructure projects, broadband and water expansion, and healthcare.
Learn more here.
---
Arkansas
Arkansas' Senate approved a bill that would ban transgender people from using the bathroom corresponding with their gender identity at schools.
Learn more here.
---
California
A state appeals court has elected to uphold Proposition 22, a ballot initiative funded by Uber and Lyft which classified gig workers as independent contractors instead of employees.
Learn more here.
---
Colorado
Colorado's House of Representatives approved a bill that would establish a three-day waiting period between purchasing and possessing a firearm.
Learn more here.
---
Connecticut
Governor Ned Lamont (D) has proposed legislation that would license free-standing birth centers to expand maternal health services, and that would eliminate hospital facility fees charged at free-standing clinics and offices.
Learn more here.
---
Georgia
Governor Brian Kemp (R) has signed a bill including $1 billion worth of property tax breaks.
Learn more here.
---
Idaho
Idaho's Senate Judiciary and Rules Committee approved a bill that would reinstate firing squads as a form of execution.
Learn more here.
---
Illinois
Governor J.B. Pritzker (D) signed legislation that would require employers to offer paid time off for any reason.
Learn more here.
---
Indiana
Indiana's Senate Committee on Homeland Security and Transportation voted to advance a speed enforcement camera program to curb speeding in highway work zones.
Learn more here.
---
Iowa
The House Appropriations Committee approved a government reorganization package that would shrink the number of cabinet-level agencies in the state by over half and give the governor more power in hiring.
Learn more here.
---
Kansas
Governor Laura Kelly (D) has announced a comprehensive plan for preventing, researching, and responding to cancer, the second-leading cause of death in the state.
Learn more here.
---
Kentucky
Kentucky's House of Representatives approved bills that would legalize sports betting and phase out property taxes on stored bourbon barrels.
Learn more here.
---
Maine
Senator Mike Tipping (D) has proposed a bill that would provide 50% tuition vouchers to Maine students who enroll in any University Maine System campus.
Learn more here.
---
Maryland
Governor Wes Moore (D) announced $9 million in tax credits to assist Maryland residents who have incurred student loan debt.
Learn more here.
---
Michigan
Michigan's Senate voted to repeal the state's 2012 right-to-work legislation, a law which prohibited requirements that workers pay union dues as a condition of employment.
Learn more here.
---
Minnesota
Minnesota's state Senate approved a measure offering free breakfast and lunch to all students.
Learn more here.
---
Mississippi
Mississippi's state Senate approved a bill that would permit local administrators to remove inactive voters from election rolls if they do not vote during a two-year period.
Learn more here.
---
Montana
Governor Greg Gianforte (R) signed a $1 billion tax cut and spending package that includes short-term property and income tax rebates, as well as long-term income tax cuts over the next two years.
Learn more here.
---
Nevada
Governor Joe Lombardo (R) appointed Vaughn Hartung as the new head of the Nevada Transportation Authority.
Learn more here.
---
New Hampshire
Governor Chris Sununu (R) has submitted a request to the Department of Homeland Security to assist in securing the northern border.
Learn more here.
---
New Mexico
New Mexico's Senate approved a bill that would protect patients and medical providers receiving or offering reproductive or gender-affirming care from civil or criminal prosecution.
Learn more here.
---
New York
Governor Kathy Hochul (D) said this week the state will scrap its plan to build a $2 billion AirTrain at LaGuardia Airport.
Learn more here.
---
North Carolina
HB 76, a measure that would expand Medicaid to all adults with incomes below 138% of the federal poverty level, passed the state Senate.
Learn more here.
---
North Dakota
A measure that would increase term limits for North Dakota's lawmakers passed in the state's House of Representatives and will now go on to the Senate before being placed on the ballot in 2024.
Learn more here.
---
Ohio
Attorney General Dave Yost (R) has filed a lawsuit against Norfolk Southern that would force the company to pay for groundwater and soil monitoring following the Feb. 3 derailment in East Palestine.
Learn more here.
---
Oregon
Oregon's House of Representatives passed a $200 million package to address the state's housing and homelessness crises.
Learn more here.
---
South Dakota
Governor Kristi Noem (R) vetoed a bill that would exclude bitcoin and other cryptocurrencies from the definition of money.
Learn more here.
---
Tennessee
Tennessee's Senate has approved a bill that would keep people from changing their genders on birth certificates or driver's licenses, in spite of warnings that the bill could cost the state millions in federal funding.
Learn more here.
---
Texas
Texas' state Senate gave initial approval to a bill that would make voting illegally a felony rather than a misdemeanor.
Learn more here.
---
Utah
Governor Spencer Cox (R) signed legislation banning clinics in the state from providing abortions.
Learn more here.
---
Vermont
Lawmakers in Vermont have filed drug reform bill proposals that would decriminalize simple possession of all drugs, while expanding services to reduce harm caused by drug use.
Learn more here.
---
West Virginia
West Virginia's legislature has passed a bill that would ban gender-affirming health care for trans youth in the state. The bill now will be sent to the desk of Governor Jim Justice (R).
Learn more here.
---
Wisconsin
GOP legislators are offering a plan that would create exemptions for the state's abortion ban in cases of rape or incest.
Learn more here.
---
Recent DMGS Posts
---
Capital and Capitol Happenings: New Positions, Promotions, and More
Abby Chiumento: new Communications Director, Senate of Pennsylvania
Grace Dunnigan: new Executive Assistant, Pennsylvania Department of Agriculture
Victoria Ellington: new Senior Manager, Political Engagement, Public Affairs Council
Kristin Brackemyre: new Senior Director, Public Affairs Practice, Public Affairs Council
Alexandra Denney: new Vice President of Government Relations and Communications, Ohio Business Roundtable
---
Happy Birthdays This Week
Dy Reed: External Affairs Manager, Exelon
Sydnee Journel: Government Relations Manager, Aurora
Mike Goscinski: Vice President, Government Affairs, IHRSA
Kelly Ramsey Fuhlbrigge: Director: Legislation, Regulations, and Communications, Connecticut Department of Mental Health and Addiction Services
Kevin Busher: Managing Director, Pennsylvania School Boards Association
Kevin Silard: Regional Director, State Affairs, Molina Healthcare
Hugh Allen: Executive Deputy Treasurer and Chief of Staff, Pennsylvania Treasury
Madeline Urbish: Head of Government Affairs and Market Strategy, New Jersey, Ørsted
Want to wish someone a happy birthday or recognize their new job or promotion? Email future suggestions to rjstevens@dmgs.com.
---