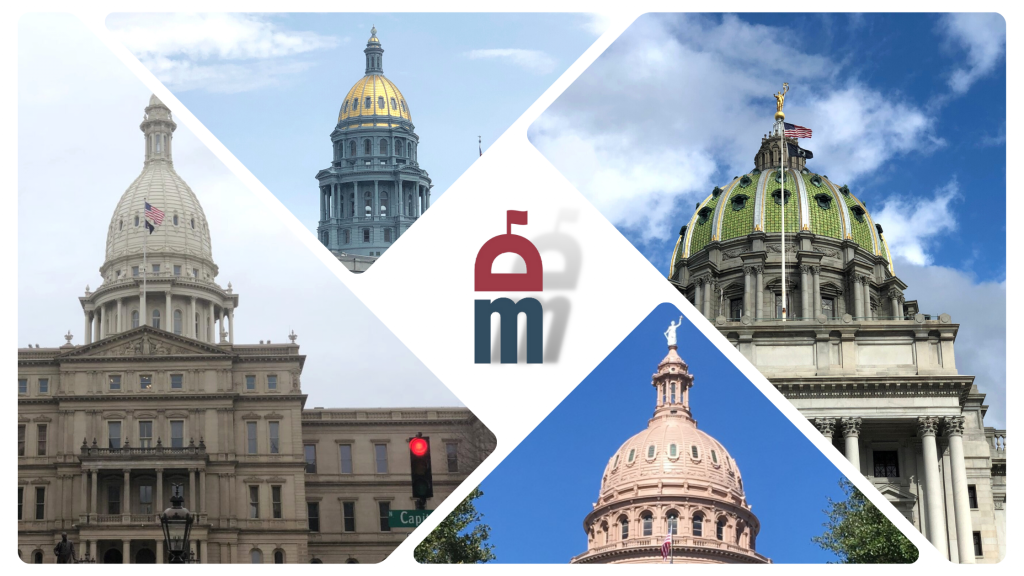 We are now days away from the 2022 midterm elections where voters around the country get to cast their ballots for races like governor, Congress, state legislature, and more. While most attention this week was paid to the upcoming elections, lawmakers and governors were rather busy in various states such as Pennsylvania, California, Kentucky, and more.
---
Alabama
Governor Kay Ivey announced over $1 million for new research grants at three Alabama Universities.
Learn more here.
---
Arizona
Schools in Arizona are facing a budget crisis unless state lawmakers intervene.
Learn more here.
---
Arkansas
Current elected officials in Arkansas campaigned this week against an upcoming amendment that would legalize recreational marijuana.
Learn more here.
---
California
Governor Gavin Newsom announced this week he is withholding $1B in state funding for cities and counties until local political leaders are able to show they have plans to address California's homeless crisis.
Learn more here.
---
Florida
State medical boards met this week to approve the drafting of a rule that would ban gender-affirming health care for Florida youth.
Learn more here.
---
Illinois
Governor Pritzker announced a a change in state policy that would no longer require incarcerated women to pay for their abortion procedures.
Learn more here.
---
Iowa
Governor Reynolds announced the appeal of a district court ruling allowing school districts to impose universal mask mandates.
Learn more here.
---
Kentucky
A lawmaker in Kentucky is pushing legislation that would implement a hands-free cell phone law while driving.
Learn more here.
---
Louisiana
Lawmakers in Louisiana received a briefing on the state's tax structure as they consider potential changes to the state's tax codes.
Learn more here.
---
Maine
A group in Maine submitted over 80,000 signatures to the Secretary of State to have the legislature consider a bill that would place new limits on campaign spending.
Learn more here.
---
Massachusetts
A law that bans the disposal of mattresses textiles, clothing items, shoes, and linens became law this week.
Learn more here.
---
Mississippi
Governor Tate Reeves announced his intention to call a special legislative session regarding a $2.5 billion economic development project.
Learn more here.
---
Missouri
State officials, including Governor Mike Parson, hope to increase funding for police at the State Capitol complex.
Learn more here.
---
New Jersey
Governor Phil Murphy signed legislation this week amending the NJ Department of Education's grant program for STEM teachers that was established back in 2019.
Learn more here.
---
Pennsylvania
Governor Wolf signed a new $2 billion tax credit package including incentives for hydrogen production, milk processing, and biomedical research.
Learn more here.
---
South Carolina
Members of the South Carolina Legislature met this week to try and come to a compromise on legislation that would include harsher abortion restrictions as the session nears its close on Nov 13th.
Learn more here.
---
Texas
Governor Greg Abbott directed the Texas Division of Emergency Management to increase the Emergency Operations Center readiness level in anticipation of severe weather.
Learn more here.
---
Vermont
Governor Phil Scott held the Governor's annual School Safety Conference this week, where representatives from districts across the state discussed violence prevention.
Learn more here.
---
Virginia
State Senator Amanda Chase announced her intention to introduce a bill that would ban abortion completely in Virginia.
Learn more here.
---
Washington
Washington State officially lifted the last of its COVID-19 emergency orders on Monday.
Learn more here.
---
DMGS Posts This Week
---
Capital and Capitol Happenings: New Positions, Promotions, and More
Nicholas Schilligo: new Senior Director, Government Relations, 1-800 CONTACTS
Melanie Bull: new Principal, Capital & 5th
Tegan Gelfand: new Director, Government Affairs, Federal & Head of Public Policy, Ferring Pharmaceuticals
Jose Alvarado: new Board Member, Santa Monica Chamber of Commerce
Megan Ekstorm: new Director of Public Affairs, Zillow Group
---
Happy Birthdays This Week
Altmann Pannell: Director of Government Relations for the Mid-Atlantic Region, Coca-Cola Consolidated, Inc.
Jonathan Lutz: Executive Director, API Pennsylvania
Matthew O'Donnell: Senior Director, State Government Affairs, Alexion Pharmaceuticals, Inc.
Alexis Lauver: Harrisburg Regional Field Director, PA Stands Up
Marvin Deon: Chief Legislative Representative, County of Los Angeles
Email future suggestions to rjstevens@dmgs.com.
---