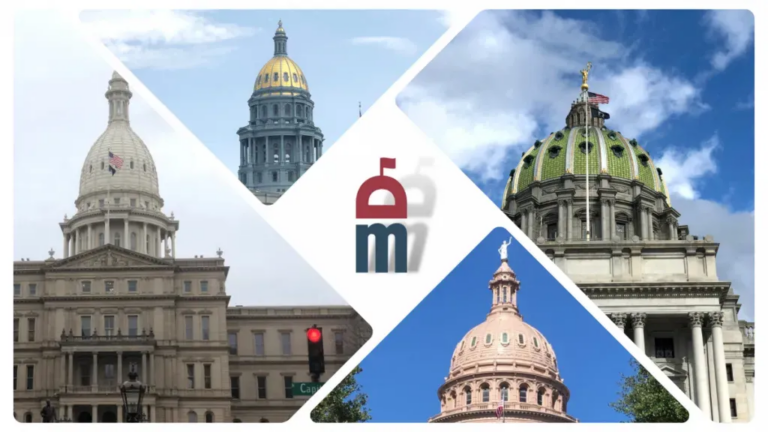 As August finally comes to a close this week, Governors in the South were busy combatting the effects of Hurricane Idalia, and Alabama pitched in to help Louisiana combat the ongoing wildfires. Tennessee's special session ended in chaos, Pennsylvania state Senate convened for a rare August session, and Governor Mike DeWine of Ohio created a new working group to address school bus safety. Lastly, Governor Phil Murphy in New Jersey settled a decades-long debate over the existence of Central New Jersey. Get caught up below!
---
Alabama
Governor Kay Ivey (R) announced the authorization of the Alabama National Guard to help combat the wildfires that are occurring across the state of Louisiana.
Learn more here.
---
Alaska
Governor Mike Dunleavy (R) vetoed a bill that would ban fire departments statewide from using a certain fire fighting foams that contain PFAS. PFAS is a chemical often used in fire fighting foams that has been linked to polluting drinking water in Alaska and other states around the country.
Learn more here
---
California
The California Senate has elected a new leader in Senator Mike McGuire (D), who will serve as the Senate President Pro Tempore. Senator McGuire has served in the legislature since 2014 from northern California's 2nd District.
Learn more here
---
Florida
As Hurricane Idalia made landfall in Florida, a 100 year old oak tree fell on the governor's mansion in Tallahassee. Governor Ron DeSantis' family was inside at the time and thankfully, no one was injured.
Learn more here
---
Georgia
Governor Brian Kemp (R) issued a state of emergency earlier this week in preparation of the impact of Hurricane Idalia.
Learn more here
---
Louisiana
Governor John Bel Edwards (D) gave an update on the wildfires that have swept across the state. A statewide burn ban was issued on August 25th amid concerns that the state is at an increased risk for fires and due to a combination of gusty winds, humidity and extreme drought. 
Learn more here
---
Maryland
The state announced more than $34.6 million in Rural Legacy Program grants to county governments and land trusts following approval from the Board of Public Works. The funding will help conserve thousands of acres of land in the state.
Learn more here
---
Massachusetts
Governor Maura Healey (D) has yet to publish the long promised climate plan from her climate chief advisor, Melissa Hoffer. The plan, which was directed under an Executive Order in the Governor's first week in office, is expected to include legislative and regulatory recommendations to lead the state's climate and resiliency efforts.
Learn more here
---
Minnesota
Governor Tim Walz (D) sent a letter to local media outlets this week outlining new efforts to support the sustainable fuel aviation industry. The Governor particularly emphasized the importance that crop-based biofuels can play in supporting the industry, and the importance of sustainability for farmers in Minnesota.
Learn more here
---
Montana
Governor Greg Gianforte (R) signed SB 516, which requires insurance providers in the state to cover fertility preservation treatment for cancer survivors. The legislation makes Montana the 16th state in the nation to mandate such coverage.
Learn more here
---
Nebraska
This week, Governor Jim Pillen (R) signed an executive order that creates a "Women's Bill of Rights" and biologically defines "male" and "female".
Learn more here
---
Nevada
Assemblywoman Sabra Smith Newby (D) is set to resign from the Nevada State Legislature to become the Deputy City manager for Las Vegas. The Las Vegas City Council is expected to vote to ratify the Assemblywoman's appointment. Her resignation will mean the seat will remain open until next year's election.
Learn more here
---
New Jersey
It's official, Governor Phil Murphy (D) signed legislation designating Central New Jersey as a tourism district. Central New Jersey comprises multiple counties and with the signing of this legislation, will be highlighted on VisitNJ.com with a goal to bring tourists to the area. There has long been a debate whether Central Jersey is a region in the state existing separately from North and South Jersey.
Learn more here
---
Ohio
Governor Mike DeWine (R) announced the appointment of 13 new individuals to his recently formed Ohio School Bus Safety Working Group. The creation of this group comes after a deadly crash with a local school bus that came with a devastating fatality, and will examine school bus regulations, design, safety technology, and study past incidents among other items. The group is expected to issue suggestions by the end of 2023.
Learn more here
---
Pennsylvania
The state Senate came back to session this week for a rare August session to pass fiscal code legislation. Included in one of the bills was funding for the hotly contested school voucher program.
Learn more here
---
Tennessee
Tennessee's special session on public safety ended in chaos this week, highlighted by shouting and shoving between lawmakers.
Learn more here
---
Virginia
Governor Glenn Youngkin (R) is calling lawmakers back to the capital next week for a special session to discuss the long-awaited state budget. He hopes to come to a compromise on the issue and create a more affordable environment for residents, families and businesses.
Learn more here
---
Capital and Capitol Happenings: New Positions, Promotions, and More
Charlotte Sawyer: new Manager of Regulatory Affairs, Western Energy Alliance
Brenda Narayan: new Local Government and Public Affairs, Pacific Gas and Electric Company
Henry Mahler III: new Director of Legislative Affairs, Florida Gaming Control Commission
Brandon Kern: new Director of Public Affairs and Issue Analysis, Ohio Soybean Council/Ohio Soybean Association
---
Happy Birthdays This Week
John Zang: Senior Policy Analyst, Duane Morris Government Strategies
Ethan Lane: Vice President, Government Affairs, National Cattlemen's Beef Association
Mark McDonald: Legislative Liaison, National Fraternal Order of Police
Lindsay Gill: Managing Director, Advocacy, The ALS Association
Leslie Krigstein: Vice President, Communications & Government Affairs, Transcarent
Bryan Burton: Federal Advocacy Manager, American Lung Association
Victor Bonett: Senior Manager, Public Policy, Amazon
Joshua Spagnola: Associate Director, State Government Affairs, AstraZeneca
Want to wish someone a happy birthday or recognize their new job or promotion? Email future suggestions to rjstevens@dmgs.com.
---