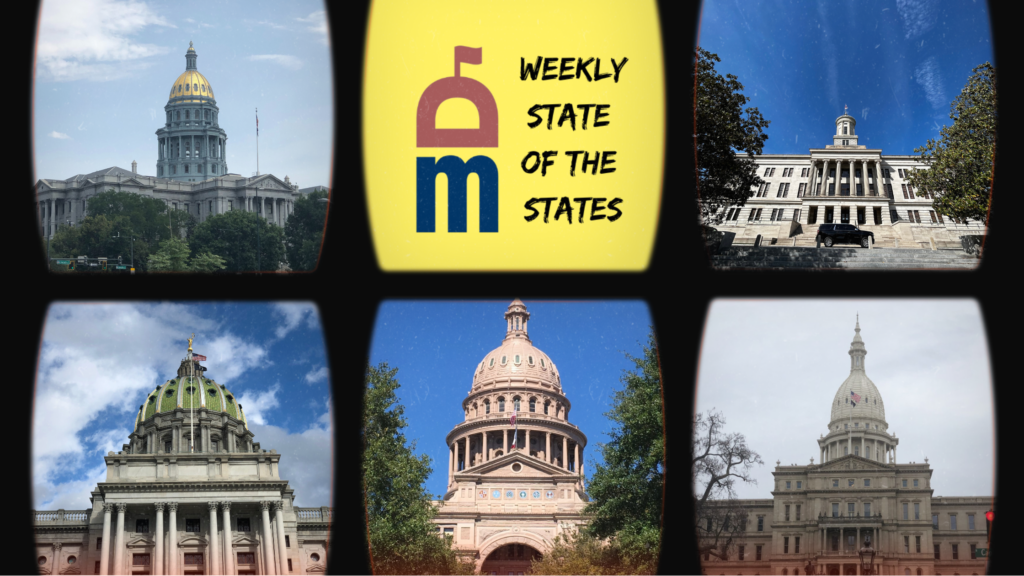 Around the country, lawmakers and state executives are taking action on a myriad of items impacting their respective states. Florida began laying the groundwork for the 2024 legislative session, North Carolina lawmakers finally agreed on a budget, Pennsylvania's governor is embracing ways to navigate generative AI, and Texas lawmakers will return to Austin for a special session on school choice.
In addition to this flurry of legislative activity, we have exciting news to share from DMGS: we started a podcast! More on that below.
---
Back in Session: a DMGS Podcast
"Back in Session," is a new DMGS podcast focused on exploring various state-level policies and legislation shaping our nation, one state at a time.
Join our hosts, Ryan Stevens and Ryan DeMara from Duane Morris Government Strategies, as they engage a diverse range of guests to bring you behind the scenes of the legislative process.
Whether you are a policy wonk looking to dive into recent legislative developments, or a curious citizen interested in getting to learn more about the issues in your state and beyond, "Back in Session" is the podcast for you. Each episode offers fresh perspectives, shedding light on challenges and opportunities that shape policy landscapes in states around the country.
In our inaugural episode, Ryan and Ryan from DMGS speak with Gerry Wosewick of the Pennsylvania School Bus Association. Gerry provides insight on the challenges facing the school bus transportation industry, what it's like working with a new gubernatorial administration, and the best place in Philly to get a cheesesteak.
Listen and subscribe wherever you listen to podcasts:
---
California
Last week, lawmakers passed legislation to increase the minimum wage for fast food workers by $5, to $20. The legislation, if approved by Governor Gavin Newsom (D), would also create a first-of-it-kind 'food council' tasked with setting workplace and pay standards for the industry as a whole.
Learn more here
---
Colorado
In an attempt to pave the way for "overdose prevention centers" in Colorado, lawmakers are drafting legislation for next year's legislative session based on an untested policy from Rhode Island.
Learn more here
---
Delaware
Governor John Carney (D) this week signed House Bill 118 into law. The bill prohibits adults from smoking in cars when children under the age of 18 are present.
Learn more here
---
Florida
On Tuesday, the state House of Representatives began committee meetings at the Capitol, hoping to lay the groundwork for when they return to session in 2024.
Learn more here
---
Iowa
Public safety officials are encouraging state lawmakers to pass a new "hands-free" bill. Iowa is one of 14 states that does not have a hands-free law in place currently.
Learn more here
---
Kentucky
Senator Cassie Chambers Armstrong (D) this week announced her intention to file legislation next year to make infant and adult diapers within the state tax-exempt. Diapers currently have tax-exempt status in 18 other states.
Learn more here
---
Michigan
At a Senate Energy and Environment Committee hearing this week, lawmakers discussed a package of legislation that proposes Michigan utilities go 100% carbon-free by 2040.
Learn more here
---
New Jersey
As Governor Phil Murphy (D) has joined other governors in asking President Joe Biden for federal funding to support offshore wind development, GOP state legislators in New Jersey are calling for a pause on such developments.
Learn more here
---
New York
This week, Governor Kathy Hochul (D) signed numerous pieces of legislation into law ranging from same day voter registration on the first day of early voting to allowing all voters the option to vote by mail.
Learn more here
---
North Carolina
The legislature finally voted on a state budget on Thursday. The much-delayed budget speeds up individual income tax cuts, broadens private school scholarships to all K-12 children, and also addresses Medicaid expansion.
Learn more here
---
Ohio
This week, democratic lawmakers introduced Senate Bill 146. Under this legislation, the state's minimum wage will increase to $15 per hour through a gradual increase of $1 per year, beginning with an increase to $12 an hour in 2024.
Learn more here
---
Pennsylvania
Governor Josh Shapiro (D) this week signed an executive order establishing a commission to help guide the Commonwealth's use of generative artificial intelligence (AI).
Learn more here
---
Oregon
A judge is considering the constitutionality of the state's new gun control law passed by voters last November, among the toughest gun control laws in the country. The law bans magazines with more than 10 rounds and requires people to get a criminal background check and complete a gun-safety training course in order to buy a firearm or obtain a permit.
Learn more here
---
Tennessee
Tennessee's mammoth $3.3 billion Transportation Modernization Act (TMA) is finally moving forward, five months after the governor signed the Act into law. The TMA Board is expected to be seated by October 1st and will be tasked with making decisions including pricing for drivers to use tolled "choice lanes."
Learn more here
---
Texas
Governor Greg Abbott (R) this week announced a special session next month to address "school choice."
Learn more here
---
Wisconsin
Lawmakers in Wisconsin are proposing legislation to implement ranked-choice voting and a top-five primary system.
Learn more here
---
Wyoming
Members of the Legislature's Judiciary Committee are set to consider a draft bill to ban Delta-8, which is chemically similar to the psychoactive component in marijuana.
Learn more here
---
Capital and Capitol Happenings: New Positions, Promotions, and More
Adam Taliaferro: new Director, State and Community Engagement, Johnson & Johnson
Max Karlin: new Director of State Affairs, the National Association of Benefits & Insurance Professionals
Kerry Watson, Jr.: new Executive Vice President, Public Affairs, Baltimore Orioles
Annie Haury Larson: new Assistant Vice President of Federal Relations & Outreach, Univeristy of Colorado
Lindsay Akers: new Legislative Director, Virginia Office of the Attorney General
Jean Robinson: new Government Affairs Director, Metrc
---
Happy Birthdays This Week
Devon Mathis: Chief Operations Officer, California Assembly Republican Caucus
Veronica Cardello: Director of Local Government Affairs at Ohio REALTORS®
Alyssa Dawson: Chief of Staff, NJ State Sen. Holly Schepisi
Clay McClure: Executive Director, State Relations, Blue Cross Blue Shield Association
Anton Severin: Director of Research, American Gaming Association
Anne Yanikov: Manager, Government Relations, PA Health & Wellness
Want to wish someone a happy birthday or recognize their new job or promotion? Email future suggestions to rjstevens@dmgs.com.
---