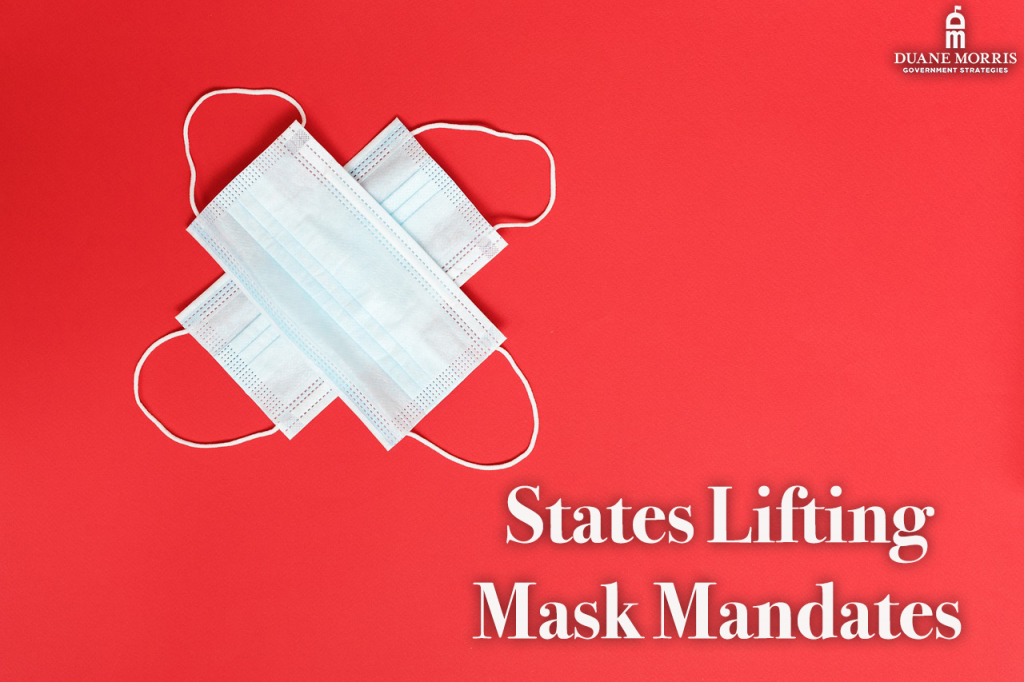 As the CDC updates its COVID guidance to allow vaccinated people to go maskless, many state legislatures are beginning to scale back or dissolve their COVID restrictions altogether. The following states are lifting their mask mandates or banning mask mandates.
---
California:
California plans to align its mask guidance with the CDC's on June 15. California plans to fully reopen its economy on that day while also allowing fully vaccinated residents to go maskless in most indoor settings. When the new guidance goes into effect, there will be no capacity or physical distancing limitations for businesses and events. However, for indoor events of over 5,000 attendees and outdoor events of over 10,000 attendees, people will be required to provide proof of vaccination or a negative COVID test. They will also have to adhere to California Department of Health masking guidelines—unvaccinated people will still have to wear masks. Additionally, venues for outdoor "mega events" will be required to have masks available for all attendees.
---
Florida:
In early May, Florida Governor Ron DeSantis signed an order canceling all local COVID ordinances passed by local governments. Some municipalities are still recommending that residents wear masks in businesses and at events. However, Florida local governments no longer have a means of enforcing these rules. Nevertheless, businesses may still require patrons and staff to wear masks.
---
Hawaii:
On Tuesday, May 25, Hawaii Governor David Ige issued an amendment to his COVID emergency proclamation that lifts the requirement for all people to wear face coverings outdoors. The amendment includes vaccinated and unvaccinated people, but everyone must still wear masks indoors. Indoor mask mandates will remain in effect until officials determine that enough people have been vaccinated. Additionally, relevant permitting agencies will resume issuing permits for ocean and outdoor sports. Activities such as surfing competitions, baseball tournaments, and other sporting events will resume under relevant capacity and social distancing regulations in June. Hawaii is the only remaining state without an explicit timeline for ending its indoor mask mandate for vaccinated individuals.
---
Iowa:
Iowa also recently implemented a law prohibiting Iowa school districts from requiring students and staff to wear masks. The bill, HF 847, is a sweeping education reform bill that expands open enrollment, increases tax credits, and bans mask mandates. This policy took effect upon enactment on May 20. Many school districts had to change their policies to make wearing masks in school and at school events a choice rather than a requirement. Many schools are still recommending that students and staff wear masks, especially those who have yet to be vaccinated. While the ban also prohibits local municipalities from imposing mask mandates on private property, they may still impose mandates on public property.
Republicans voted down an amendment proposed by Democrats that would have limited the mask mandate restrictions to policy related to COVID-19.
---
New Jersey:
With Executive Order No. 242, New Jersey will become one of the final states to lift most of its mask mandates. All residents, vaccinated or unvaccinated, will no longer be required to wear masks in public. However, people must still wear face coverings in health care facilities, jails, schools, childcare centers, summer camps, and on public transportation. Additionally, businesses may still require staff and customers to wear masks.
The state will also be lifting other COVID restrictions, such as social distancing requirements and capacity requirements. Starting June 4, indoor establishments will no longer be required to maintain 6-foot social distancing restrictions. Many regulations on bars will be lifted. These include reopening dance floors and requiring diners to be seated while eating or drinking. Additionally, indoor and outdoor occupancy limits will be removed on June 4.
---
New York:
New York, the hardest-hit state in the early stages of the pandemic, relaxed its mask mandates on May 19. The new rules are consistent with the CDC's new guidance on masks for vaccinated people, allowing fully vaccinated individuals to go without masks in most business and public settings. Businesses may still require customers to wear masks. The New York Department of Health still recommends wearing masks where the vaccination status of other people is uncertain. Additionally, under the new guidance, vaccinated people no longer must social distance. Businesses and events may eliminate social distancing requirements for vaccinated individuals. All individuals must still wear masks and social distance in grade schools, public transit, homeless shelters, correctional facilities, nursing homes, and healthcare buildings until the state's vaccination rate is higher.
---
Ohio:
Ohio Governor Mike DeWine amended the state's COVID restrictions to match the most recent guidance from the CDC. Ohio residents no longer have to wear masks if they are vaccinated. Businesses can decide for themselves if they want to require patrons and staff to wear masks on their property. The state will also stop sending out investigators to ensure compliance as it will be impossible to determine the vaccination status of individuals. Individuals must continue to wear masks in health care settings, on public transit, nursing homes, schools, and other places where large numbers of people may not be vaccinated. However, on June 2, all health orders in the state will be lifted. After June 2, the only places with state-mandated COVID restrictions will be nursing homes and assisted living facilities.
Many local governments in Ohio are ending their mask mandates early or have already ended their mask mandates. Cleveland's mandates will end May 31, Cincinnati ended their mandate on May 14, and Akron lifted its on May 17. Columbus, however, is not scheduled to revisit its mask mandate until the city council's June 7 meeting, so residents must continue wearing masks until the city council votes on new rules.
---
Pennsylvania:
Besides indoor mask mandates for unvaccinated people, Pennsylvania Governor Tom Wolf will remove all remaining COVID restrictions in the Commonwealth on Memorial Day. Restaurants, bars, sports venues, schools, and other businesses can return to 100% capacity. Governor Tom Wolf also plans to remove the indoor mask mandate for unvaccinated people by June 28 because 70% of the state has received at least the first dose of a COVID-19 vaccine. If 70% of Pennsylvanians are fully vaccinated before then, the state may remove the restrictions even earlier. Local municipalities and school districts can still implement stricter policies if necessary.
---
South Carolina:
On May 11, South Carolina Governor Henry McMaster issued Executive Order No. 2021-23, banning mask mandates and vaccine passports. The order prevents local governments and school districts from passing mask mandates of their own, making it a choice for vaccinated or unvaccinated individuals to wear masks. The order cites rising vaccinations and expansive contact tracing as reasons the move was a safe one.
---
Texas:
Texas Governor Greg Abbott signed an executive order prohibiting local governments and schools from requiring face masks on May 18. The order requires local governments to abolish any mask mandates by May 21 and requires schools to do so by June 4. Local governments that may want to shirk the new order could be fined up to $1,000 for violating the new prohibition. State-run assisted living centers, hospitals, and correctional institutions may still require people to wear face coverings on the premises.
---
Utah:
On April 10, Utah ended its statewide mask mandate, except for large gatherings with 50 or more people and grade schools. By early this month, the only remaining COVID restrictions in the state could be found in K–12 schools. Now, even the restrictions imposed on schools will be lifted. HB 1007, which passed both legislative chambers on May 15, sits on the Governor's desk waiting to be signed into law. The bill will prohibit K–12 public schools from requiring students and teachers to wear masks to participate in in-person classes, activities, or when using school facilities. This prohibition goes into effect at the end of the 2020–2021 school year, so schools that want to finish out this school year with their restrictions in place may continue to do so.
The bill similarly prohibits higher educational institutions from requiring masks to be worn on campus, at athletic events, and other extracurricular activities sponsored by the institution. These prohibitions also go into effect following the conclusion of the spring semester. The bill also prohibits the Utah Board of Higher Education from mandating face coverings.
Students and staff still have the option to wear masks if they wish, but they will no longer be required to do so by the state or their schools.
---
Related Articles:
---