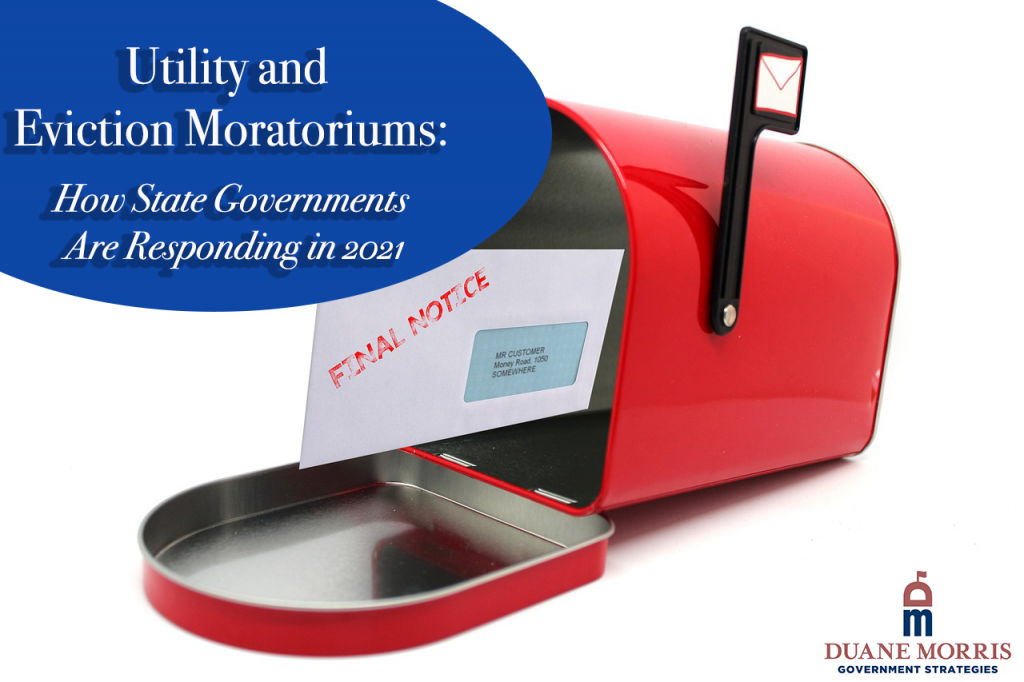 In response to the continuing pandemic, state governments across the country have instituted and extended moratoria on eviction proceedings, mortgage foreclosures, and utility shutoffs. Many of the nation's largest states have an eviction moratorium in place until at least March.
In addition, the Centers for Disease Control and Prevention (CDC) authorized an extension of the federal eviction moratorium through March 31, 2021. For many citizens living in states without eviction bans, the federal moratorium provides temporary relief.
---
New York
New York suspended residential evictions and mortgage foreclosure proceedings until May 1, 2021. The New York State Legislature passed the COVID-19 Emergency Eviction and Foreclosure Prevention Act of 2020 (Senate Bill 9114 / Assembly Bill 11181). The Act requires residential tenants or homeowners to provide a "Hardship Declaration" statement to landlords or lenders to qualify for protections. Additionally, the Act accords protections against credit discrimination, negative credit reporting, tax lien sales, and tax lien foreclosures.
New York residents are also currently protected against utility shutoffs. The Disconnection Moratorium prohibits utility companies from disconnecting or terminating service of "residential electricity, gas, steam, telephone, and water customers during the COVID-19 state of emergency." See Department of Public Service Guidance here. The utility moratorium extends 180 days after the conclusion of a state of emergency.
---
New Jersey
In New Jersey, the state eviction moratorium will last until two months after Governor Phil Murphy declares an end to the COVID-19 health emergency. On January 19, 2021, Governor Murphy issued Executive Order No. 215, formally extending the public health emergency until February 19, 2021. Therefore, the eviction moratorium will expire on April 19, 2021, unless the governor extends the public health emergency.
In addition, Executive Order No. 190 extended the utility shutoff moratorium to March 15, 2021. The moratorium applies to all residential gas, electric, and water utilities, both public and private. The order prohibits utilities from charging late fees or service reconnection fees for disconnected services. Finally, cable and telecommunication service providers may not disconnect internet service for any New Jersey household where one or more school-aged child utilizes the internet for educational activities.
---
Massachusetts
In Massachusetts, the state eviction and foreclosure moratorium expired on October 17, 2020. However, on December 21, 2020, Governor Charlie Baker signed into law Chapter 257 of the Acts of 2020 (the "Act"). The Act requires landlords to complete, sign, and deliver a certification form to the tenant before filing an eviction complaint.
Moreover, the CDC's federal eviction moratorium will prevent evictions in Massachusetts for non-payment of rent for certain qualified tenants. However, qualified tenants are required to submit a "written declaration to their landlord." Massachusetts courts will accept filings, process cases, and enter judgments. However, courts will not issue execution orders until the CDC order expires.
---
Illinois
In Illinois, Governor J.B. Pritzker issued Executive Order 2021-01, halting evictions until February 6, 2021. Landlords are required to provide a declaration form to each tenant five days before the notice of termination. Tenants must qualify as a covered person based on a four-part test. If a tenant satisfies all four Covered Person Test elements, the eviction will fail. However, tenants posing direct threats to other tenants' health and safety, or an immediate and severe risk to property, may still be evicted.
The state-regulated utility moratorium remains in effect until March 31, 2021. The utility moratorium covers most of Illinois' major electric and natural gas utility providers. The protections cover all customers, regardless of financial status.
---
California
California has prohibited evictions through June 30, 2021. Governor Gavin Newsom signed SB 91 on January 29, 2021, which contains some of the strongest renter protections in the country. SB 91 establishes the "State Rental Assistance Program." The program will allocate $2.6 billion in federal rental assistance, targeting income-qualified tenants considered "most at-risk" with back rent.
Furthermore, the California Public Utilities Commission ordered all electric and natural gas investor-owned utilities to suspend service disconnections due to non-payment of residential and commercial customers until April 16, 2021.
---
Related articles: