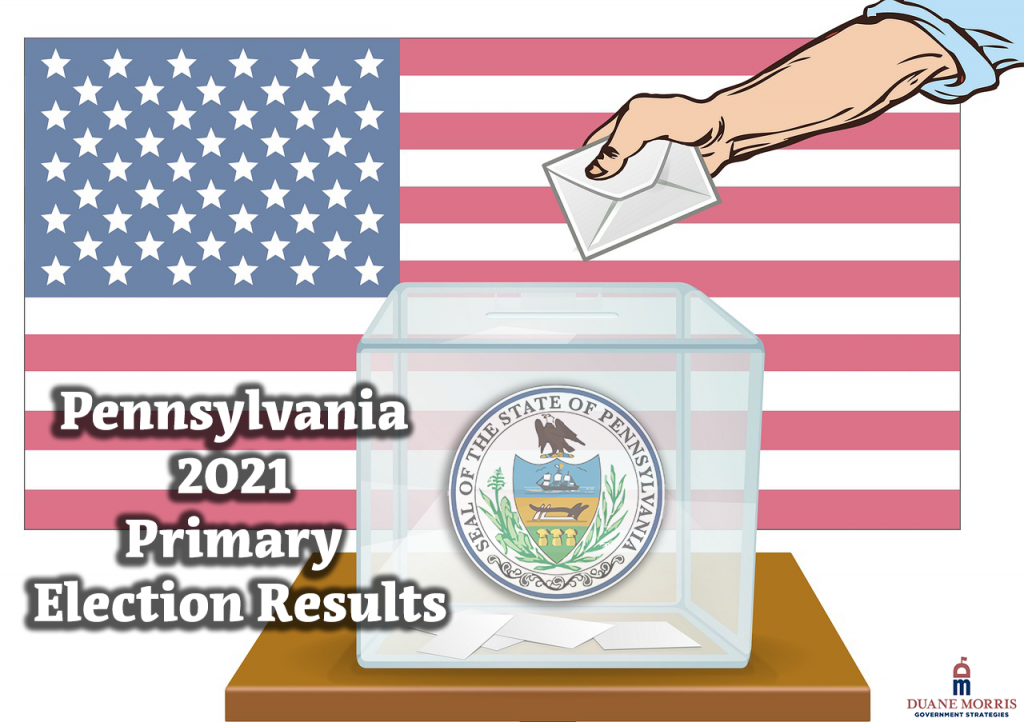 The Pennsylvania 2021 primary election results are in! The Keystone State held its primary election on Tuesday, May 18. Races on the ballot this year ranged from ballot questions to statewide judicial candidates to special elections to local races such as school board, mayor, and more.
---
Pennsylvania 2021 Primary Election Results: Statewide Referendum
Pennsylvania voters saw four ballot questions in the primary election. Notably, voters approved the first two questions, which curtail the Pennsylvania state executive's emergency powers. Pennsylvania voters are the first in the nation to impose restrictions on the authority of a governor under an emergency disaster declaration.
At the time of this writing, 51.87% of voters statewide voted "YES" on Question 1. A similar 51.78% also voted "YES" on Question 2, a win for Republican legislators in their attempt to rebuke Democratic Governor Tom Wolf and his response to the COVID-19 pandemic.
Question 1 amends the Pennsylvania Constitution to allow the General Assembly to terminate or extend a disaster emergency declaration.
Question 2 amends the Pennsylvania Constitution so that a disaster emergency declaration will expire automatically after 21 days, regardless of the severity of the emergency, unless the General Assembly takes action to extend the disaster emergency. Further, the Governor would not be allowed to declare a new disaster emergency to respond unless the legislature passes a concurrent resolution.
Question 3, which has over 72% of people statewide voting "YES," would provide for a prohibition against denial or abridgment of equality of rights due to an individual's race or ethnicity.
Question 4, which also has over 72% of people statewide voting "YES," would allow municipal fire departments or companies with paid personnel and emergency medical services companies to be eligible to apply for loans from an existing state loan program.
---
Races for Supreme Court, Superior Court, and Commonwealth Court
Four total statewide judicial seats are up for grabs this year.  In the Republican primary for a seat on the Supreme Court, current Commonwealth Court Judge Kevin Brobson bested Paula Patrick and Patricia McCullough.  Brobson, who has over 52% of the vote, compared to 32.8% for McCullough and 14.9% for Patrick, will face Democratic nominee and current Superior Court Judge Maria McLaughlin in the Pennsylvania General Election this November.
In the Democratic Primary for a seat on the Superior Court, Philadelphia Common Pleas Court Judge Timika Lane (48.7%) bested Jill Beck (39.7%) and Bryan Neft (11.5%).  Lane will face Republican nominee Megan Sullivan in the November General Election.
Two seats are open at the Pennsylvania Commonwealth Court. Republican nominees Drew Crompton and Stacy Wallace will face off this November against the two winners of the Democratic Primary. Philadelphia Common Pleas Court Judge Lori Dumas will be one of the Democratic nominees after leading with 29.6% of the vote. However, the second democratic nominee is still too close to call with Allegheny County Court of Common Pleas Judge David Lee Spurgeon receiving 26.5% of the vote and former Allegheny County Councilmember Amanda Green Hawkins receiving 25.6% of the vote.  Philadelphia Common Pleas Judge Sierra Street came in fourth with 18.2% of the vote.
---
Democratic Primary Challengers Oust Incumbent Mayors in Pittsburgh and Harrisburg
Notably, the City of Pittsburgh will have a new Mayor after incumbent Pittsburgh Mayor Bill Peduto conceded late Tuesday night to current State Representative Ed Gainey.  Gainey bested the field of four candidates in the Democratic primary with 25,784 votes.  Peduto came in second place with 22,029 votes.  Other candidates included Tony Moreno, who received 7,390 votes, and Michael Thompson, who received 669 votes.
In the State Capital, Harrisburg also saw a crowded Democratic primary race for Mayor.  Five candidates sought out the Democratic nomination for Mayor this year, including incumbent Mayor Eric Papenfuse, current City Council President Wanda Williams, Otto Banks, Dave Schankweiler, and Kevyn Knox.  In the crowded primary, Williams earned 1,779 votes (28.84%), narrowly winning the race over the incumbent Papenfuse, who received 1,727 votes (27.99%).  Banks received 20.10% of the vote, Schankweiler received 21.59%, and Knox received 1.07%.
---
Pennsylvania 2021 Primary Election Results: Special Elections in the General Assembly
Four special elections were held the same day as the primary: two for seats in the state House and two for seats in the state Senate. Republicans picked up three out of the four seats.
Current democratic state Representative Marty Flynn won a special election over Republican Lackawanna County Commissioner Chris Chermak to fill the seat vacated by former Senator John Blake, who resigned to take a job with Congressman Matt Cartwright (D). The 22nd District spans Lackawanna, Luzerne, and Monroe counties.
The other state Senate race was for the open 48th District, which spans Lebanon, Dauphin, and York counties. Republican Chris Gebhard led the pack of four candidates with 66% of the vote. The seat was vacant due to the death of former Senator Dave Arnold, whom himself won a special election for the seat in early 2020.
Republicans won both special elections for the State House. In the 60th District, Abby Major will succeed her former boss, Representative Jeff Pyle. He resigned in March due to health reasons. The 60th District covers parts of Armstrong, Indiana, and Butler counties. Republican Leslie Rossi won the race for the 59th District, which was vacated due to the death of Representative Mike Reese earlier in the year.
---
Philadelphia D.A. Race
Incumbent Philadelphia District Attorney Larry Krasner easily held off a primary challenge from Democrat Carlos Vega by a nearly 2-to-1 lead. Krasner was speculated to have been facing an uphill battle due to his progressive agenda as D.A. combined with a surge in gun violence in the City. Philadelphia voters were unconvinced and threw the majority of their support behind the incumbent. The race drew 185,000 voters to the polls this year, compared to 165,000 in the last election four years ago.
---