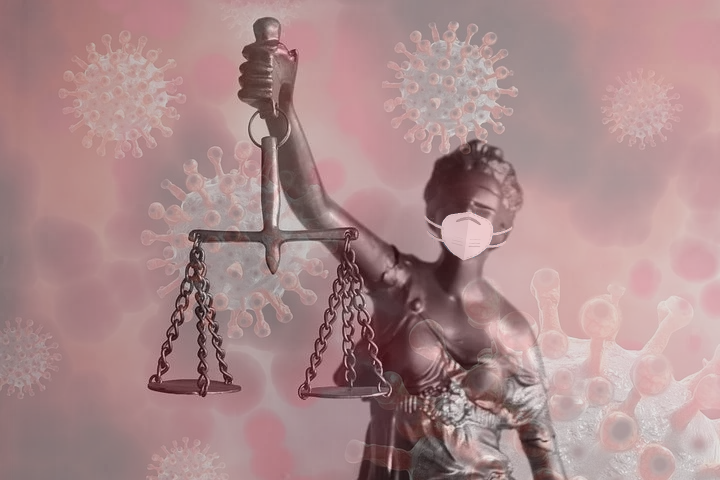 As businesses continue to open across the country, many issues are coming to the forefront of political debate.  Included in these debates are liability protections and workers protections related to COVID-19.  Should businesses and healthcare providers be provided with liability protection from lawsuits related to COVID-19?  What steps should businesses take to protect their workers?  More importantly, how are lawmakers shaping this debate through COVID-19 liability legislation?
North Carolina
North Carolina Governor Roy Cooper (R) signed an Executive Order in April that addressed liability. Under the order, all employees and emergency management workers are considered agents of the State of North Carolina for tort liability and immunity purposes, and they will not be liable for any act or omission occurring because of a good faith attempt to render aid. The order does not include liability for willful misconduct, gross negligence, or recklessness. The Governor's order also outlines that those licensed or authorized to perform health care are requested to provide emergency services related to COVID-19 and, as such, should be insulated from civil liability, except in cases of willful misconduct, gross negligence, or recklessness.
The legislature in North Carolina moved a piece of COVID-19 liability legislation, Senate Bill 704, through to the Governor's desk to become law.  The bill further expands upon the Executive Order, granting health care facilities and providers immunity from civil or criminal liability for acts and omissions in the course of arranging health care services during COVID-19. The bill also provides time-limited civil liability immunity to "essential" businesses.
Further, two additional bills recently passed the state Senate. House Bill 806 would provide limited immunity to owners and operators of private community pools for claims and actions seeking damages for injury or death resulting from COVID-19 due to pools reopening. House Bill 118 would provide immunity from liability for any act or omission not amounting to gross negligence, willful conduct, or intentional wrongdoing for a limited time. The bill would also require businesses to provide notices to customers outlining actions taken to prevent COVID-19 on their premises. The General Assembly scheduled both bills for a vote on Tuesday of this week.
To address worker protections, the Assembly introduced House Bill 1057 to expand workers' compensation coverage for employees required to continue their regular duties during a pandemic. H.B. 1057 includes correctional officers, first responders, and other essential employees. The expansion of coverage would create a rebuttable presumption that if a worker becomes infected, the infection was likely contracted through their job and, therefore, would be eligible for workers' compensation. Further, House Bill 1046 would provide for paid sick leave for numerous COVID-19 related reasons, including if an employee is under quarantine or isolation, has been advised by a health care provider to self-quarantine, is experiencing COVID-19 symptoms. Both bills were introduced and awaiting further action.
Arkansas
To avoid a special legislative session to address COVID-19 and needing COVID-19 liability legislation, Governor Asa Hutchinson (R) signed three executive orders.  The orders bypass legislation and expand COVID-19 civil liability immunity for businesses and add provisions for workers to seek compensation if they contract COVID-19 on the job.
Arkansas Senators initially wrote in May to the Governor asking for an Executive Order and for him to call a special session to address liability concerns, even drafting bills for review. However, Governor Hutchinson has since said that while most lawmakers support legislation on this issue, many did not want to have a special session at this point. As such, the Governor signed three executive orders:
All persons in Arkansas and their employees, agents and officers shall be immune from civil liability for damages or injuries caused by or resulting from exposure of an individual to COVID-19 on the premises owned or operated by those persons;
Immunity does not apply to willful, reckless, or intentional misconduct resulting in injury or damages;
Immunity does not extend to workers' compensation benefits;
Immunity under this E.O. is in addition to any other immunity under state or federal law;
Immunity applies to claims brought before the Arkansas State Claims Commission; and
Immunity expires when the state of emergency is terminated.
Declares health care providers as Emergency Responders during the current pandemic;
Emergency Responders are requested to perform healthcare services to prevent, treat, mitigate, or cure COVID-19 and perform other emergency functions within the scope of their licensure; and
Creates immunity for Emergency Responders and healthcare providers from liability for any death, injury, or property damage alleged to have been sustained because of COVID-19 related emergency management functions being performed in good faith.
Provides sufficient resources under the Workers' Compensation Law for employees to receive workers' compensation benefits during the COVID-19 public health emergency.
Arkansas' legislature meets in regular session every odd year, but convened earlier this year for a special session earlier this year to create COVID-19 Rainy Day Fund and address the state's budget deficit.
Pennsylvania
The Pennsylvania General Assembly has introduced a host of bills to address both liability protections for businesses and worker protections.
COVID-19 liability legislation introduced includes Senate Bill 1194 which would provide employers in the Keystone State with reasonable protection from targeted lawsuits related to COVID-19.  The protections would not cover businesses engaging in willful gross negligence in failing to comply with mandatory safety and health standards.  State Representative Karen Boback (R) is also in the process of introducing legislation, modeled after Virginia's Executive Order 60.  That bill would provide certain liability protections to healthcare providers during a state of emergency: the bill would exempt any health care provider who provides services to those injured in a disaster to be immune to civil liability for injury or wrongful death.
Providing protections for workers has also spurred the creation of numerous pieces of legislation. House Bill 2396 would establish the presumption that a life-sustaining worker who contracts an infectious disease and their resulting condition or inability to work because of their work-related duties. As a result, the worker would not have to use any paid-time off or contractual-time off and would be eligible for workers' compensation. House Bill 2411 would invest in personal protective equipment (PPE) to protect frontline health care workers and patients, establish mental health supports for frontline health care workers, and create a childcare grant program for frontline health care workers to ensure they can afford childcare. House Bill 2557 would provide temporary Unemployment Compensation Law provisions related to COVID-19 to protect workers who have a good cause to quit their job or refuse to work due to COVID-19.
Further, Governor Tom Wolf (D) and his administration acted on these issues as well. Secretary of the Department of Health, Dr. Rachel Levine, issued an order in mid-April directing protections for critical workers employed at businesses that maintained in-person operations during the current pandemic. The order, as announced by Governor Wolf, established the following protocols:
Provide employees with masks to wear during their time at the business;
Stagger work start and stop times for employees;
Provide space for employees to have breaks and meals while also maintaining social distancing;
Conduct meetings and training virtually;
Ensure the facility has enough employees to perform all measures listed effectively and in a manner to ensure public safety and safety for employees;
Ensure the facility has enough personnel to control and enforce 6 feet social distancing;
Prohibit non-essential visitors from entering the business; and
Ensure that employees who do not speak English are aware of any procedures by communicating in their native or preferred language.
The Secretary's order also outlined what businesses must do if an exposure occurs:
Close off and ventilate areas visited by the exposed individual;
Wait 24 hours until beginning cleaning and disinfecting;
Clean and disinfect all spaces;
Notify employees who were in close contact with the exposed individual; and
Ensure that the business has enough employees to perform these protocols effectively and immediately.
Governor Wolf signed an Executive Order to address civil immunity for health care providers. The order affords health care practitioner protection against liability for good faith actions taken in response to the call to supplement the health care provider workforce during the COVID-19 pandemic. Specifically, the order:
Grants immunity to any individual who holds a license, certificate, registration, or certificate to practice a health care profession or occupation in P.A. and is engaged in providing COVID-19 treatment/services. Immunity does not extend to acts or omissions that constitute a crime, gross negligence, or fraud or other misconduct;
Extends immunity to those medical professionals in Pennsylvania who provide services in a health care facility, nursing facility, personal care home, assisted living facility or alternate care site, community-based testing site or non-congregate care facility;
Affirms immunity for a person, organization or authority allowing real estate or other premises used for emergency services without compensation in the event of death, injury, or loss/damage to the property of anyone who is on the premises to provide those emergency services;
Suspends or removes regulatory barriers that impede or prevent out of state, retired or other qualified practitioners from providing services where needed in Pennsylvania.
Illinois
The Illinois Workers' Compensation Commission issued an emergency amendment in mid-April to afford workers' compensation for first responders and essential frontline workers if they are exposed to or contract COVID-19. However, the Commission withdrew the emergency amendment/rule following a court decision granting an emergency request by the Illinois Manufacturers' Association and Illinois Retail Merchants Association to block it.
Since then, lawmakers in May passed Senate Bill 471, which would provide workers' compensation for "essential" employees. The Illinois General Assembly sent the bill to Governor J. B. Pritzker (D), who has yet to act on it. Legislators also passed House Bill 2455, which Governor Pritzker signed into law. The legislation, considered a compromise between business and labor, creates a rebuttable presumption that a first-responder or essential employee that contracts the COVID-19 virus did so through their employment. The new law also establishes a rebuttable presumption in favor of death benefits for a police officer or firefighter who dies from COVID-19 contracted the virus through their employment.
Federal COVID-19 Liability Legislation
In Congress, addressing the issue of protecting workers and consumers while allowing businesses to reopen safely has struggled to attract bipartisan agreement. Democratic legislators have long been calling for legislation to require the Occupational Safety and Health Administration (OSHA) to publish guidance that sets a standard for employers to provide workplace protections against the coronavirus.
OSHA, the Labor Department's workplace enforcement agency, has issued only limited guidance during the pandemic, particularly concerning whether employers must record on-the-job transmission of the virus. Multiple House bills would direct OSHA to require employers to follow CDC guidelines to protect workers and consumers.
At a Senate Judiciary Committee hearing, Chair Lindsey Graham (R-S.C.) said that the sooner an OSHA establishes a guidance process, "the better off we'd be." Other Republicans have backed Graham's call for more guidance, and Democrats on the panel agreed. Republicans previously blocked Democratic efforts to require OSHA to establish an emergency standard for employers to provide workplace protections against the coronavirus.
While some Republicans have begun to support such safety standards, business groups are also lobbying for broad liability protection. Senate Majority Leader Mitch McConnell (R-Ky.) has conditioned any further pandemic response packages on including liability protections. These protections could take the form of safe harbor provisions for entities that meet safety guidelines. Sen. John Cornyn (R-Tx.) plans to introduce such a proposal in July.
Ultimately, without a national standard-of-care outlined by Congress and OSHA, businesses are likely to be left facing a state-by-state patchwork of safety standards.