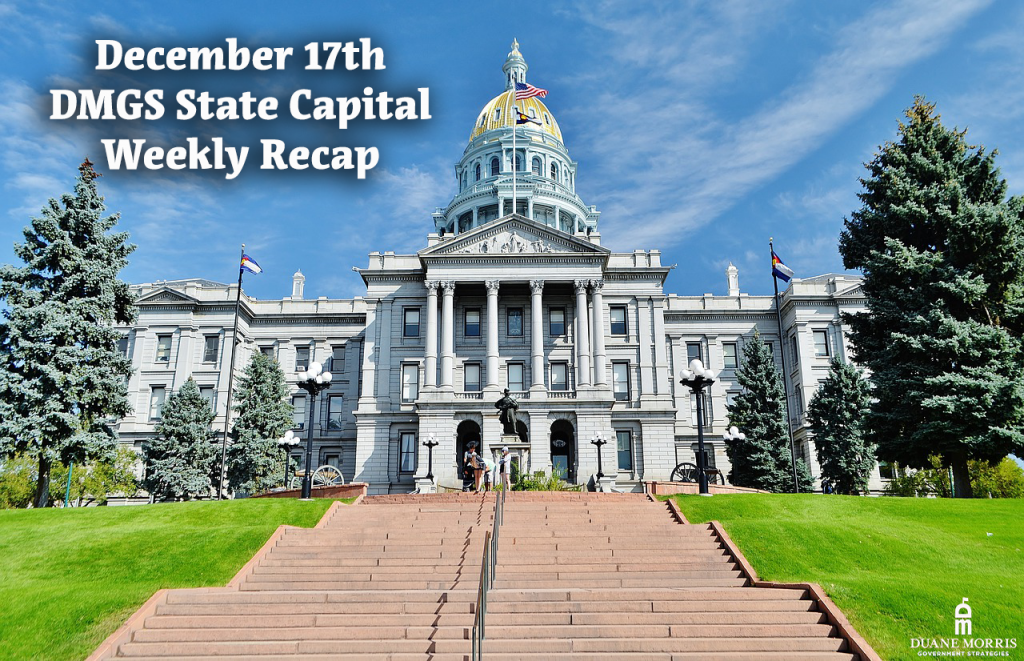 Heading into the holiday season, lawmakers were quite busy this week on a range of topics including agendas for the upcoming legislative sessions, how to continue to respond to the COVID-19 pandemic, marijuana, housing, and more. Notably, some states, like California and New York, are re-implementing various COVID-19 restrictions, while Colorado's governor declared the emergency to be "over."
The Garden State of New Jersey also made headlines this week as the state's Cannabis Regulatory Commission announced that 500 applications to enter the legal cannabis market were submitted in the first four hours alone.
---
Arizona
One lawmaker in Arizona proposed an automatic exemption from any vaccine requirement of any government or private entity if someone can provide documented test results showing that the person has COVID-19 or COVID-19 variant antibodies.
Learn more here.
---
California
This week, Governor Gavin Newsom highlighted the state's $1.1 billion initiative to clean areas near highways, roads, and other public places. The governor hopes this effort expands next year to address homeless encampments.
Learn more here.
---
Colorado
In a recent interview, Governor Jared Polis declared the COVID-19 emergency to be "over."
Learn more here.
---
Florida
Some democratic lawmakers are urging Governor Ron DeSantis to declare a state of emergency on housing.
Learn more here.
---
Georgia
Legislative leaders in Georgia are starting to outline their plans for the upcoming 2022 legislative session.
Learn more here.
---
Illinois
Some lawmakers in Illinois are hoping to pass legislation in the next session to change the way nursing homes are paid through Illinois' Medicaid program to address staffing shortages.
Learn more here.
---
Kentucky
Lawmakers in Kentucky held a special work group session at the beginning of the week to hear testimony on which essential worker groups (i.e. nurses, firefighters, police, corrections officers, etc.) are most deserving of bonus pay.
Learn more here.
---
New Jersey
New Jersey's Cannabis Regulatory Commission this week began accepting applications from cannabis growers, manufacturers, and testing laboratory operators hoping to get into New Jersey's legal weed industry. 500 applications were submitted in the first four hours alone.
Learn more here.
---
New Mexico
New Mexico lawmakers approved a spending bill this week that allocates $478 million in federal pandemic relief toward highways, internet infrastructure, tourism ads, hospital construction, and more.
Learn more here.
---
New York
Governor Kathy Hochul announced a temporary indoor mask mandate, which is in place from December 13th through January 15th, 2022.
Learn more here.
---
Oregon
Oregon lawmakers returned for their second special session of the year and are working on legislation to extend the current 60 day eviction protection period.
Learn more here.
---
Pennsylvania
The commission tasked with redrawing state legislative districts released draft maps for both legislative chambers this week, with potential big changes coming to the legislature.
Learn more here.
---
South Carolina
Lawmakers in South Carolina are pushing for legislation to prohibit COVID-19 mandates. One bill in particular would give financial compensation to individuals who were terminated from their jobs due to a COVID-19 vaccine mandate.
Learn more here.
---
Vermont
Lawmakers held their legislative session this year virtually due to COVID, but are debating what to do for the 2022 session.
Learn more here.
---
Virginia
Virginia's Cannabis Oversight Commission agreed this week to recommend the Commonwealth speed up its timeline for retail recreational marijuana sales to 2023.
Learn more here.
---
This Week's DMGS Posts
---
Capital and Capitol Happenings: Staff on the Move, Promotions, and More
Matthew Hargarten: new VP of Campaigns, Coalition for Community Solar Access
Elle Hoxworth: new Legislative Director, California State Assembly
Christy Tarallo: new Director of Government Affairs, ACEC Georgia
Matt Deegan: new Legislative Assistant, Senate of Pennsylvania
---
Happy Birthdays This Week
Andrew Wiggins: Senior Director, Political Affairs & Coalitions Advocacy, Florida Chamber of Commerce
Lee Modesitt: Director of Government Relations and Public Affairs, Kansas Insurance Department
Mark Harris: Managing Partner, Cold Spark Media
William Reid Hansen: Kansas City Field Director, Governor Mike Parson
Annie Dutton: Director of Government Relations, Associated Builders and Contractors of Indiana/Kentucky
Jacob Caplan: Senior Advocacy Manager, National MS Society
Erik Rison: Vice President of Public Policy & Research, Virginia Chamber of Commerce
Clarke Wise: Vice President of Government Relations, Mississippi Association of REALTORS
Email future suggestions to rjstevens@dmgs.com