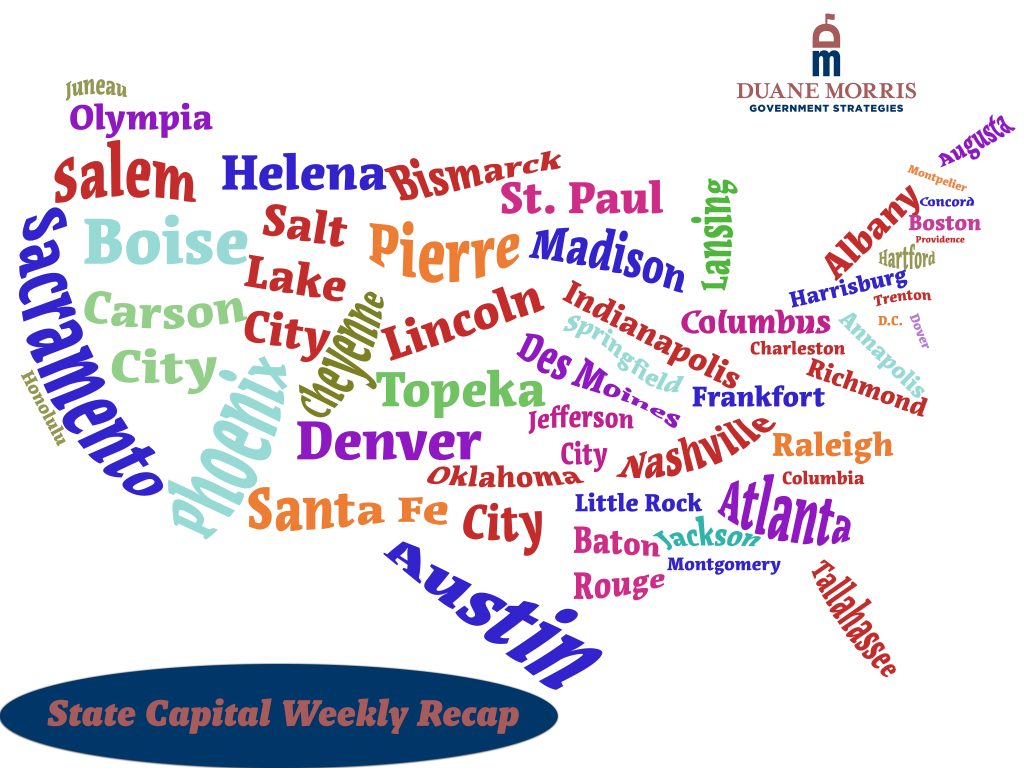 Lawmakers and governors this week were busy on a range of issues, including redistricting, COVID-19, election reform, carbon caps, and more.
Feel free to let us know what is going on in your state for our upcoming State Capital Weekly Recaps!
---
Alabama
Alabama lawmakers may be back soon for a special session to consider prison reform, something that was scheduled to be discussed the last time lawmakers were in session but was taken off the agenda.
Read more here.
---
California
California lawmakers moved to make the state the first to outlaw "stealthing." Lawmakers sent legislation Legislators sent Gov. Gavin Newsom a bill on Tuesday adding the act to the state's civil definition of sexual battery.
Read more here.
---
Connecticut
While carbon cap legislation failed to receive consideration in the last legislative session in Connecticut, Senate leaders say the discussions haven't stopped and the Transportation and Climate Initiative could be part of a larger package to come forward as soon as this month.
Read more here.
---
Florida
Florida lawmakers are gearing up to battle over a new abortion bill that could be on the horizon following the Supreme Court's recent ruling on Texas legislation addressing the issue.
Read more here.
---
Georgia
Some lawmakers are asking Governor Brian Kemp to suspend elective surgeries across Georgia with COVID-19 cases putting a strain on hospitals.
Read more here.
---
Kentucky
Kentucky lawmakers are now in charge of setting COVID-19 policies for the state and have extended the state of emergency. House Joint Resolution 1, the first bill passed in both chambers of the special session, extends the state of emergency until Jan. 15.
Read more here.
---
Minnesota
Lawmakers in Minnesota blew past a Labor Day deadline to strike a deal on how to dole out $250 million to front-line workers who took unpaid time off due to the pandemic.
Read more here.
---
Nebraska
Nebraska lawmakers worked under a fast-approaching deadline to come up with new political maps that they'll consider in a special session beginning next week, but they didn't offer any specific plans Tuesday for redrawing legislative and congressional districts.
Read more here.
---
Oklahoma
Oklahoma state lawmakers met at the state Capitol earlier this week to discuss election security and other election issues.
Read more here.
---
Oregon
A bipartisan group of lawmakers are urging Governor Kate Brown to formally request federal disaster relief for Oregon's commercial salmon industry for the 2018 through 2020 seasons.
Read more here.
---
Pennsylvania

The Pennsylvania state House is coming back early from its summer recess to challenge Governor Wolf's administration's new mask mandate for schools.
Read more here.
---
Texas
Texas Governor Greg Abbott signed Senate Bill 1, sweeping election reform legislation, into law this week.
Read more here.
---
Vermont
Vermont lawmakers passed legislation earlier this year to provide an extra $25 per week for unemployed individuals. This week however, the feds shot down the new Vermont law.
Read more here.
---