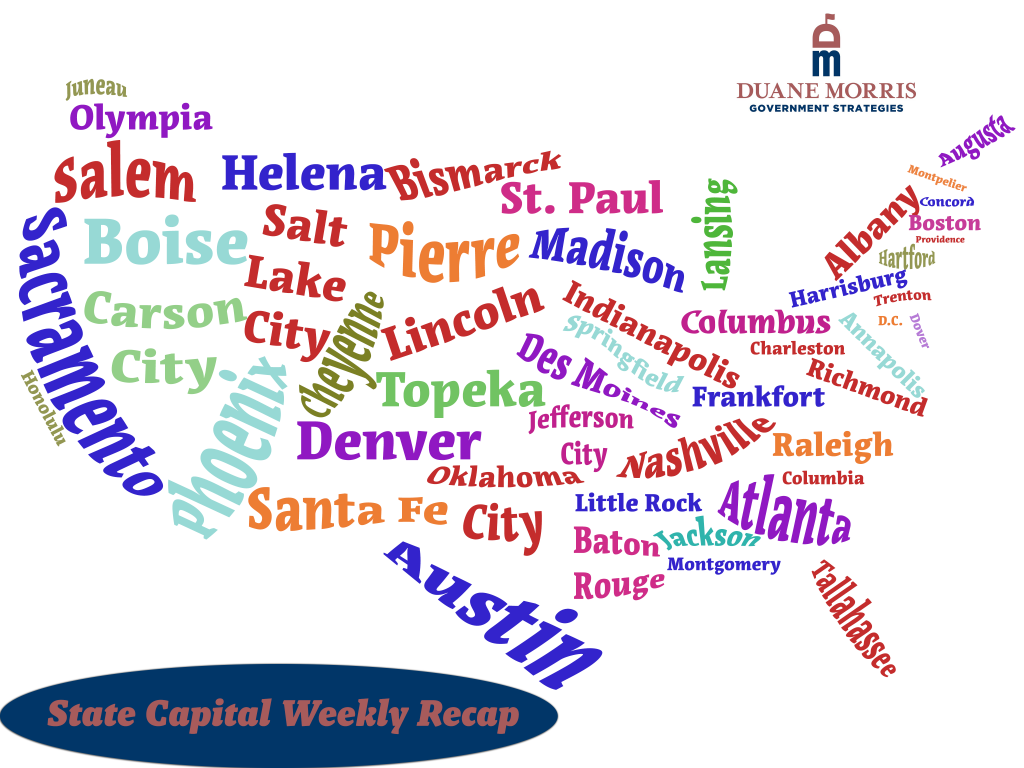 Lawmakers and state executives were busy this week across the country on a myriad of issues. In the first August edition of DMGS' State Capital Weekly Recap, we look at issues including special sessions, mask mandates, marijuana, redistricting, COVID vaccine mandates, and more.
---
Alaska
Gov. Mike Dunleavy postponed Alaska's special session by two weeks after lawmakers requested more time for them to prepare. The special session will begin August 16.
Read more here.
---
Arkansas
Arkansas lawmakers convened for a Special Session this week with Governor Asa Hutchinson asking them to focus on mask mandates and unemployment benefits.
Read more here.
---
Colorado
A working group of state officials and pot-industry representatives met on August 2 to start the discussion of implementing Colorado House Bill 1317, an expansive law that creates new restrictions and mandates for the state's medical marijuana and marijuana concentrate sectors.
Read more here.
---
Kansas
Partisan bickering has intensified amongst Kansas lawmakers over redistricting, with 14 town hall meetings being scheduled over only five days. The town halls to address redistricting begin on Monday.
Read more here.
---
Kentucky
Lawmakers in Kentucky are advocating for a bill to discourage lawsuits which seek to intimidate or silence critics with drawn-out court proceedings.
Read more here.
---
Maryland
Governor Larry Hogan said this week the state is not considering reinstating its mask mandate.
Read more here.
---
Minnesota
Minnesota lawmakers are considering giving $1,500 bonuses to full-time long-term care staff working in Minnesota facilities during the COVID pandemic. The bonuses would come form a $250 million state fund designed to help essential workers.
Read more here.
---
North Carolina
State lawmakers passed a bill on Thursday that would require written parental permission for minors to be given vaccines under FDA EUA.
Read more here.
---
New York
New York state lawmakers are wrapping up their impeachment investigation of Governor Andrew Cuomo and the State Assembly will soon consider articles of impeachment against the governor. This news comes after the New York state attorney general's office released a report earlier in the week concluding that Cuomo had sexually harassed almost a dozen women.
Read more here.
---
Ohio
Ohio lawmakers introduced a bill to give out $1,000 bonuses to members of the Ohio National Guard as a 'thank you' for their service during the pandemic.
Read more here.
---
Pennsylvania
The House Education Committee held a hearing on Wednesday on the proposed ban on transgender athletes in girl school sports.
Read more here.
---
Tennessee
Tennessee lawmakers are pushing back against mask mandates, particularly for children attending schools this upcoming year.
Read more here.
---
Texas
The standoff over the Texas elections bill is still at an impasse heading into the last week of the special session, with House Democrats still in Washington, D.C.
Read more here.
---
Utah
Governor Spencer Cox said this week the state would not be mandating COVID vaccinations, but the state will provide N95 masks to children in school under 12 who are too young to get the vaccine.
Read more here.
---